Microsoft Stock at All-Time High: Is It the Right Time to Buy?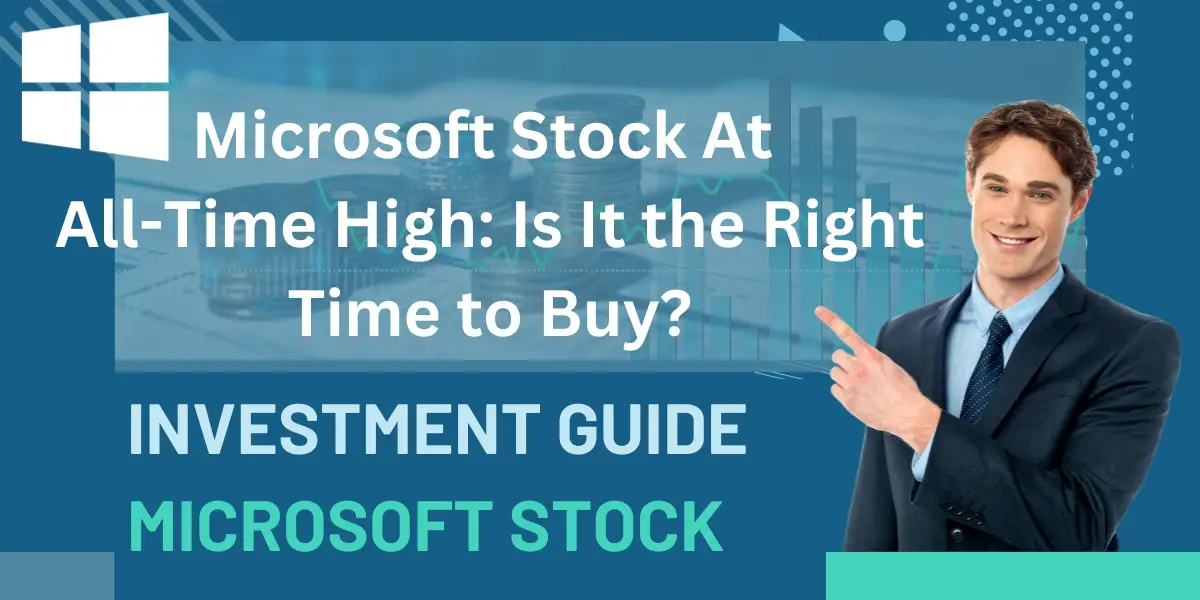 Microsoft, a global technology leader founded in 1975, has significantly shaped the digital era. Known for its Windows operating system and Office suite, the company has expanded into cloud computing, AI, and hardware. Microsoft's commitment to innovation and global empowerment marks its enduring influence in the tech industry.
Microsoft's solid financial health, diverse product range, and commitment to innovation make it an attractive investment option. Investments in AI and cloud computing indicate potential for future growth. Recent news reflects Microsoft's continuous expansion in cloud services and AI, with a focus on sustainability and social responsibility.
Microsoft, founded by Bill Gates and Paul Allen in 1975, has evolved from a small software vendor to one of the world's leading technology companies. With its headquarters in Redmond, Washington, Microsoft has shaped the digital landscape through its development of personal computing software. The company is best known for its Windows operating systems and Office productivity suite, which have become staples in both personal and professional settings. Beyond its traditional software offerings, Microsoft has diversified its portfolio to include cloud computing (Azure), gaming (Xbox), hardware (Surface), and a significant presence in artificial intelligence and machine learning. Microsoft's commitment to innovation is evident in its push into mixed reality and quantum computing. The company's global impact extends beyond technology, with initiatives in education, sustainability, and philanthropy, reflecting its mission to empower every person and organization on the planet to achieve more.
Also read:What is ChatGPT Stock Price and How to Buy ChatGPT Stock?
Microsoft Stock Hits All-Time High After Hiring Ex-OpenAI's Sam Altman
Microsoft's stock reached an all-time high following the announcement of Sam Altman, former CEO of OpenAI, joining the company. This pivotal move signaled Microsoft's intensified focus on artificial intelligence, a field that is rapidly transforming the tech landscape. Altman, renowned for his leadership at OpenAI and his role in advancing AI technologies, brought a wealth of knowledge and an innovative mindset to Microsoft. His appointment was seen as a strategic decision to bolster Microsoft's position in the competitive AI race, aligning with the company's long-term vision of integrating AI into its products and services. The market's positive reaction to Altman's hiring reflected investor confidence in Microsoft's future growth, particularly in AI and cloud computing. This milestone underscored the importance of strategic leadership and cutting-edge technology in driving corporate success and stock market performance.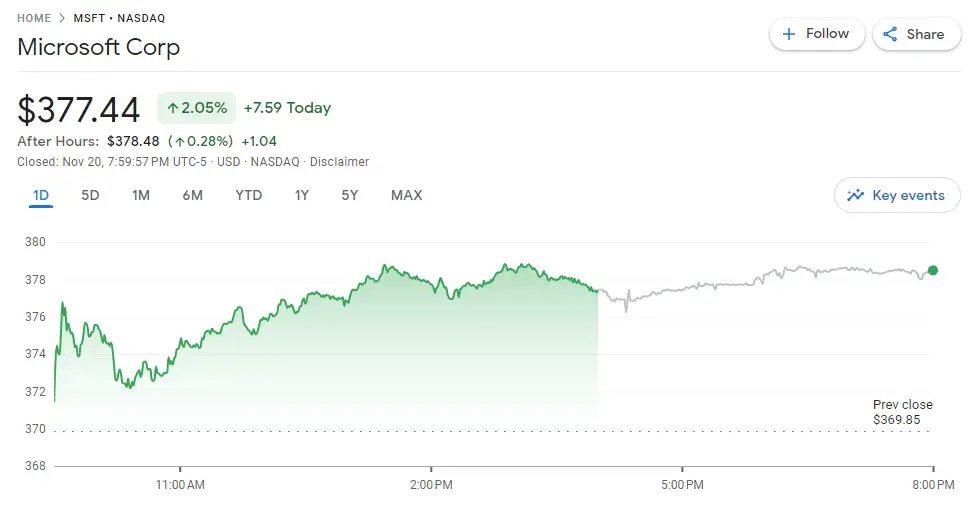 Microsoft is Investing Heavily in Artificial Intelligence
Microsoft is at the forefront of AI innovation, investing heavily in artificial intelligence to enhance its product offerings and services. This strategic focus involves integrating AI across various domains, from cloud computing to consumer applications. Microsoft's AI investments aim to drive technological advancements, improve user experiences, and foster business solutions that are more efficient and intelligent.
What is Microsoft's Stock Name?
Microsoft Corporation, known globally for its technological innovations, is listed on the stock exchange under its corporate name.
What is Microsoft Stock Price?
Closing Price: Microsoft's stock price closed at $377.44.
After-Hours Trading Price: In after-hours trading, the stock price was $378.30​​.
What is Microsoft's Stock Symbol?
Microsoft's stock is traded on the NASDAQ under the ticker symbol "MSFT," representing its identity in the financial markets.
How to Invest in Microsoft Stock?
Research Microsoft: Begin by gathering information about Microsoft's business model, financial health, market performance, and future growth prospects. Analyze news, earnings reports, and market analysis related to Microsoft.

Open a Brokerage Account: Choose a reputable brokerage firm and open an investment account. This step involves providing personal information and setting up funding options.

Deposit Funds: Transfer funds to your brokerage account, ensuring you have enough capital to invest in Microsoft stock.

Place an Order: Once your account is funded, search for Microsoft's stock symbol "MSFT" and place a buy order. You can choose between different types of orders, like market orders, limit orders, etc.

Monitor Your Investment: After purchasing Microsoft stock, regularly monitor its performance. Stay updated with the company's news, earnings reports, and any market changes that might affect its stock value.

Consider a Long-Term Strategy: Investing in stocks like Microsoft often benefits from a long-term investment strategy, considering their growth potential over time.

Diversify Your Portfolio: While investing in Microsoft, consider diversifying your investment portfolio to mitigate risk. Include a mix of different stocks, bonds, and other securities.

Review and Adjust: Regularly review your investment in Microsoft and adjust your strategy as needed based on performance and changing market conditions.
Microsoft's Initial Public Offering (IPO) in 1986 was a significant milestone in the company's history. Priced at $21 per share, the IPO symbolized Microsoft's transition from a private to a public company, opening new avenues for growth and expansion. The IPO was a resounding success, generating significant capital and marking the beginning of Microsoft's ascent to becoming one of the world's most valuable companies. Over the years, Microsoft's stock has split numerous times, reflecting its sustained growth and profitability. The IPO was not just a financial triumph but also a testament to Microsoft's innovative vision and its potential to revolutionize the technology sector.
Microsoft's Market Data
Stock Price: Microsoft's stock price closed at $377.44, and in after-hours trading, it was $378.30.
Previous Close: The previous closing price was $369.85.
Opening Price: The opening price was $371.22.
Day's Range: The stock traded between $371.00 and $378.87 during the day.
52 Week Range: Over the past 52 weeks, MSFT has traded between $219.35 and $378.87.
Volume: The trading volume was 52,372,488, with an average volume of 23,220,125.
Market Capitalization: Microsoft's market cap is $2.805 trillion.
Beta (5Y Monthly): 0.88, indicating volatility slightly lower than the market average.
PE Ratio (TTM): The price-to-earnings ratio is 35.81.
EPS (TTM): Earnings per share over the last twelve months is $10.54.
Earnings Date: The next earnings report is expected between January 22, 2024, and January 26, 2024.
Forward Dividend & Yield: The forward dividend is $3.00 with a yield of 0.81%.
Ex-Dividend Date: The ex-dividend date is November 15, 2023.
1y Target Est: The one-year target estimate for MSFT is $369.39​​.
Microsoft's Financial Health
Microsoft's financial health is robust, characterized by strong revenue growth, solid profit margins, and a healthy balance sheet. The company has consistently demonstrated its ability to generate significant cash flows from its diverse range of products and services, including its flagship Windows operating system, Office productivity suite, Azure cloud services, and LinkedIn. Microsoft's strategic investments in AI, cloud computing, and gaming have further strengthened its financial position. The company's ability to adapt and innovate in a rapidly evolving tech landscape has contributed to sustained financial success, making it a stable and reliable investment.
Reasons to invest in Microsoft?
Diverse Product Portfolio
Microsoft's diverse range of products and services, from cloud computing to consumer software, provides a stable revenue stream. This diversity reduces risk and positions the company to capitalize on various market opportunities.
Strong Financial Performance
Microsoft's consistent financial performance, marked by steady revenue growth and high profit margins, demonstrates its operational efficiency and market strength.
Innovation and Future Growth
Microsoft's commitment to innovation, especially in AI and cloud computing, positions it for future growth. These areas are expected to be key drivers of technological progress in the coming years.
Global Market Presence
With a global footprint, Microsoft benefits from its diverse market presence, mitigating risks associated with regional market fluctuations and capitalizing on global growth opportunities.
Recent news about Microsoft highlights its ongoing initiatives and developments. The company continues to expand its Azure cloud services, competing fiercely with other tech giants. Microsoft's advancements in AI and machine learning have been notable, with significant investments aimed at integrating these technologies across its product range. The company has also made strides in sustainability, aiming for carbon negativity by 2030. Microsoft's involvement in various philanthropic endeavors underscores its commitment to corporate social responsibility. These activities not only enhance its corporate image but also contribute to its long-term business strategy.
Microsoft, with its robust financial health, diversified product portfolio, and focus on innovation and global market presence, presents a compelling investment opportunity. The company's ability to adapt and lead in the fast-paced tech industry makes it a sound choice for investors looking for stability and growth potential.