Google Bard: ChatGPT Rival from Google
Google is very uneasy since the release of ChatGPT. ChatGPT can directly give users answers, which will directly threaten search engines. It is considered to be a potential Google killer. Google management even issued a "red code" to ChatGPT. Google finally launchs a similar AI tool GoogleBard competes head-to-head with ChatGPT,and officially provides services in 180 countries or regions.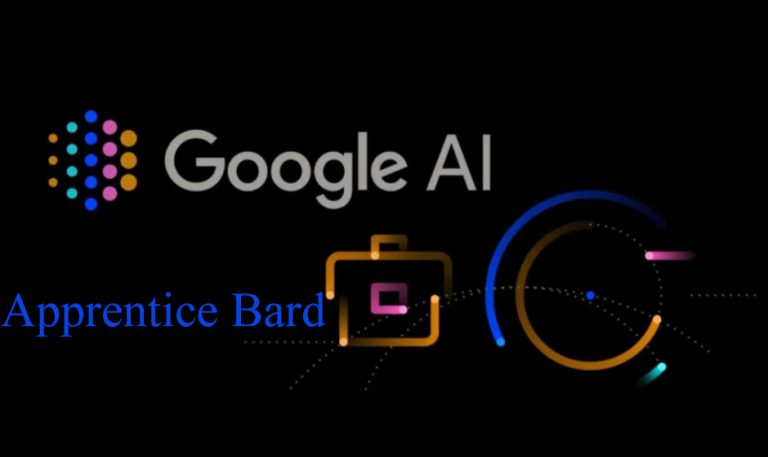 Google Bard is an AI chatbot developed by Google based on LaMDA conversation technology. Its main function is real-time online question-and-answer chat. Google Bard is a "Code Red" project within Google and is used as a potential candidate for a robot war with ChatGPT. 
Google Bard's answers can include recent events, which means it can go through the internet, it's a feature ChatGPT doesn't have yet(ChatGPT PLUS CAN). As to the real performance,  Google Bard is said to be "too much repetition" and "not as clever as ChatGPT".
Price:Free
Tag: AI Chatbot
Release time: 11, May, 2023
Developer(s): Alphabet
1.Go to the Google Bard official website
2.Click on "Sign in", and if you don't have a Google account, follow the prompts to register one
3.After logging in successfully, Check the "privacy policy" and click "Yes, I'm in"
4.Now you can use Bard freely and for free.
How to Login in Google Bard?
You just need to login in you google account to use Bard, no more extra steps.
If your Bard page still shows "Bard isn't currently supported in your country. Stay tuned!", please be patient and wait for more information about bard login and bard access.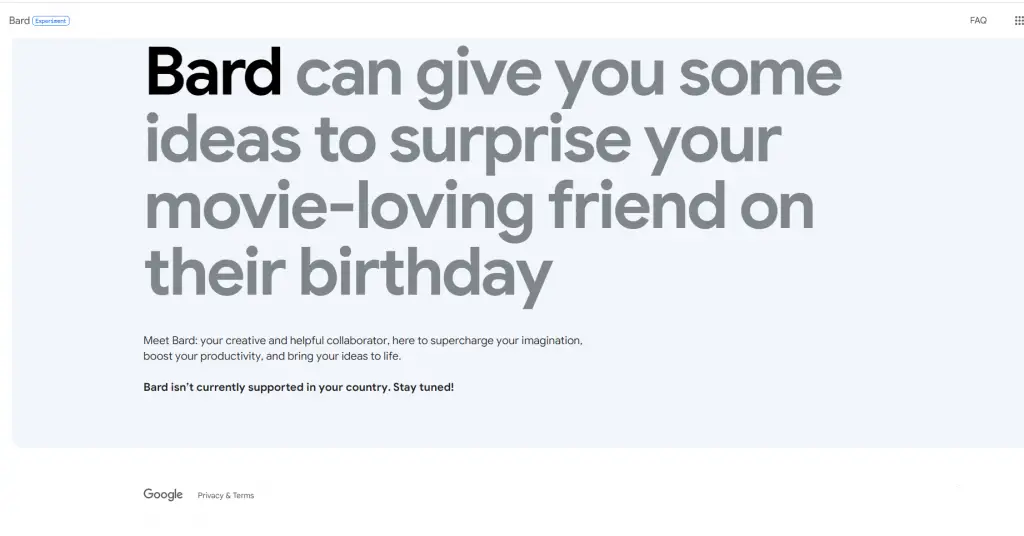 Where Can Use Google Bard?
According to the news updated by Google on 13 July, Bard now supports more than 40 new languages, including Arabic, Chinese (simplified/traditional), German.
Bard is launched including more 27 countries of the European Union and Brazil.
After Updated on 13,July
Translation Language: Google Bard can translate text from one language to another, supporting over 50 languages. 

Internet access: Bard can now access the Internet for information retrieval

Text content generation: Google Bard can generate text based on the provided prompt, such as a topic or a specific sentence. The generated text can be used for various purposes such as content creation, writing assistance, and more.

Image content generation and recognition: Bard will be connected to Adobe's AI image generation and Google Lens' image recognition

Coding: The upgraded Bard excels at handling code-related issues, including the ability to debug and interpret code in more than 20 languages.
On May 15th and May 23rd, Bard received two more updates with powerful new features:
Bard can now pull in images from Google Search. That is, when you query Bard for a result, it may answer you with references to related content in the Google Images library, such as: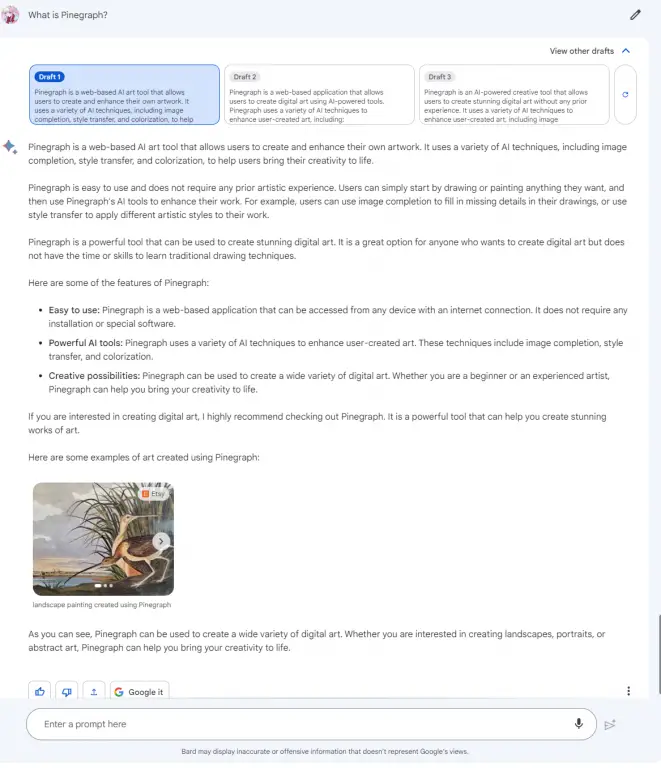 According to Google, you can also request images directly from Bard. Bard will display the source of each image. Now Bard has a very powerful and precise image query function.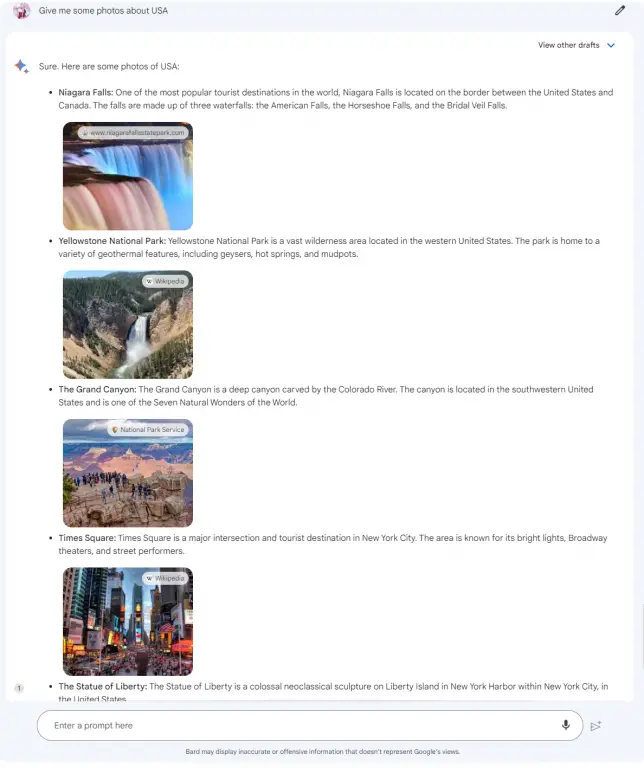 The Google team also optimized Bard's summary feature.
Google Bard is currently available for free and does not offer a subscription service. Based on ChatGPT's previous experiences, Google may release Bard Pro or Bard Plus subscription services in the future, providing advanced features and services. Additionally, Google may also open up the Google Bard API service to provide services for businesses or individual creators.
Competitors of Google Bard
OpenAI ChatGPT: Obviously, the research and development progress of Google Bard is constantly rushing, and the functions are added one after another, all in order to compete with the best ai chatbot-ChatGPT on the market. According to Google, the performance of the new PaLM 2 based on Bard is even better than GPT-4. However, it is always the biggest advantage of ChatGPT to be open to the public and obtain a large amount of user data and feedback.
Microsoft Bing: Originally, Google was far ahead of Microsoft in the competition of search engines, but the appearance of Bing+ChatGPT changed the unfavorable situation of Bing. Now that Google Bard is also being integrated into Google Chrome, this competition that has lasted for many years will intensify.
At present, Google Bard only supports users in the United States and the United Kingdom, and announced that it will gradually provide services to more than 180 countries and regions around the world. You need to have a Google account and be over 18 years old to get started.
Can Google Bard be used to edit code?
Yes, after the update on May 11, 2023, Bard already has strong code writing, interpreting and perfecting capabilities.
What data does Bard collect and how is it used?
Bard mainly collects user conversation data and location information, among other data, which is used in accordance with Google's privacy policy.
Information comes from CNBC,The Verge
Authoritative Information