10 Best AI Video Generator in 2023
With the continuous development of artificial intelligence, it is no surprise that AI-powered video generators are becoming more and more popular. These ai video generators help users save time and effort in the process of creating videos, making them popular with content creators, marketers, and businesses of all kinds. There are many video maker online in the market today, each with its own features and functions. In this article, we will introduce 10 best AI Video Generators to help you make an informed choice when you need to use ai video creator.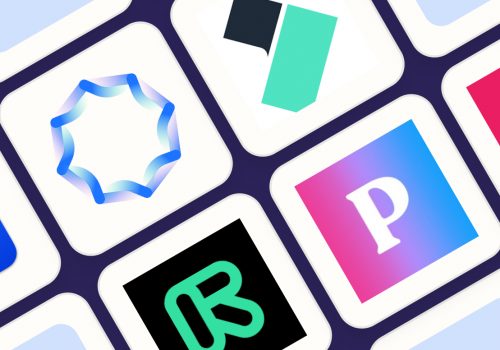 What is AI Video Generator?
AI Video Generator is a video generation tool based on artificial intelligence technology. It uses deep learning techniques and computer vision algorithms to analyze and understand input text, images or videos, and then automatically create new videos.
AI Video Generator can have many different uses, such as movie maker online and online animation maker for making movies and animations, youtube intro maker for Youtube video production services, youtube video editor online, or gaming intro maker for making game videos, etc.
AI Video Generator Functions:
text to video and video to text: generating video from text and extracting text from video are currently the core functions of video editing online. AI Video Generator with these two functions can be categorized into text to video maker and video to text converter respectively.
photo to video: photo to video maker online appeared earlier, it can edit several pictures into a smooth video.
Post Effects: A video ai generator like online video editor free with effects and music can intelligently add background music and special effects to your video.
intro generator: read long video or long text content, and edit attractive intro.
10 Best AI Video Generator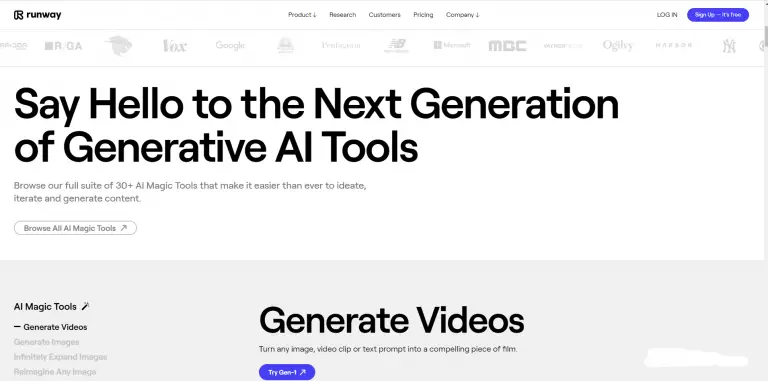 Runway is a powerful video creator online that can turn any image, video clip or text prompt into a compelling video, using independently developed Gen-1 and Gen-2 models, dedicated to the use of artificial intelligence systems for image and video synthesis are rapidly becoming more precise, realistic and controllable.
Runway's unique advantages: It provides all AI tool services from generating text, images, and videos, and realizes multiple functions simultaneously.
online video editor no watermark

The highest support for generating 1080p\4k resolution video

Can handle multiple video projects at the same time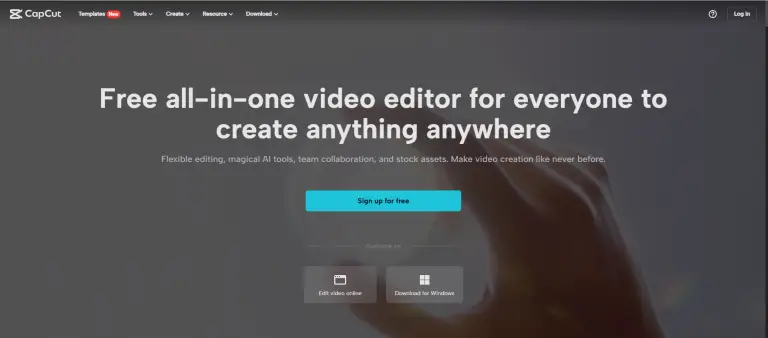 CapCut is a powerful ree online video editor no watermark developed by BYTEDANCE PTE., the parent company of TikTok. It can be used online, downloaded applications or used on mobile APPs. It is suitable for personal, team, commercial and other purposes.
CapCut's unique advantage: It provides a variety of popular Tiktok templates, which you can directly apply to create videos.
Automatically identify different languages and generate high-accuracy subtitles

Text-to-speech support for 11 voices and 10 languages

Video editing features such as background removal, aspect ratio adjustment, and more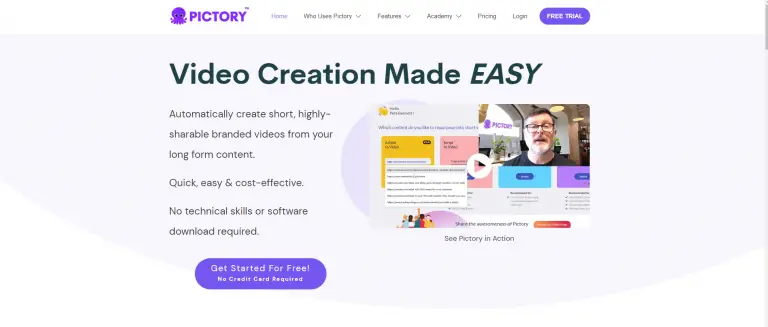 Pictory is currently one of the most popular ai video generators from text, which can automatically create short, high-quality videos based on long texts, fast, easy and without professional video editing skills. Pictory randomly presents discount coupons to users.
Unique advantage of Pictory: Its video downscaling features are perfect for creating trailers and short clips for sharing on social media
Edit videos quickly and easily with text commands

Automatically create great short videos from your long videos

Automatically add subtitles to your videos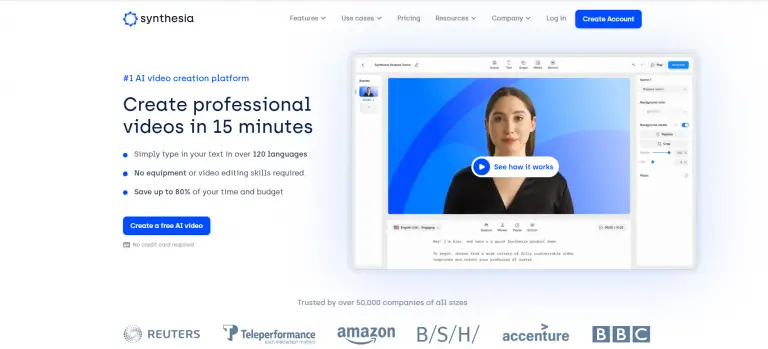 Synthesia is another well-known ai text to video generator, trusted by over 50,000 companies of all sizes, including industry giants like Amazon, BBC, etc. Synthesia was founded in 2017 by a team of artificial intelligence researchers and entrepreneurs from University College London, Stanford University, Technical University of Munich and Cambridge University, aiming to use AI technology to simplify the video production process and lower the threshold for video production.
Synthesia's unique advantage: Supports the generation of avatars in videos to explain content or dub videos
Supports video at resolutions Full HD 1920 x 1080

Upload your own music or soundtrack for your video

Provide more than 65 video templates for reference or application

Support for dubbing videos in more than 120 languages, accents, and voices.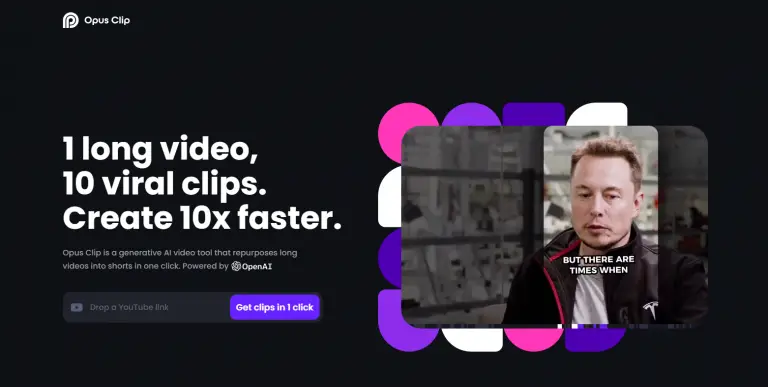 Opus Clip is an AI video editing tool powered by OpenAI, which can automatically edit long videos into short clips with one click, and upload them to YouTube Shorts, TikTok and Instagram Reels.
Unique advantages of Opus Clip: Opus Clip's editing technology makes it especially suitable for generating tiktok short videos.
ClipGenius: AI analyzes your video and extracts relevant highlights from different parts of the video, re-aggregating them into short videos.

AI analyzes moving faces and ensures the person's face is always centered in the video frame.

AI automatically generates ratings for short videos to show its viral potential

AI analyzes video captions and highlights the most valuable keywords

AI analyzes video and automatically adds relevant emoji to highlight valuable content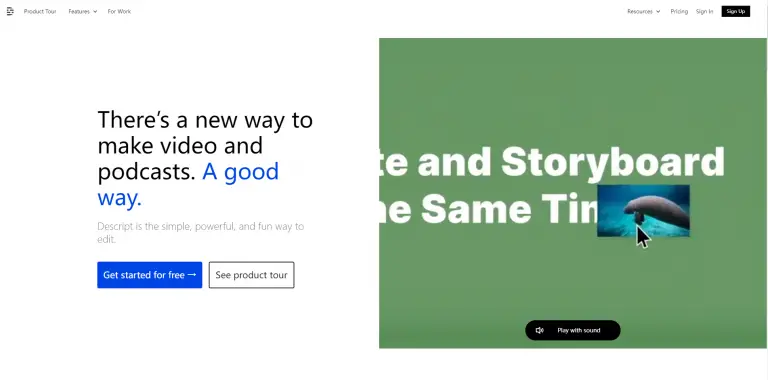 Descript is a full-featured video editor online free, providing you with a full set of AI tools from writing manuscripts, recording and transcribing videos, editing videos, collaborating and sharing videos.
Descript's unique advantage: Descript's project cloud synchronization function is suitable for real-time team collaboration and discussion.
Edit video by script and scene

Generate studio-quality video dubbing

Offers millions of stock videos, images, sound effects, and music tracks

Dozens of powerful special effects, cutscene presets, and background editing functions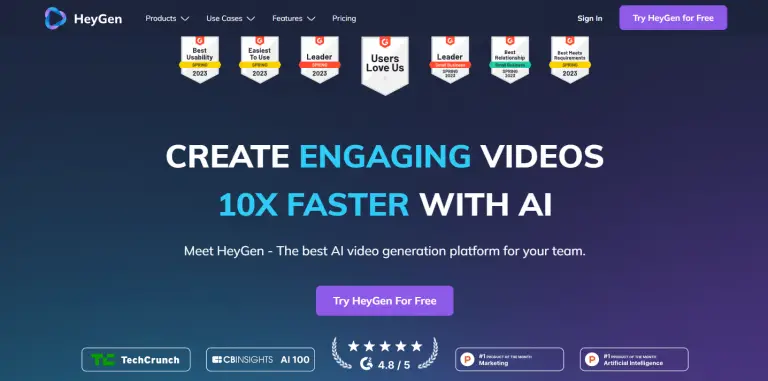 HeyGen, formerly known as Movio, uses generative AI to create videos for you. HeyGen has a powerful online text-to-video function, and is mainly dedicated to commercial video production, which can be used in marketing videos, education and training videos and other scenarios.
HeyGen's unique advantage: a huge library of commercial templates can meet your needs for making various videos.
Support to generate and export 1080P video.

Support video and image stitching

Support for inserting background music and audio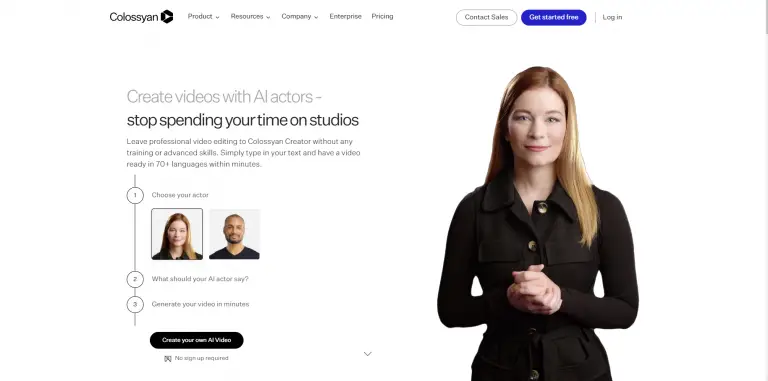 ReadSpeaker is the global text-to-speech expert, providing dozens of language support and realistic voice library. ReadSpeaker uses next-generation Deep Neural Network (DNN) technology to structurally improve speech quality at every level. With offices in 15 countries and more than 10,000 customers in 70 countries, ReadSpeaker offers a complete Text-to-Speech (TTS) product offering broad application support across channels and devices across multiple industries.
ReadSpeaker is especially suitable for: high-volume commercial text-to-speech production
Online text-to-speech:

Add speech to your website and app text, making your content accessible to a wider audience.

Voice Production:

Generate your own audio files using natural-sounding text-to-speech technology.

Multiple application scenarios: Provide voice for robots, public address systems, etc. through text-to-speech.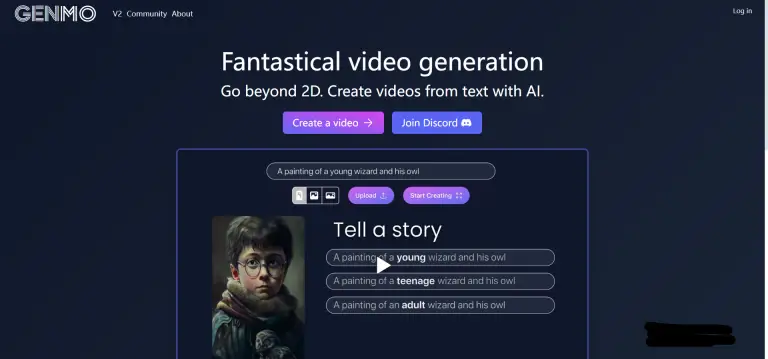 Genmo is a platform for creating and sharing 3D scenes, animations and videos. Its technical basis is to first generate a frame of continuous or different images through text-to-image, and then combine these images to achieve dynamic effects.
The unique advantage of Genmo: Because every frame of image in the generated video can be customized, this will bring unlimited possibilities to your generated video.
Generate and edit movies from text

Animate from an existing image

Edit and create pictures and videos using natural language

Develop a shared user community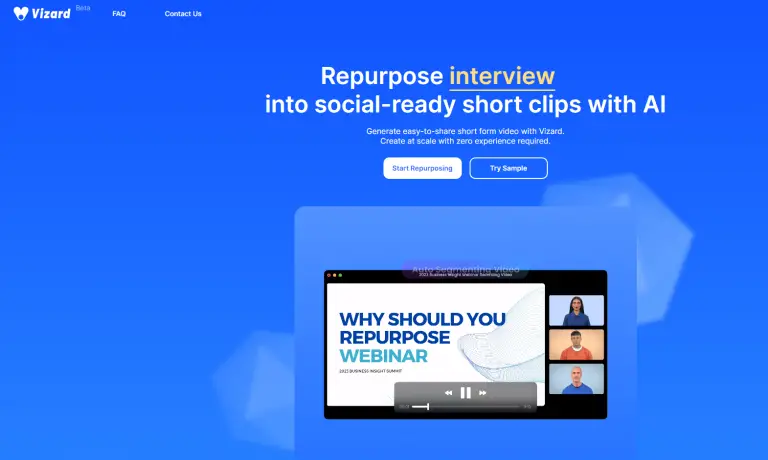 Vizard is a video editor using artificial intelligence technology. It has functions such as automatic editing, subtitle matching, dubbing, and background design. It is suitable for different needs such as short video production, self-media operations, and business teams.
Unique advantages of Vizard: Vizard is very suitable for making short videos for socializing or self-introduction.
Get started with 200+ pre-made video templates

Trim video by text command

Automatically identify and generate subtitles in 13 languages with an accuracy rate of over 97%
In 2023, AI video generation technology has made great progress and development. In this article, we introduce ten of the best AI video generators, all of which have unique advantages and applicable scenarios. Whether it is in terms of video generation speed, video quality, customizability, or generated audio effects, or different usage scenarios such as making advertising videos, promotional videos, presentations, and short videos, these AI video generators Both provide users with a high-quality video generation experience.
In general, the development of AI video generation technology not only brings a better video generation experience but also shows us the great potential and future development direction of artificial intelligence technology in entertainment, advertising, publicity, education and other fields. Moreover, the popularization and application of these tools have further promoted the application and development of AI technology in the field of visual media.