Opus Clip: Repurposes Long videos into short videos Just a Link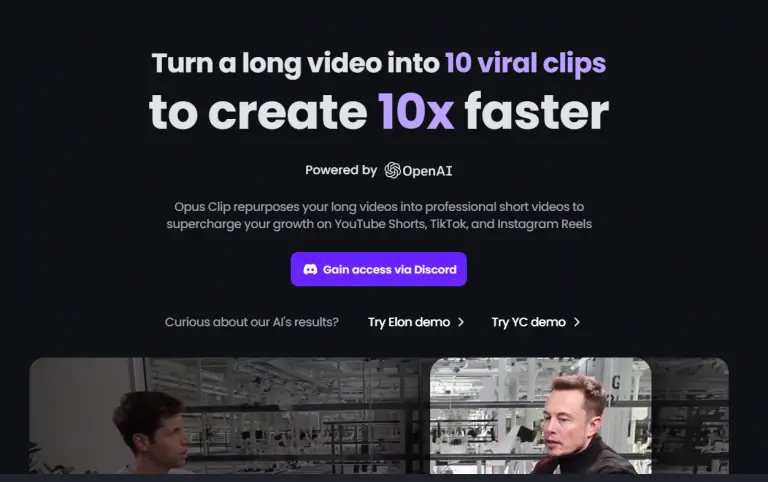 Opus Clip is a generative AI video editing tool that repurposes your long videos into viral short videos. It analyzes your video to identify the most compelling hooks, extracts the juiciest highlights from different parts of your video, and seamlessly rearranges them into cohesive viral short videos.
Tag: AI video editing
Price: Free
Developer: Immersively Inc
Opus Clip has many AI magic tools:
AI Curation (ClipGenius™️)
  Rather than just creating clips from a continuous segment from a long video, we use the cutting-edge GPT-4 Turbo to pick out the most valuable clips from different parts of your video, and seamlessly rearranges them into a structured, viral-worthy clip that contains an attention-grabbing hook, a value-packed body, and a strong CTA at the end.
  To put this into perspective, imagine you have a longform listicle video that lists the top 5 video creators. Opus Clip automatically extracts the most valuable sections from each part of the list, and seamlessly rearranges and weaves them together into a coherent short video that not only stands on its own, but also entices viewers to follow along and diver deeper.
  Opus Clip's face tracking is an autofocus feature that uses predictive AI to analyze moving faces, and make sure that your face will always be at the center of the vertical video frame, no matter how you move in your video.
  Opus Clip automatically generates a virality score to inform you the virality potential of each short clip. We have analyzed thousands of viral videos using AI and big data to uncover the secrets behind their success and incorporated this knowledge into our scoring algorithm.
  With AI virality score, you no longer need to do guesswork and can make data-driven decisions about your video content and optimize your efforts for maximum impact.
  Opus Clip leverages AI to analyze your video captions and highlights the most valuable keywords, so that you don't need to go through the tedious task of manually selecting keywords and highlighting them. On average, videos with highlighted keywords see a 65% increase in their watch time.
  Opus Clip leverages AI to analyze your video content and automatically add corresponding emojis to highlight valuable content. The emojified content is the best way to capture your audience's attention (as proven by creators like Alex Hormozi) and can increase your views by 42% on average.
You just need to put your YouTube video link in our query box on the website, 

click "get clips in 1 click". 

Opus Clip

AI will generate ready-to-use clips for you. 

Download the clips and post them on socials directly, or you can edit them to make it more customized.
You can also join our
Discord
and use the "/link" command to generate clips, same as Midjourney's Discord setup.
How to register and log into Opus Clip?
Opus Clip supports Google account login.
How does the Opus Clip work?
Opus Clip leverages big data to analyze your video content in relation to the latest social and marketing trends from major platforms, and generates a comprehensive understanding of your video for a data-driven decision on content repurposing. It then picks the highlighting moments of your long video, rearranges them into a viral-worthy short and polishes it with dynamic captions, AI-relayout, smooth transition to ensure that the clip is coherent and attention-grabbing, and ends with a strong call-to-action.
Why do I need to make short clips?
Repurpose your existing videos = no extra work, just extra shorts

Post short videos = boost the discoverability and engagement of your content

More monetization opportunity: More platforms are rolling out monetization programs, like YouTube Shorts revenue sharing and Instagram Reels Play bonus, creating short videos can help you expedite your monetization speed.
Simply enter your YouTube link and click "Get clips in 1 click" to have your clips created for you.
What types of videos can I upload?
Our algorithm works the best for videos that are longer than 15 minutes and feature spoken words, as we rely on words for AI curation. Types of videos that perform well with Opus Clip include: video podcasts, educational videos, commentary videos, product reviews, motivational speeches, etc.
Which languages are supported?
Currently, we only support video in English, but we will roll out more language options soon.
Absolutely! In fact, Opus Clip automatically adds captions for you with over 97% accuracy! You can change text and edit it freely soon.
Is Opus Clip free to use?
Opus Clip is currently free to use up to 10 hours of uploaded videos (100 downloadable clips).  We will roll out a paid plan in April for unlimited uploads.