Tome AI: Just a Idea to Generate the Perfect Story and PPT For you
Tome AI is an AI generator that can quickly create story presentations. The text generation function is based on the GPT-3 model, and the image is based on the Dall-E 2 model. It was first released in March 2022. Using AI technology, anyone can easily create presentations with a reasonable outline, strong headlines, full story and beautiful pictures. Users only need to input content prompts in the predefined workspace to complete the creation. During the creation process, users can choose different styles and tones. At the same time, there are three output styles to choose from: presentation, story and outline.
Price: Free
Tag: AI writing
Release time: March 2022
Developer(s): Magical Tome, Inc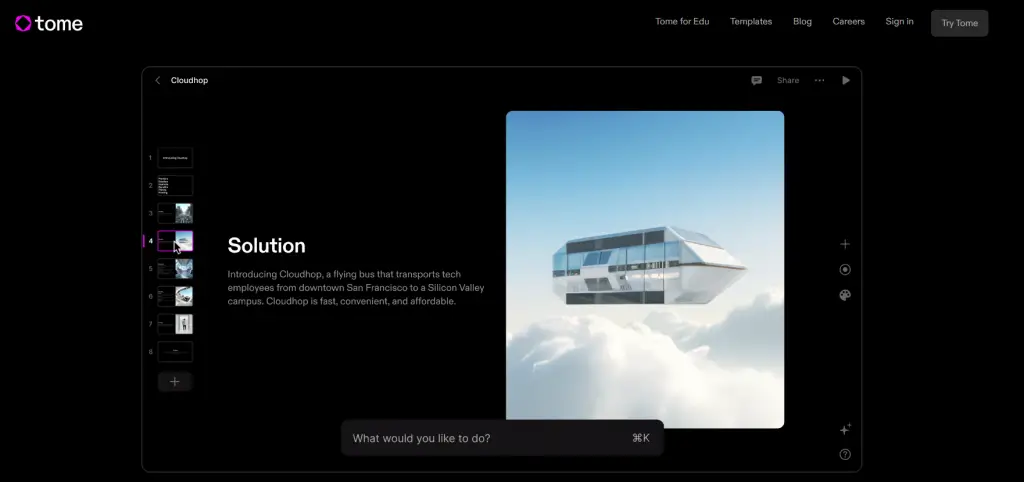 Build a powerful story with any content.

Frictionless creation meets magic design.

Possible to embed the content of existing works in tools such as Live, interactive content from the web and Figma

Support for creating video narration that matches your style for native video and asynchronous video

A lot of Templates for you to choose and refer to

Tome AI workplace has preset templates that you can pick and polish with Tome AI. You can also create a new one, and the specific process is as follows:
Open the Tome website and log in to the Tome account

On the workplace page, click "Create" in the upper right corner

Enter the content promts that you need to create in the input box at the bottom

Select the language style and picture style to start generating content

You can also select the + button on the right to modify and add pictures according to the content

There are 500 free credits for new user account registration, and you need to pay after consumption.
Yes, it is free to use as of now, but only in countries where Open AI is open.