Stable Diffusion: An AI Generator to Text-to-Image for Free
Art creation has been a patent for a few people since the birth of human beings. However the emergence of AI has changed everything. Now anyone can use tools like Stable Diffusion to create works of art. You just need to tell the AI ​​generator your art idea in words ,and you will get a unique work of art.
What is Stable Diffusion AI?
Stable Diffusion is a Text-to-Image AI model based on deep learning. Its function is mainly to generate images based on text descriptions, and it can also be used to repair images or perform image translation. The first version of Stable Diffusion was released by Stability AI on August 22, 2022, hosted on Hugging Face. The model is open source since it was released and it can run on most consumer hardware with a normal GPU with at least 8 GB of VRAM, making it possible for regular users to run the model too, which is the biggest difference between Stable Diffusion with other similar image models, such as DALL-E and Midjourney.
The technology of Stable Diffusion is based on the latent diffusion model widely used by the CompVis and Runway teams, and the development process was led by Patrick Esser of Runway and Robin Rombach of the Machine Vision and Learning Research Group at the University of Munich (formerly the CompVis laboratory at Heidelberg University), in addition, Stability AI, Eleuther AI, and LAION provide technical support, which is an example of cross-team research on AI models.
Stable Diffusion's official picture application DreamStudio has generated 170 million pictures for more than 1 million users after its release in 2022.
Price: Starting 0.001/sheet
Tag: Text-to-Image, AI Generator, Open Source, API
Release time: August 2022
Developer(s): Stability AI.
Users: 1M+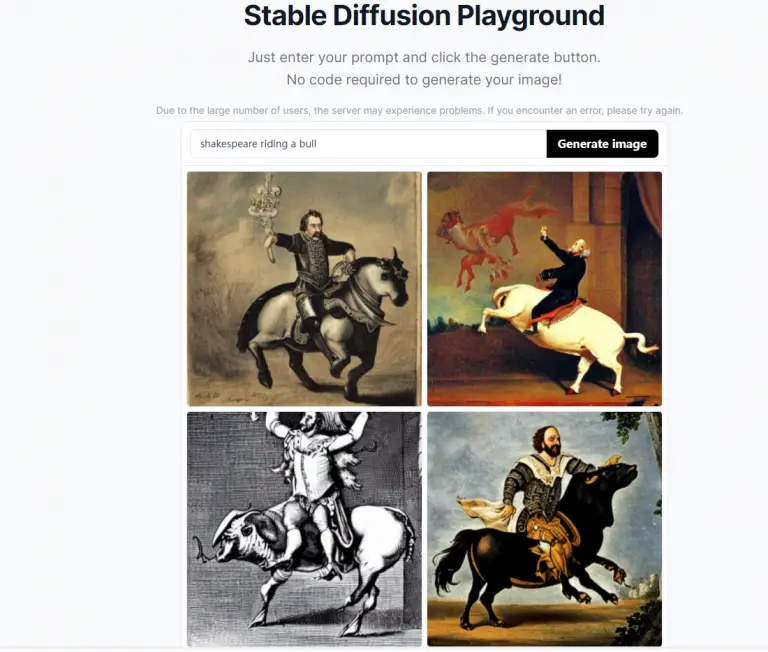 How to Use Stable Diffusion?
Stable Diffusion is currently free to use. Ordinary users can use it directly on the Stable Diffusion Playground, and developers can apply on the Stable Diffusion API platform.
Step of Use Stable Diffusion (Stability AI)
Open https://beta.dreamstudio.ai/
If you do not have a Stable Diffusion account, you need to register an account in Dreamstudio and then log in
After entering Dreamstudio Playground, enter your text in the input box at the bottom of the screen and start creating
Click the Generate image button to start generating the image you want
See more:How to Use Stable Diffusion to Generate NSFW and Porn Images?
How to apply for Stable Diffusion API
Click https://platform.stability.ai/, find getting Started on the left and read the documents inside
Create an account at beta.dreamstudio.ai
Find the default API key in your DreamStudio account, your profile settings→My Account…
At the settings page, navigate to the API Key tab
Just copy one of multiple API Keys, or you can create your own API Key
For the use of API Key and API construction, please refer to the official documentation.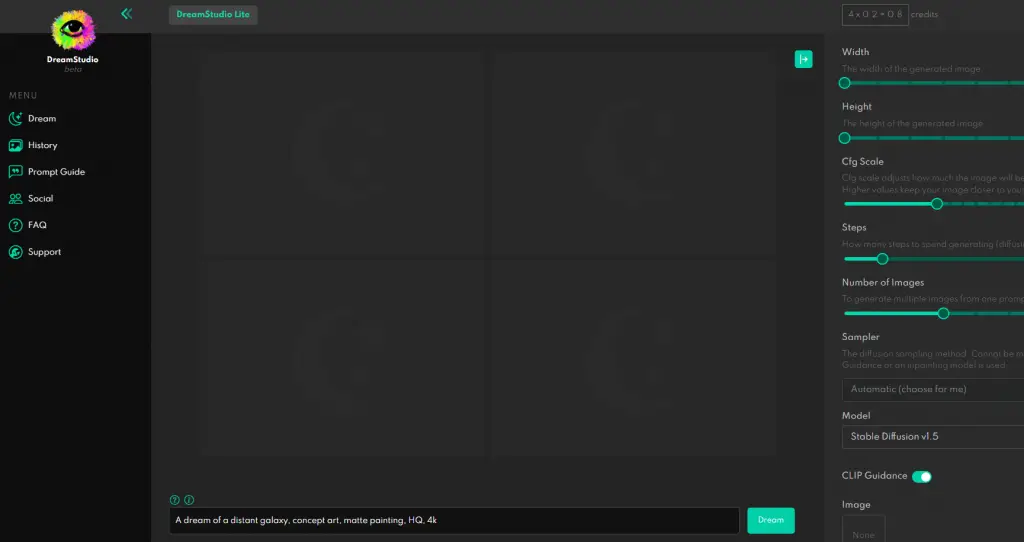 Features of Stable Diffusion
The features of Stable Diffusion 1.0 include:
Text-to-Image
Image-to-Image
Supports generating images with resolution of 512X512.
Features of Stable Diffusion 2.0
On November 24, 2022, stability.AI announced a major update to Stable Diffusion with the public release of version 2.0. Stable Diffusion 2.0 now features the following capabilities:
Text-to-Image: Generates an image based on textual prompts with resolution up to 2048X2048 or higher.

Image-to-Image: Generates a new image based on an existing image.

Depth-to-Image: Transforms an original image into a new one while preserving the original's coherence and depth.

Text-guided Image Inpainting: Repairs an image based on textual prompts.
See more:Best AI Art Generator
The official Stable Diffusion application website DreamStudio and API require a fee, which is calculated in Credits. Upon registering, each account is gifted 100 Credits. Credit usage is scaled based on the computation required to generate your image. Once the free Credits are depleted, additional Credits can be purchased on the DreamStudio account management page, with 1 dollar equating to 100 Credits. The minimum payment unit is 10 dollars.
You can adjust the amount of Credits consumed during use, and you can refer to the table below to understand how credit usage scales with step count and pixel dimensions:
| Step | 512×512 | 512×768 | 512×1024 | 768×768 | 768×1024 | 1024×1024 |
| --- | --- | --- | --- | --- | --- | --- |
| 15 | 0.1 | 0.3 | 0.3 | 0.4 | 0.7 | 1.0 |
| 30 | 0.2 | 0.5 | 0.5 | 0.8 | 1.4 | 1.9 |
| 50 | 0.4 | 0.9 | 0.9 | 1.3 | 2.3 | 3.2 |
| 100 | 0.7 | 1.7 | 1.7 | 2.6 | 4.5 | 6.4 |
| 150 | 1.0 | 2.5 | 2.5 | 3.9 | 6.7 | 9.5 |
Where can I obtain Stable Diffusion?
Is Stable Diffusion secure?
The security of Stable Diffusion is guaranteed and no user-generated content will be stored.
Is Stable Diffusion legal?
Yes, Stable Diffusion does not claim any rights to the images generated by the user and they can be used freely.J.