Pictory AI: Most Popular Online AI Video Editor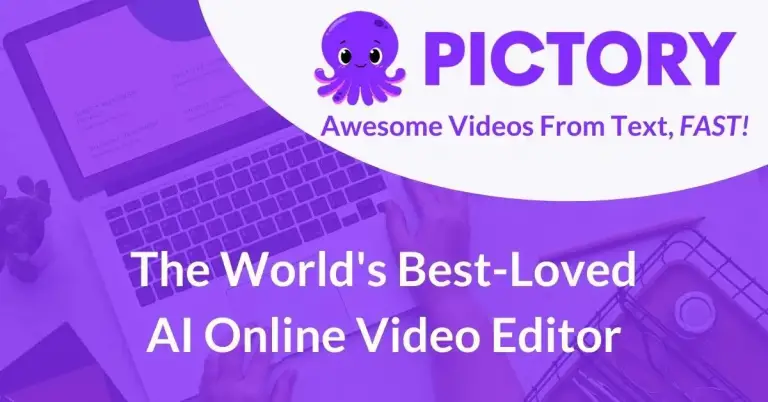 Pictory AI is an online AI video editing software created by Vikram Chalana in 2019, with the main function of transforming text into video. Pictory is a cloud-based video creation tool that utilizes artificial intelligence technology to automatically convert long-form text and video content into short videos for users to share on social media, which is important for product marketing and brand building for businesses. Pictory AI not only has the basic functions of regular video editing software, but it can also edit videos based on user text prompts and automatically add subtitles. Since its release, it has received positive reviews due to its powerful features and easy operation.
Price: Starting $23
Tag: AI Video Editor
Release time: 2019
Developer(s): Vikram Chalana
User: 2M
Create a video script

Save time and create videos in minutes

Pictory AI has simple operation steps and is easy to use

Strong professionalism, Pictory AI has more than 3 million video clips

Works on any computer, and runs in the cloud
Turn blog posts into videos

Timely response and fast processing

You can freely add human voice, add your own voice or AI voice
Quickly edit video with text

Enter text prompts to edit video

Automatically add subtitles, saving time and effort
Automatically summarize long videos: summarize key information from long recordings or long videos
Pictory AI is an application developed for PC users, which is suitable for MacOS, Windows and Linux systems. The PC side is the most practical for users who often edit videos, and can maximize its role.
Pictory AI Online can be used in a browser without installing any client, just open the official website of Pictory AI
The Pictory AI coupon code is a discount promotion offered to paid users. By entering the coupon code when purchasing a paid service, the corresponding amount will be reduced. It is important to note that each code has an expiration date, and once it expires, it cannot be used. You can stay updated on Pictory AI's official promotions or obtain a Pictory AI coupon code from links shared by existing users.
Click the "login" button in the upper right corner

Read and agree to the terms of use

Enter your Pictory AI account and password, or log in with your Google account

Click login to log in successfully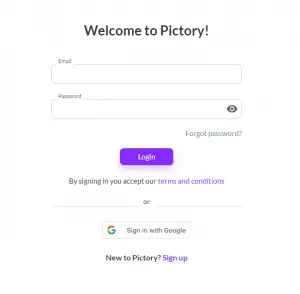 How to Register a Pictory AI Account?
Click the "login" button in the upper right corner

Enter your name, email and password, and click the "sign up" button below

If you receive a verification code from Pictory AI in your mailbox, please enter it according to the prompt to successfully create a Pictory AI account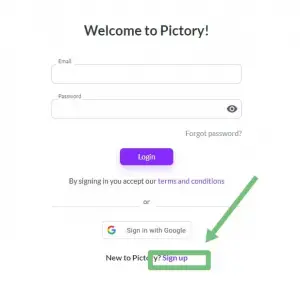 Pictory AI has three different pricing plans, as shown in the table below.
PlAN

STANDARD

PREMIUM

ENTERPRISE

Price

$ 23/month

$ 47/month

Please contact the official

Function

30 videos per month

Text-to-video projects of up to 10 min in length

10 hrs of video transcription/month

Edit existing video recordings up to 1 hr long

3 Branded Templates you can customize and save

5,000 music tracks

25 text-to-speech AI voices




60 videos per month included (Can be customized in-app*)

Text-to-video projects of up to 20 min in length (Can be customized in-app)

20 hrs of video transcription/month*

Edit existing video recordings up to 3 hrs long

10 Branded Templates you can customize and save

15,000 music tracks

42 text-to-speech AI voices




Custom limit on text-to-video project length

Custom video transcription/mo

Custom video length per upload

15,000 music tracks

42 text-to-speech AI voices

Automatic voice-over synchronization

More