Descript: An AI Editor that Combines Audio and Video into One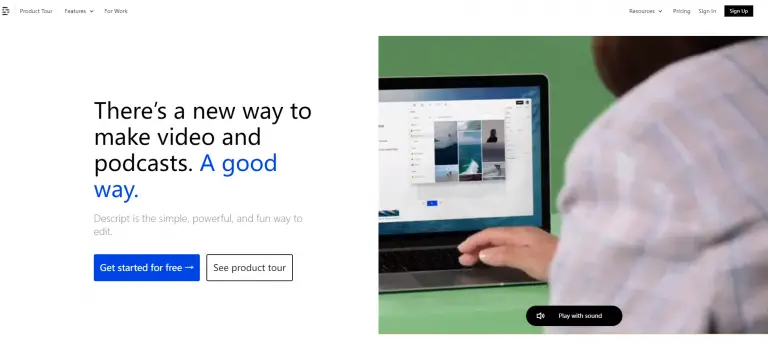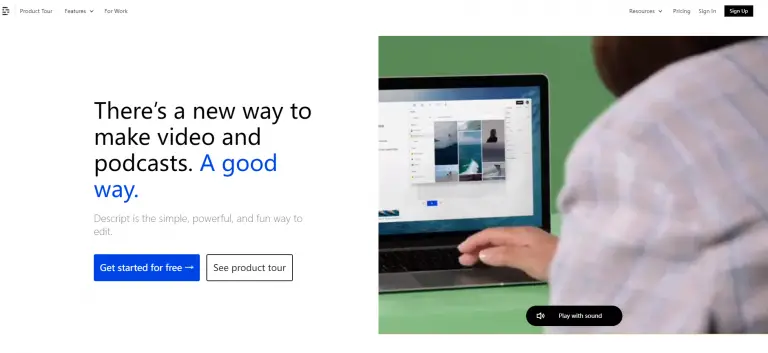 Descript is an AI editor created by Andrew Mason that can edit both video and audio. With AI technology, Descript supports users to edit audio and video through text, allowing users to transcribe, edit and collaborate with multiple people to process their media content. Descript provides a series of functions to help users reduce audio and video editing time and improve editing efficiency, so Descript has become widely popular.
Price: Starting Free
Tag: AI Audio/VideoEditor
Developer(s): Andrew Mason
Users: 2.3M
Automatic transcription: Descript uses advanced AI technology to automatically transcribe audio and video files, making it easy for users to edit their content

Support text editing: Descript allows users to edit audio and video content through text, effectively saving editing time

Multitrack Editing: Descript supports multitrack audio and video editing, allowing users to work on multiple audio and video files simultaneously

Support collaboration: Descript allows multiple users to collaborate on the same project, with team-based functions such as commenting and displaying historical versions

Audio and video effects: Descript provides a series of audio and video effects that users can apply to their content, such as noise reduction, adding filters, etc., which help users improve the quality of their media content

Support sharing: Descript allows users to publish their edited audio and video to YouTube, Twitter and other social media
Descript currently has no mobile apps for iOS and Android, only a desktop client.
Descript for PC is a computer application of Descript, suitable for Mac and Windows systems.
Descript Online is the webpage version provided by Descript, which can be used directly by opening the webpage without installation.
Enter the Descript website
Click "Sign up" in the upper right corner of the website
Enter your Descript account information, or choose a Google account to log in, and then click the arrow sign below to complete the login
If you don't have a Descript account, you can click "Sign in"
Then enter your email address and password, and click the arrow sign below
Enter the Descript verification code received by your email to complete the registration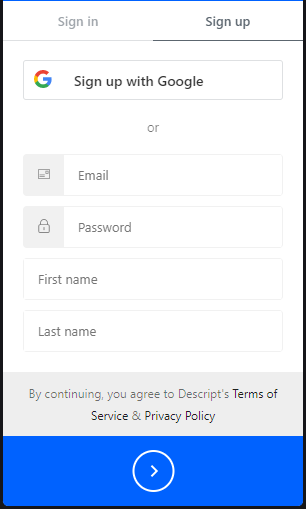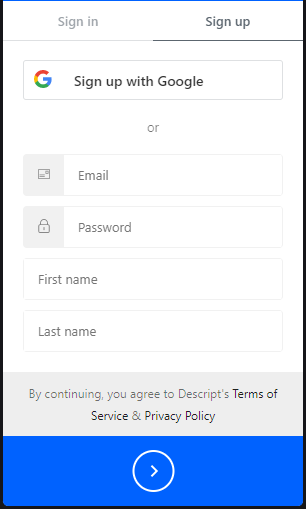 Go to the Descript website and complete the login

Import audio or video files

Use Descript's various tools to edit your content

You can use Descript's transcription function to enter text for editing

After editing you can export your content or share it to social media like Twitter
| Plan | Free | Creator | Pro | Team |
| --- | --- | --- | --- | --- |
| Price | $0 | $15 | $30 | $300 for the first 5 users, then $30 per additional user |
| Function | Basic transcription and editing features. | Additional editing and collaboration tools | Advanced editing and collaboration tools, as well as a higher transcription limit | Everything in the Pro plan, plus additional team management features |
Eric: I can use Descript to edit multiple videos at the same time, and I just need to enter the text Descript will automatically edit for me, which is really great!
Gerry: I have never seen any software that has so many useful functions like Descript.
Joanna: The processing speed of Descript video editing is very fast and the function is too powerful.
What is Descript used for?
Descript is an audio and video editing tool, in which you can transcribe, edit and share your media content. It is a must-have tool for publishing YouTube videos.
What are the benefits of Descript?
Descript has many functions, such as automatic transcription, can use text to edit audio and video, supports multi-track editing, supports sharing, etc.