Vizard: A Powerful AI Video Editor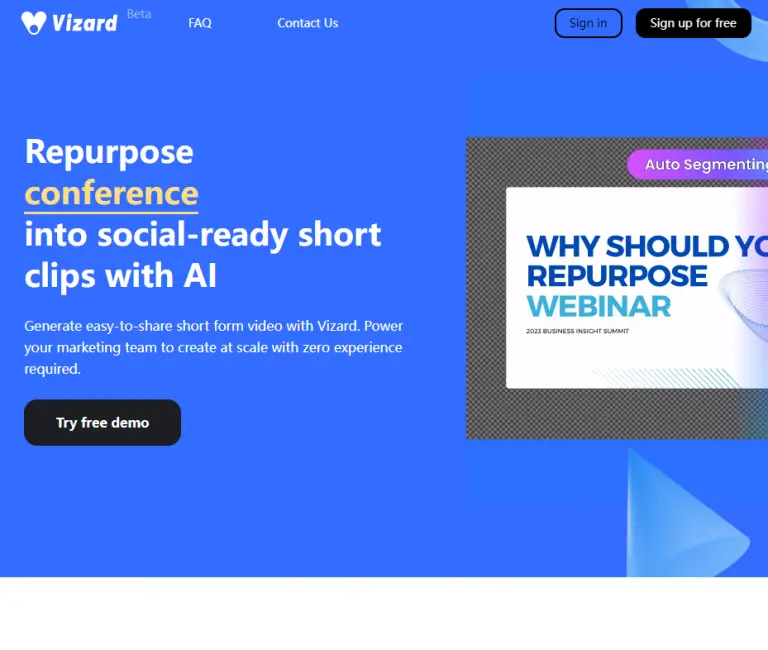 Vizard is a video editor that uses artificial intelligence technology to automatically edit video clips, automatically match subtitles, automatically dub, automatically add background design and other functions. If you are a novice who is new to short videos, you can use Vizard's automatic cutting function to cut a content-rich video. If you are a self-media operator, you can use Vizard to switch between different scenes and add some more interesting animation effects to your video, helping you break through the bottleneck period of video creation. If you are a team manager, you can use Vizard to record the meeting process for you and generate important snippets of the meeting. Use Vizard to help you complete video editing work easily.
Price: Starting Free
Tag: AI Video Editor
Release time: 2018
Developer(s): Vizard, Corp.
Automatically edit video clips: Users can use Vizard to edit a video effortlessly. Users only need to upload the original video, and Vizard can automatically edit a wonderful video
With automatic dubbing function: Vizard can provide a variety of interesting dubbing for your video
Automatically add subtitles function: you only need to press the button to add subtitles, Vizard will automatically add subtitles for you, and the accuracy of subtitles is high
Transcription supports multiple languages: Vizard supports videos in many different languages, including English, French, German, Japanese, Spanish, Italian, etc. 13 languages
The Vizard APP supports iOS users to download and use, and you can find the Vizard APP in the Zoom application market.You can also use it directly on Vizard's official website.
Vizard's
official website
has not yet mentioned the pricing issue, you can contact the service provider to learn more. However, it provides users with a free trial service. If you are interested in AI editing video, you can go to Vizard's
official website
to use it!
How many languages does Vizard's text-to-speech feature support?
Vizard's text-to-speech feature supports 13 languages, such as Chinese, English, Japanese, Spanish, Korean, etc.
Can I use Vizard for free?
Yes, Vizard offers a free trial service, go try it out!
What services can Vizard provide to users?
Vizard can provide users with functions such as automatic video editing, automatic dubbing, and simplified meeting recording.