Movio: Build the Future of Video Marketing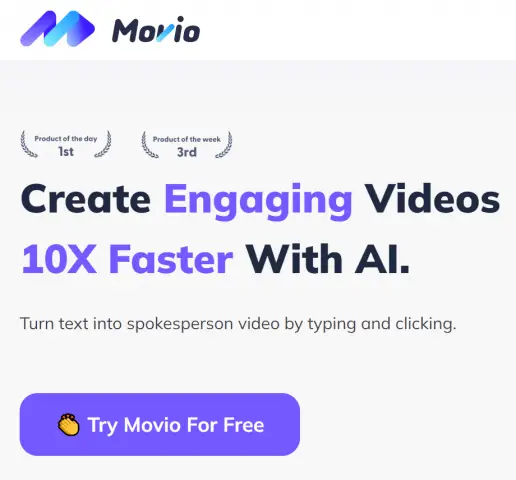 Movio is an engaging AI online video creation tool that simplifies the video editing process for users and finally produces AI spokesperson videos with perfect lip sync. Currently, Movio can be a leader in marketing solutions, which can be used for corporate training, online education, explanation videos, promotional videos, etc.
Price: Free or starting $24/mo
Tag: AI Video Generator
Release Time: 2019
Developers: Movio Limited
Users: 1.1M
Customizable Templates: Movio offers several customizable templates for different types of videos, including social media videos, product demos, and event recaps. You can choose a template and customize it.
Text Overlay: You can overlay text on your video, including titles, subtitles, ect.
Voice-over Feature: Movio allows you to record a voice-over and add it to your video.
Talking Avatars: Movio provides you with over 100 AI avatars covering different races, ages and poses, all with perfect lip sync.
Face Swap Videos: Movio allows you to upload photos of people's faces and swap them with those of AI avatars. (The premise is that the photos you upload will not infringe the rights of others)
Collaborative Editing: Movio offers collaborative editing, allowing you and your team members to work on a video at the same time.
Visit

Movio

official website, click "Get Movio For Free" in the upper right corner.

Enter the authoring page, select a video template or directly click "Create Video" in the upper right corner.

Click "Text Script" to edit your video script, and you can set the speech rate and pitch on the right.

Click on "Audio Script" to add a voiceover, upload your audio file or just record it.

You can also click on Avator and others on the left for custom editing.

Once you're done, you can preview your video by clicking "Preview" in the upper right corner.

If you are satisfied with the video, you can click "Submit".

The video will be stored in your draft box, and you can perform secondary editing, save and share operations.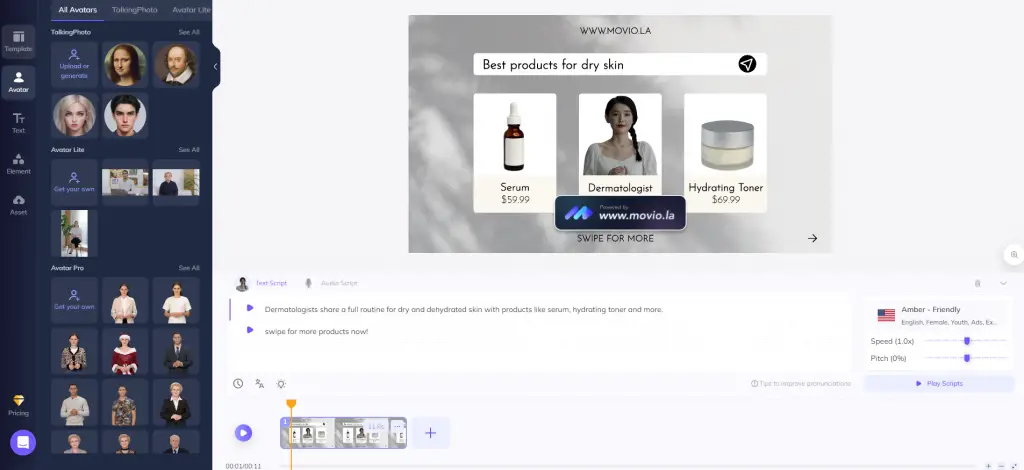 How to login Movio account?
Visit

Movio

official website, click "Get Movio For Free" in the upper right corner.

Click "Sign Up" in the lower left corner, enter your email address and click "Send Code" to get the verification code.

Enter the verification code and click "Next Step".

Set your password and click "Done" to complete the registration.

If you have already registered an account, click "Log In".

Enter your email address and password, and click "Log In".

If you forget your password, you can click "Forgot Password?" to retrieve your password and log in.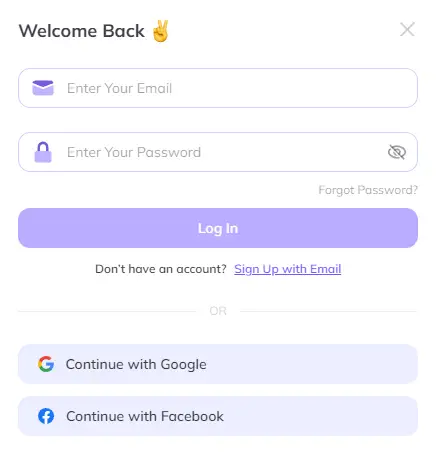 Plan

Free

Essential

Pro

Enterprise

Price

0

$30/mo billed monthly or $24/mo billed yearly

$225/mo billed monthly or $180/mo billed yearly

Contact Them

Time for Credits

1 minutes

10 minutes

90 minutes

Customized Plans

Up to Unlimited

Features

All Public Avatars

All Templates

TalkingPhoto

Avatar FaceSwap

Full Editor Access

Total 10 Minutes Per Month

All Free Benefits

Up to 10-min Per Video

Premium Voices

Auto Captions

No Watermark

Priority Video Processing

Total 90 Minutes Per Month

All Essential Benefits

Up to 15-min Per Video

API Access

Large Volume

All Pro Benefits

24/7 Suppor



In addition, the Essential Plan provides 20, 40, and 60 minutes of credits, and the Pro Plan provides 120, 180, and 240 minutes of credits, and the prices are increased proportionally on the basis of the original price. You can try it out for free before subscribing to a paid plan to gauge how long you need it.
Do I need video production skills or experience to use Movio?
Unnecessary. Movio's AI technology can automatically edit videos, and provides video templates and customization options, allowing users to create videos quickly and easily.
Does Movio provide video footage or audio libraries?
Yes, Movio provides an extensive video library and audio library that users can use during video editing.
Yes, Movio is a web-based platform for users to share and collaborate on video creation.