Treebrain: ChatGPT-Based SEO Assistant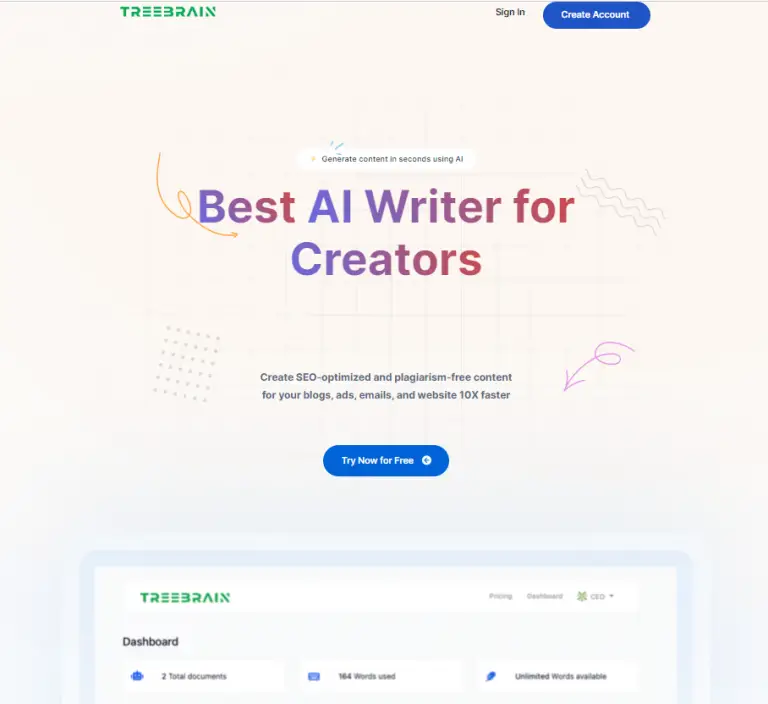 Treebrain is an online AI article creation platform released in 2023 that generates high-quality SEO content to assist users in creating excellent articles. With a variety of features, such as keyword extraction, automatic outline structuring, content generation, and article refinement, Treebrain provides users with a wealth of tools to improve their writing process. Additionally, it can automatically create brief explanatory videos based on the topic of the article. By utilizing Treebrain, users can significantly enhance their speed and efficiency in creating blog posts, advertisements, emails, and other types of content.
Price: Starting free
Tag: AI writer
Release time: 2023
Developer(s): Treebrain
Extract keywords: Treebrain can extract the most core keywords for your articles.
Grammar correction: Treebrain can automatically detect the grammar of articles to help you avoid grammar mistakes.
Optimize the title: Treebrain can optimize the title of your article and improve the quality of the article.
Generate an outline: Treebrain can automatically generate a suitable outline based on your given topic.
Article polishing: Treebrain can automatically polish the article to ensure that the article can use the correct words and expressions.
Name generation: In addition to creating articles, Treebrain can also take a creative name for a product or project.
Video generation: Treebrain can generate short, high-quality explanatory videos on user's article topics.
Support multiple languages: Treebrain supports the use of more than 30 languages.
Treebrain does not currently have a mobile app, only a web version. If you are interested in Treebrain, you can go to
the Treebrain website
to experience its powerful features.
Treebrain provides a variety of flexible price plans for users to choose from, to meet the needs of different groups of people to the greatest extent.
Price

$0/mo

$8/mo

$19/mo

$35/mo

$99/mo

Contact staff

Functions

5,000 AI words

5 AI images

5 AI transcriptions

40,000 AI words

25 AI images

40 AI transcriptions

80,000 AI words

50 AI images 80 AI transcriptions

API Access

80,000 AI words

50 AI images 80 AI transcriptions

API Access

300,000 AI words

100 AI images

300 AI transcriptions

API Access

Custom AI words

Custom AI images

Custom AI transcriptions

API Access
Is Treebrain free to use?
Yes, Treebrain has a free version, which is free for users. If you want to use more features, then you need to purchase a paid service.
Treebrain is an AI-driven article generator that can automatically generate keywords, outline structure, and article content based on a given topic. It can also polish and optimize articles, such as changing words, adjusting word order, and checking punctuation.
What types of articles can Treebrain create?
Treebrain can create a variety of common articles, including blog posts, product descriptions, website tweets, and more.