Texta: A SEO-optimized AI Online Writing Assistant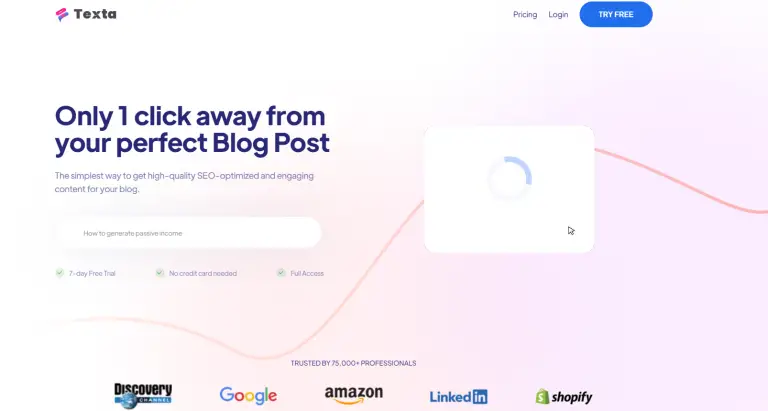 Texta is an AI Online Writing Assistant based on ChatGPT, developed by the Texta team in 2022. Texta can automatically generate SEO-optimized marketing copy, ad copy, blog copy, etc. for users, and provides more than 1000 Zapier integrations to speed up the writing process – use it to draft, edit and publish content with one click. Texta also supports team collaboration features.
Price: $10/month
Tag: AI Writing Assistant
Release time: 2022
Developer: Texta
7 days free trial period
AI creates high-converting marketing copy, comprehensive blog posts, academic papers, and more.
Texta AI-driven Brainstorm, bid farewell to the writing block
Produce more in less time
Create content in over 26 languages
Texta is free for a personal trial for 7 days and provides business plans.
Plan

Starter

Pro Max

Pro Max Plus

Price

$25/month

Billed monthly

or $10/month

billed annually

$49/month

Billed monthly

or $17/month

billed annually

$79/month

Billed monthly

or $29/month

billed annually

Functions

Able to write 25,000 words per month
Automatic writing mode
Professional Automatic Editing
Supports more than 27 languages
More than 50 templates to apply
User with all permissions

Able to write 50,000 words per month
All features in Starter
SEO Keyword Suggestions
Zapier integration features
5 users with all permissions

Write 100,000 words per month

All features in Pro Max

Priority Technical Support

10 users with all permissions



Florian Bodelot: We use this platform to create content and enhance the user experience for our clients. It's very easy to use.
Suneet S: It can be used to improve your content marketing text and SEO keywords. Very helpful for running a company.
Nahida R: Using Texta is the easiest way to generate a long blog post in minutes.
In what languages is Texta available?
Currently Texta supports 26 languages ​​including English, Spanish, French, Portuguese, German, and Chinese.
The text you upload and generate will not be publicly used for any purpose unless you allow it yourself.
Does it generate 100% original contents?
Basically yes. If you are concerned about plagiarism, you can use a plagiarism checker to check and re-edit the text.