Scalenut: One-Stop Intelligent Content Creation Platform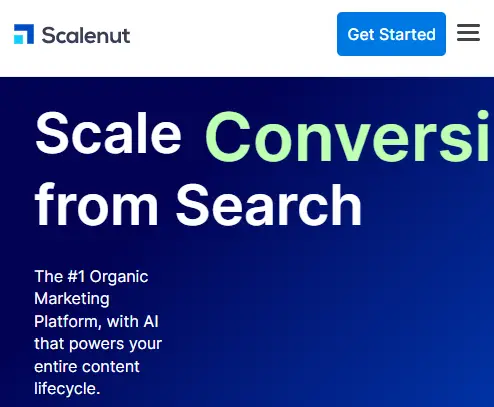 Scalenut is a powerful and easy-to-use content marketing application that helps users easily plan and manage their content strategy and provides support to create high quality content. It uses artificial intelligence technology to provide more accurate analytics and recommendations, helping users to better understand their target audience and develop effective content plans, better manage customer relationships and improve sales effectiveness.
Price: Free or starting $23/mo
Tags: AI Content Creation, AI Answer Generator
Release Time: 2020
Developers: Scalenut
Scalenut provides a variety of features and tools, including customer relationship management, sales automation, email marketing, marketing strategy planning, content creation, and more. It can provide a comprehensive marketing and sales solution for enterprises, helping them to achieve intelligent operation of multiple tasks such as customer maintenance, sales management and content creation. Specific features are as follows.
One-click content planning: Build topic authority with AI-provided supported content strategy and keyword clustering to help your niche acquire the entire keyword plan.
Multiple Blog Ideas: Scalenut uses AI technology that can help you create multiple blog ideas quickly.
Cluster Booster Integration: Scalenut integrates with cluster boosters to help you create content clusters easily.
The following are the main features of Scalenut.
Artificial Intelligence Powered

Scalenut is a content marketing app based on AI technology that provides users with content strategies and keyword clusters to build topic authority. Through AI technology, Scalenut can automatically generate topic clusters to provide users with more efficient and accurate content creation suggestions.
Multi-User Collaboration

Scalenut supports multi-user collaboration and can provide teams with an efficient and collaborative content marketing tool. Team members can share content plans and creative theme clusters, collaborate on content planning and production, and improve work efficiency and quality.
Automatic Synchronization and Analysis

Scalenut can automatically synchronize and analyze the effectiveness and performance of content, providing users with real-time data analysis and feedback. Based on the data analysis results, users can adjust their content strategy and marketing strategy in time to improve the quality and effectiveness of content.
Real-time Support and Feedback

Scalenut provides real-time support and feedback that can help users solve problems and difficulties in a timely manner. Users can get professional technical support and help in a timely manner through Scalenut's live chat and email support.
Scalenut is suitable for all types of businesses, especially those that need to manage a large number of customer relationships, automate sales and create high-quality content. Whether you are a startup or a large enterprise, Scalenut can provide you with effective marketing and sales solutions.
Scalenut is a cloud-based application and you can use it directly from Scalenut's official website without downloading.
How to login to Scalenut?
Go to the

Scalenut

homepage and click on get started in the top right corner.

Enter your email address and password, or choose to use Google Mail to log in successfully.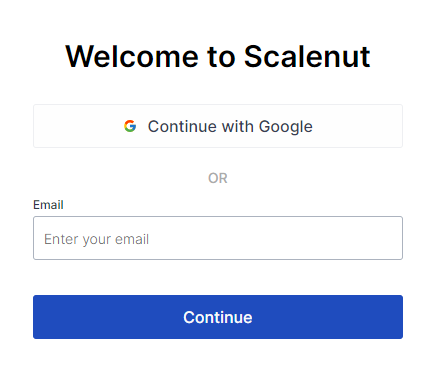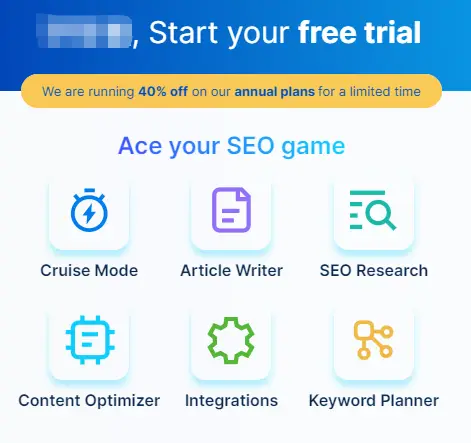 Each plan includes a seven-day free trial
Plan

Essential

Growth

Pro

Price

$39/mo(monthly)

$23/mo(annually)

$79/mo(monthly)

$47/mo(annually)

$149/mo(monthly)

$89/mo(annually)

Function

100,000 AI Words

Create SEO Articles

(5 Articles/mo)

40+ AI Templates

SERP Analysis

NLP Key Terms

SEO Editor (Better than Google Docs for SEO)

Document Sharing

Chrome Extension

Email Support

Live Chat Support

Everything in Essential+

Unlimited AI Words*

Create SEO Articles

(30 Articles/mo)

Build Keyword Clusters

(30 Clusters/mo)

Audit & Optimize Pages

(30 Pages/mo)

1-click WordPress Publish

Integrations

Everything in Growth +

Unlimited AI Words*

Create SEO Articles

(75 Articles/mo)

Build Keyword Clusters

(75 Clusters/mo)

Audit & Optimize Pages

(75 Pages/mo)

Dedicated CS Manager

1 user; add more @ $49/user
Scalenut is a content marketing app that helps users optimize their content creation process to improve content quality and efficiency.
Scalenut is for people who need to optimize their content creation process, such as corporate marketing teams, bloggers, content creators, etc.
Can Scalenut be integrated with other tools?
Yes, Scalenut can be integrated with other tools such as Slack, Trello, Google Calendar, etc.