Rytr: A Faster&Better AI Writing Tool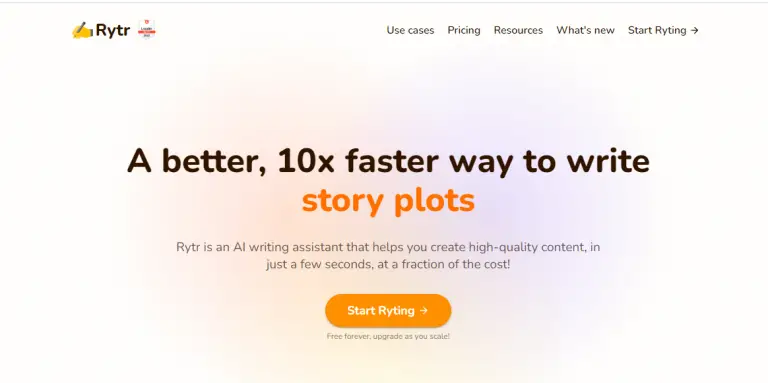 Rytr is an OpenAI/GPT-3 based AI writing assistant developed by the Rytr team in 2021. It allows users to enter keywords or apply numerous text templates, creating batches of high-quality content in seconds. Rytr has cooperated with many well-known companies such as Adidas, PwC, and Ford.

Price: Free
Tag: AI Writing Assistant
Release time: 2021
Developer: Rytr Team
State-of-the-art language AI support to generate unique and original content

More than 40 writing templates and 30 writing languages ​​to meet your writing needs

Ability to correctly understand the author's emotions and choose an appropriate writing tone

Rewriting, expansion, grammar diagnosis function

Support multi-format output or download text
Plan

Free

Advantage

Pro

Price

Free

$9/month

$29/month

Function

Generate 10K characters per month
Can use AI to generate up to 5 illustrations per month

Generate 100K characters per month
AI can be used to generate up to 20 illustrations per month
Possibility to create your custom templates

Generate unlimited characters per month
Can use AI to generate up to 100 illustrations per month

Possibility to create your custom templates

Dedicated account manager



How to login in Rytr account?
Enter

Rytr

,click Start Ryting.

login your Rytr account

if you don't have an account,you can create your Rytr account with Google,Facebook,linkedIn or email.

After verifing your account,you'll successfully log in.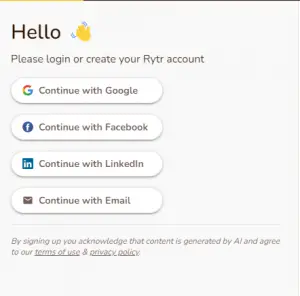 Log in to your previously registered account

Choose language、use case and tone you prefer

Write your key words and use commands,AI will write for you.

Karrie Brazaski: Great value for money and easy to use.
Madesnappy: Rytr helps me generate professional business copy. 
Heather Flores: Among the dozens of AI writing tools on the market, Rytr is the most recommended
How does Rytr create content?
Rytr uses GPT-3-based language models and copywriting formulas (such as AIDA, PAS, FAB, etc.) to predict the words that appear in a given input scene.
Largely yes. But because the AI ​​model is trained on data from the web, the AI ​​sometimes displays output that may be duplicated.
Can the content generated by Rytr be increased/controlled?
Not allowed. OpenAI has strict restrictions on the length of AI text output from the  beginning.