Robin-ai: AI Contract Generator Supporting Online Editing of Terms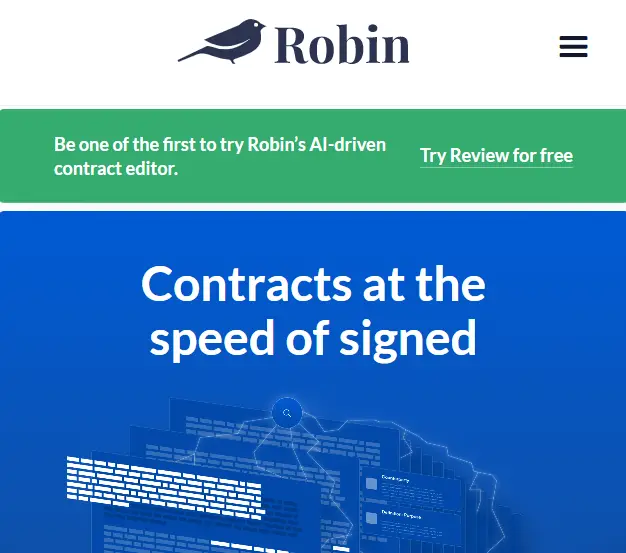 Robin-ai is a contract generator released in 2019 that uses AI technology to support users to edit terms online. It not only provides users with a complete contract framework, but also provides users with functions such as drafting contracts, reviewing contracts, and searching for terms, which can help users turn fragmentary drafts into professional contracts in a short time. While improving the efficiency of contract generation, Robin-ai also protects the privacy of users, provides users with safer and more efficient AI contract generation services, and simplifies the cumbersome contract generation process.
Price: Starting free
Tag: AI Contract Generator
Release time: 2019
Developer(s): Robin-ai
Provide privacy protection function: users have the right to set who can view the contract, and Robin-ai will also pay attention to protecting the privacy of users.
Provide intelligent drafting function: users can use more flexible templates to draft contracts, which is conducive to improving the efficiency of drafting contracts.
Assisted by a professional team: Robin-ai has a professional lawyer team that can provide professional guidance for users to generate contracts.
Greatly reduce the error rate: Robin-ai uses machine learning to greatly reduce the error rate of the contract.
Robin-ai currently only provides a web version, allowing users to use it online. If you are interested in AI contract generation, you can go to its official website to learn more.
At present, the official website does not provide clear pricing. If you want to use Robin-ai's service, you can contact the service provider for more information. In addition, Robin-ai also provides a free trial service, you can also try it.
How long does it take Robin-ai to generate a complete contract?
Robin-ai typically generates a complete contract within a few hours.
How long does it take Robin-ai to generate contract reports?
Very fast, typically minutes to generate detailed contract reports.
What file formats does Robin-ai support?
Robin-ai supports PDF or DOCX files.