Kickresume: A Distinguished AI Online Resume Bulider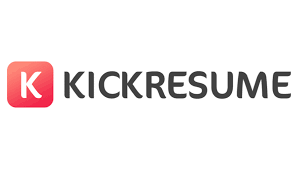 Kickresume is an online resume maker that helps users create and customize brillant and professional resumes and cover letters in a minute. It provides various templates, allowing users to choose a suitable template according to their needs. Kickresume also integrates with social media platforms like LinkedIn, allowing users to easily link their profiles with resumes, showcasing their work experience and skills.
Price: Free or starting at $5.36/mo
Tags: Writing, AI Resume Builder
Release Time: 2013
Developers: Peter Ďuriš
Provide a variety of resume templates and examples

Turn your resume into a personal website

Analyze the strengths and weaknesses of your resume and provide suggestions for improvement

Meet the needs of different users, make artificial intelligence resumes

Make artificial intelligence cover letters

Help users understand how their resume is performing in the job market
First you need to register an account, click "Create My Resume" in the upper right corner of the official website

Kickresume

.
Fill in your relevant information and click the "Register" button.
Then choose the right template based on your occupation, skills, industry, etc.
Use Kickresume's online editor to create your resume, filling in personal information, education background, work experience, skills, etc.
Preview the resume, confirm the layout and content.
Save your resume to your computer or export it to a cloud service (such as Google Drive).
Attention: Kickresume offers some features for free, but for some advanced features and specific templates, you may need to pay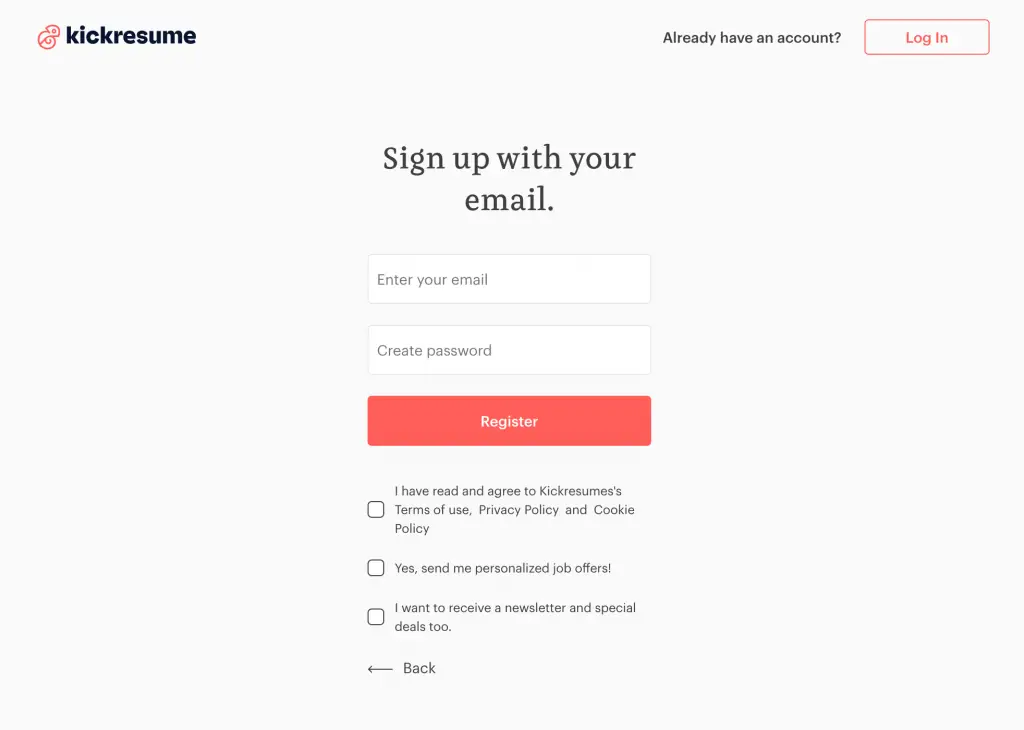 How to Login Kickresume Account?
Go to the Kickresume website
Click on the "Log in" button located in the top right corner of the page
Enter your email address and password
Click on the "Sign in" button.
Kickresume Technical Principle
Kickresume is an online resume creation tool based on cloud computing technology. It uses technologies such as HTML, CSS and JavaScript to build a web interface, and uses technologies such as PHP and MySQL to realize background data processing and storage. At the same time, Kickresume also uses artificial intelligence technology to analyze users' resumes and provide relevant career advice and assistance.
Kickresume offers both free and paid versions, and the services provided are also different. You can see as follows:
Plan

Free

Paid yearly

$5.36 per month

Paid monthly

$20.39 per month

Resume templates

4 basic templates

37 professional templates

37 professional templates

Cover letter templates

4 basic templates

37 professional templates

37 professional templates

Personal website templates

1 basic templates

7 professional templates

7 professional templates

Free premium for friends

/

5 friends

/

AI resume checker

/

√

√

Pre-written phrases

20,000+

20,000+

20,000+

Resume and cover letter samples

1,500+

1,500+

1,500+

Design & colors

/

√

√

Fonts & typefaces

2

26

26

Icons & charts

6

397

397

Email & chat support

√

Priority

Priority
Attention: As for the above current price information, Kickresume may adjust the price and service according to the change of time and demand. Therefore, it is recommended to carefully read the relevant price and service information before subscribing.
Easy to use: Provides a variety of resume templates, allowing users to quickly create and personalize their own resume

Personalization: The platform provides a variety of colors, fonts and formats, and users can customize their resumes according to their tastes and career needs

Usability: Various tools are provided, such as spell check, suggested sentences, etc. It helps users create attractive and practical resumes

Globally oriented: resumes can be created in multiple languages to support the language and cultural needs of multiple countries around the world

Integration: Kickresume can be integrated with platforms such as LinkedIn and Dropbox, allowing users to manage and share their resumes more easily
For more advanced features and specific templates, users need to pay

Limited customization
What type of resume can Kickresume be used to create?
Kickresume can be used to create various types of resumes, including student resumes, professional resumes, creative resumes, and executive resumes.
Is there a fee to use Kickresume?
Kickresume is available in both free and paid versions. The free version offers basic features, while the paid version offers more features and advanced templates.