Jenni AI: A Superb AI Online Writing Assistant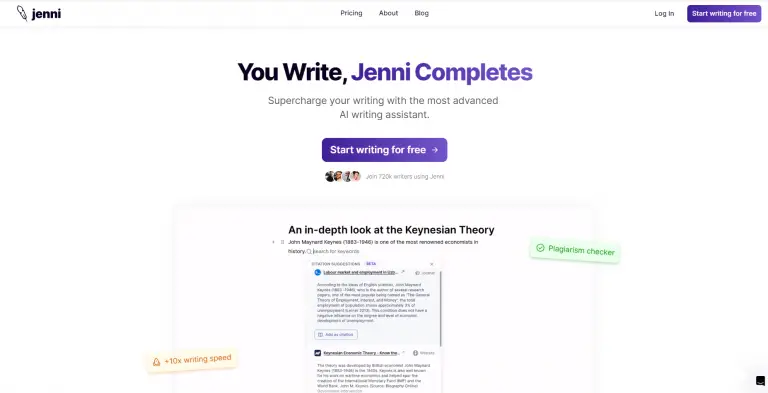 Jenni AI is one of the best AI Online Writing Assistants currently on the market, using the Jenni AI system, OpenAI, AI 21 and custom data from each user to generate high-quality writing content, developed by the Jenni AI team in 2022 . Since the launch of the product, Jenni AI has written more than 350 million words and has more than 720k users, ranking first among similar products.
Price: Free
Tag: AI Writing Assistant,AI Writing Generator,AI Story Generator
Release time: 2022
Users: 720k+
Developer: Jenni AI
Free Trial Length

Various writing modes such as blog posts, essays, emails, etc.

AI Autocomplete: Write with you to overcome writing bottlenecks

Support for choosing a personalized tone and writing style for the AI

Essay writing assistant: Jenni AI supports access to the latest research, which you can cite as you write.
The price of Jenni AI is based on the number of written words per month.
| Words | 3k | 6k | 12k | 24k | 48k | 96k |
| --- | --- | --- | --- | --- | --- | --- |
| Price | $6/month | $12/month | $21/month | $39/month | $71/month | $128/month |
Christophe Vallerd: Jenni AI has increased my writing speed up to 10 times than before.
Morto Clouter: I've used Jenni AI to generate 5 blogs.No one tells that they come from AI.

Niko Simpler: We can generate different kinds of articles.Powerful tool.
Now we can only use Jenni on website.Of course you can open a website of Jenni AI on your mobile phone,too.
Unless we get the permission from you,or none of your articles or words would be used for any use.
Does Jenni AI generate 100% original contents?
Jenni tries to generate 100% pure contents for you.However,it happens that some sentences may come from the Internet.