Anyword is an innovative AI writing solution tailored for marketers, designed to scale up content creation while ensuring it resonates with the target audience. It stands out by not just generating content but also predicting the performance of the copy it creates. This tool is built to understand and maintain a brand's voice, audience preferences, and the nuances that make marketing content successful. By leveraging advanced AI models, Anyword assists in creating a variety of content, from SEO-optimized articles to compelling ad copy. It's trusted by over a million marketers and leading companies, making it a go-to solution for businesses aiming to enhance their content strategy with AI-powered efficiency and precision.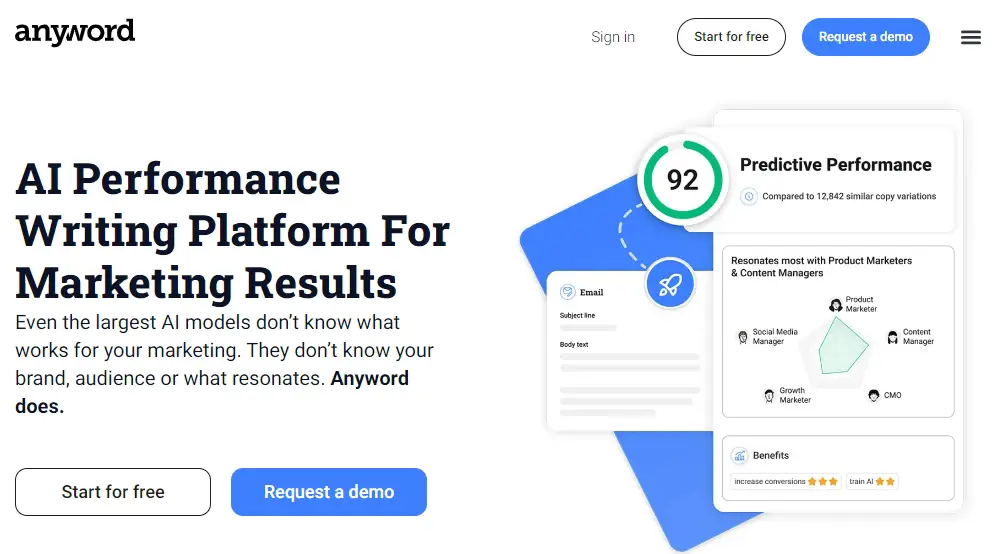 Anyword is packed with features that make it an indispensable tool for modern marketers:
Data-Driven Copywriting: Utilizes AI to generate content that's optimized for performance.
Performance Prediction: Scores and ranks content based on predicted effectiveness.
Brand Voice Customization: Allows users to tailor the AI to their specific brand voice and messaging.
Diverse Content Creation: Capable of producing a wide range of content types, including ads, emails, and website copy.
SEO Integration: Helps in creating content that is not only engaging but also SEO-friendly.
User-Friendly Interface: Designed for ease of use, enabling quick content creation and editing.
Custom AI Models: Offers the ability to train AI models on a brand's specific performance data for more tailored results.
Chrome Extension: Anyword's Performance Boost Chrome Extension allows users to apply its capabilities across various platforms like Google Docs and ChatGPT.
Step 1: Sign Up and Choose a Plan
Start by signing up for Anyword. You can choose the free Basic plan to explore its fundamental features or opt for a paid plan for more advanced capabilities. Once registered, familiarize yourself with the dashboard and settings to customize your experience according to your marketing needs.
Step 2: Create and Customize Content
Use Anyword to generate various types of content, from ad copy to blog posts. Customize the output by setting your brand voice, target audience, and content goals. Leverage the AI's suggestions to refine and optimize your copy for better engagement and performance.
Step 3: Analyze and Optimize with AI Insights
Take advantage of Anyword's AI-driven insights to analyze the performance potential of your content. Use the scoring system to understand which variations are likely to perform best and make data-driven decisions to optimize your marketing strategy.
Step 4: Integrate Across Platforms
Utilize Anyword's Chrome Extension to bring its capabilities to other platforms like Google Docs. This allows for seamless integration of AI-powered writing and optimization across your entire content creation workflow.
Plan

Starter

Data-Driven

Price

$24 /month

$83 /month

Function

20,000 word credits per month
100+ AI writing tools
200+ Data-driven copywriting tools
Blog post wizard
30 languages
Multiple seats

30,000 word credits per month
100+ AI writing tools
200+ Data-driven copywriting tools
Real-time predictive performance score and analytics
Improve and boost scores for your own copy
Blog post wizard
30 languages
Multiple seats