Aiby-email: A Reliable AI Text Generator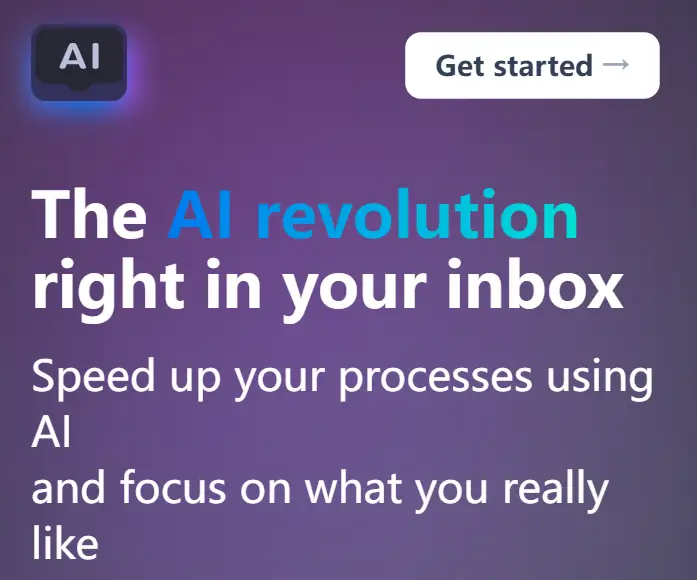 Aiby-email is an AI text automatic generator that supports multiple scenarios. Aiby-email's text generation function is powerful, providing more possibilities for text generation. If you are a mother, you can use Aiby-email to automatically generate a customized fairy tale for your child; if you are a car salesperson, Aiby-email can automatically generate a text for you to promote the car; if you As a student, Aiby-email can customize a scientific and feasible study plan for you. In short, Aiby-email can generate high-quality texts for you, saving some unnecessary time.
Price: Starting Free
Tag: AI Text Generator
Developer(s): Aiby
Creation of original literary content: Aiby-email can form unique original literary content based on the user's initial ideas
Easy to use: you only need to put forward your requirements, send your order to [email protected] by email, and you will get a response from Aiby-email.
Support multiple languages: Aiby-email supports multiple languages, such as English, French, Portuguese, etc.
There are various types of texts that can be generated: you can use Aiby-email to generate advertising copy, recruitment opinions, concepts, fairy tales, study plans, etc.
Aiby-emai provides users with a web version, allowing users to use it online. If you are interested in it, you can enter the official website of Aiby-email for more information.
Aiby-email's official website doesn't give clear pricing, but there are a few avenues through which you can earn free credits. If you are interested in Ukit-ai, you can contact Ukit-ai's service provider.
Is it difficult to use Aiby-email?
It's not difficult, just email your order to [email protected], and you'll get an Aiby-email response.
Can Aiby-email convert text to speech?
Yes, Aiby-email provides users with text-to-speech services.
What can Aiby-email do for user presentations?
Aiby-email can give the focus of the presentation and the content of each sub-argument, and automatically generate a document for the slide.