Skimit: AI Summarizing Platform for Free

Skimit is an AI text summarization platform powered by OpenAI's GPT technology, developed by the Skimit team. It crawls text from web links, then processes and summarizes it, designed to allow people to get the key points without having to spend time reading full internet articles. Compared with similar products, it interacts with you via email, which is more convenient for file storage, and has the function of synchronous sharing of original text and abstract.

Price: Free
Tag: AI Summarizing
Release time: Unknown
Developer: Skimit
Enter URL link to generate abstract

Email form interaction, better security and usability

Share original text and abstract at the same time
Skimit is totally free for users.
Skimit is free for everyone, and no login is required to use the digest feature.

Click to visit the

Skimit

website.

Select the text link for which you would like to generate a summary and send it to

[email protected]

NOTE: You need to make sure your article link is the first url link in the body of the email.

After about 10 minutes, you will receive an email with an AI-generated summary of the article.

You can add your friend's email address and click CC to share articles and summaries with your friends.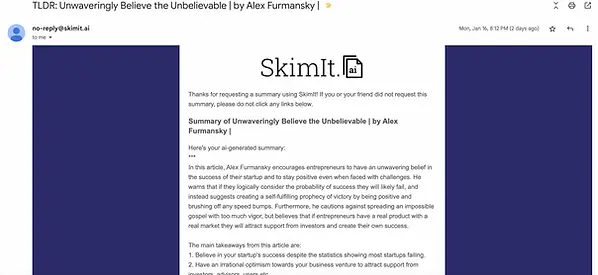 Kes Falis: Saw an interesting article but didn't have time to read it, and Skimit generated a great summary for me.
Ranie Pones: Great and interesting summary site.
James Rupin: E-mailing me summaries made it easier to keep the files.

How long does it take to summarize?
Usually 5-10 minutes. Sometimes our servers are a bit slow and it may take up to 15 minutes to receive your digest.
We do not retain any other content in emails you send to our [email protected] processor other than text links.
Is the ai-generated content accurate?
Not really. We are not legally responsible for the content generated by ai.