Repurpose io: AI Helps You Expand Your Online Influence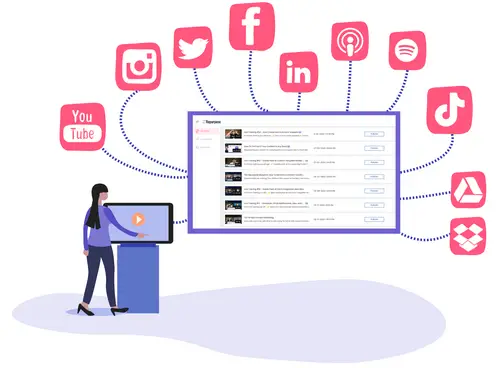 Repurpose io is an online AI tool created by Hani Mourra in 2021 that allows users to repurpose their audio and video content and automatically share or optimize it for other platforms to expand their audience on social media channels such as YouTube, Facebook, TikTok, Pinterest, and Twitter. Users simply need to put the source link of a post onto Repurpose io, and it will automatically share it to all platforms, helping users save time and effort and reach more audiences effortlessly. As a result, Repurpose io has gained the love of many social media managers, content creators, and product marketers.
Price: Starting $15
Tag: AI management assistant
Release time: 2021
Developer(s): Repurpose io
Users: 634K
Make a calendar: Repurpose io allows users to make a content calendar and schedule the release time of each video

Watermark removal: Repurpose io helps users remove watermarks from TikTok and other videos before reposting them to other platforms

Automatic backup: Repurpose io will automatically back up the user's audio or video, and the user does not have to worry about content loss at all

Automatic publishing: Repurpose io helps users to automatically publish short videos to multiple platforms such as TikTok, Instagram Reels and YouTube to expand online influence

Automatically use tags: Repurpose io will also mark the hashtags of the original video in the process of reposting the video
How to Login Repurpose io?
Enter

the Repurpose io website

, click "Login" in the upper right corner

Enter your Repurpose io account information, click "Sign in", or log in directly with your account

If you don't have a Repurpose io account, you can click "Sign up for free" in the upper right corner

Enter your email address and click "Sign up with Email"

Enter your name and account password

Read and accept the Terms of Use and Privacy Policy

Finally, click "Sign up" to register successfully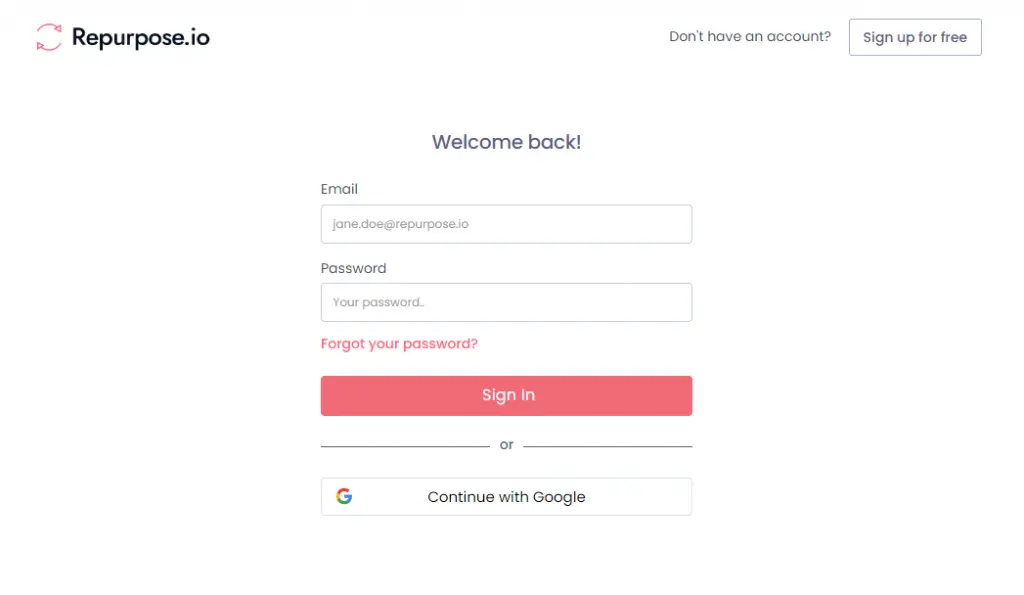 Enter

the Repurpose io website

and complete the login

Click on "Connections" in the left menu bar

Put the source link of the post you want to forward to other platforms in the specified location

If you don't want to forward directly, you can also adjust and optimize the video or audio, such as shortening the duration, etc.

Choose the platform you want to publish to, such as YouTube, Facebook, TikTok, etc., follow the prompts, and then Repurpose io will automatically repost for you

If you don't want to forward the video and audio immediately, you can set a time, and Repurpose io will automatically forward it for you when the time you set
Repurpose io has three pricing plans, please refer to the table below for details.
Plan

Podcaster

Content Marketer

Agency

Price

$15 / month

$25 / month

$125 / month

Functions

For audio creators who want automatically convert audio podcast episodes into engaging videos and publish them to multiple platforms

Connect 1 of each social media platform

Ideal for long-form video creators, short-form video creators, and live streamers

Automatically repurpose existing content or any video in your Google Drive or DropBox to all your social media channels

Connect 5 of each social media platform.

Designed for agencies to manage the repurposing and distribution of their client's audio and video

Automatically repurpose existing content or any video in your Google Drive or DropBox to all their social media channels

Connect 20 of each social media platform.
Jack: I just posted my products on YouTube at first, and then Repurpose io can help me post to many platforms, which really saves my time.
Anna: Repurpose io is very user-friendly, yet it is also incredibly powerful, making it a truly fun and engaging tool to use.
Charlie: I finally don't have to manually post my videos one by one anymore, because Repurpose io does it for me. I love Repurpose!
No, Repurpose is not free, but it offers a 14-day free trial period during which you can repost a total of 10 videos or audios from social media to other platforms.
Can you schedule posts with Repurpose io?
Of course you can! With Repurpose, you can set up a content calendar, which means scheduling a specific time for your posts to be published.
Is it OK to Repurpose content?
Yes, you can. Repurpose not only helps users directly republish content, but also allows them to optimize it before publishing it to other platforms.