Neeva: Advanced Ad-Free & Private Search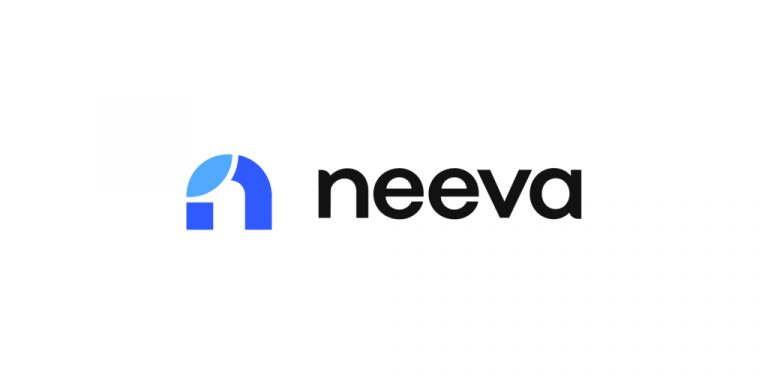 Neeva is a private search engine that can be tried for free. It provides users with an advanced search experience on the basis of ensuring users' privacy, and is 100% ad-free. Meanwhile, Neeva is available for iOS and Android devices, and its browser extensions are compatible with all major browsers.
Price: Free or starting $4.17/mo
Tags: Research
Release Time: 2019
Developers: Sridhar, Vivek
Users: 1M
Privacy protection: Neeva uses encryption and other technologies to protect your search history and personal information, and does not sell or share users' data to advertisers.

Customized search results: You can find all the information you want to see at any time on your personal homepage.

Ad-free experience: Neeva provides users with an ad-free experience by not displaying ads in search results or elsewhere on the site.

Detailed good product recommendation: When you want to buy an item, Neeva will list reliable review data for you, allowing you to easily and quickly find the item you like.
Visit

Neeva

official website

Type your search query into the search bar and press 'Enter' or click the magnifying glass icon to search

See the search results displayed on the page, you can use the filters on the left side of the page to refine your search results by content type, date or source

Click on a search result to read the full text or visit the website
How to login Neeva account?
Visit

Neeva

official website and click the "Sign in" button in the upper right of the homepage.

Enter your email address and click the "Sign in" button to get started.

If you don't have a Neeva account yet, click "Sign up".

Click "Get Free" for a free trial or "Try It Free" subscription.

Enter your email address and password, and click the "Confirm" button to complete the registration.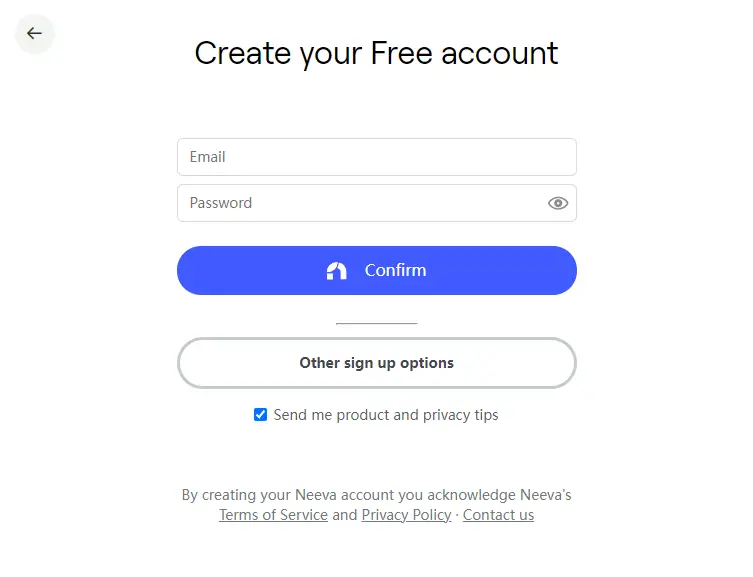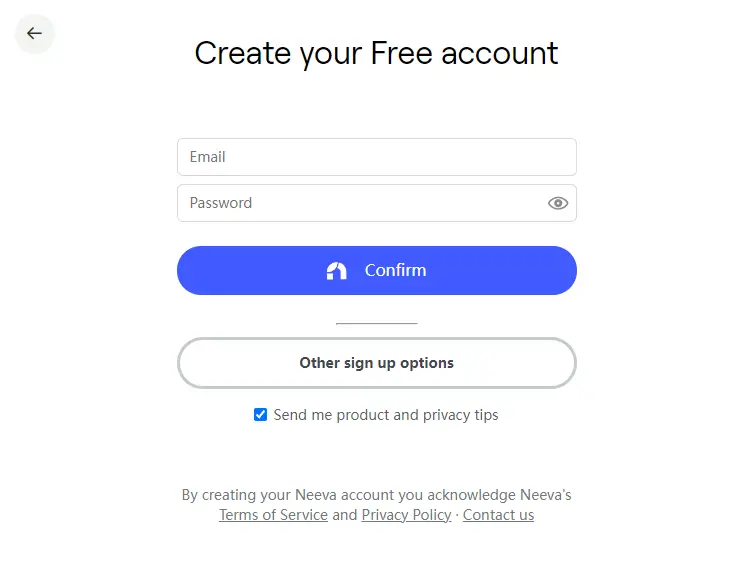 Neeva Technical Principle
Proprietary Algorithms: Neeva personalizes search results based on users' preferences, history, and other contextual data. The algorithm takes into account a user's search history, browsing habits, location and other data points to deliver results tailored to their needs.

Encrypted Search: Neeva is built on a privacy-first architecture, and no user data is stored or shared with third parties. Neeva allows users to search without revealing their search terms or personal information. Additionally, Neeva does not collect or sell user data.
Plan

Free Plan

Premium

Annual Plan

($4.17/mo, totally $49.99 billed annually)

Premium

Monthly Plan

($5.99/mo)

What You Got

Private search

tracker blocking

Private search

tracker blocking,

Unlimited ad-free searches,

Unlimited search across personal accounts,

Unlimited of devices on same account,

Premium password manager + VPN

Private search

tracker blocking,

Unlimited ad-free searches,

Unlimited search across personal accounts,

Unlimited of devices on same account,

Premium password manager + VPN
Mark Addison: "I rely on Neeva every day, and I trusted Neeva to index all my drives so that I can find anything. Love the Personal tab, and the new AI feature also."
Eric Caron: "I just love it. Each week the search results get better, and it is wonderful to use a service where you have 100% certainty for "what they are doing with my data" and "why am I seeing this content." I tell all my friends and family about it – the only thing missing from Neeva is that more people need to know about it!"
Mark Donne: "Neeva continues to get better and better and if you want to find an alternative to Google search and also have no ads this is the search engine for you."
Neeva is a privacy-friendly search engine. It does not track or share users' search history, personal information or data. .
How is Neeva different from other search engines?
Unlike other search engines, Neeva focuses on privacy protection and providing high-quality search results. It doesn't record users' search histories, and it doesn't sell personal information or data to advertisers. Additionally, Neeva excludes a large number of advertisements from its search results, displaying only valuable search results.
Can Neeva replace other search engines?
Neeva's goal is to provide users with a better search experience while protecting their privacy. It can't completely replace other search engines, however, it's a very good choice, especially for users who are very privacy-conscious.
Are Neeva's search results authentic and reliable?
Yes, Neeva's search results come from reliable sources such as news organizations and authoritative websites.