Inspo: A Great Search Engine For New Ideas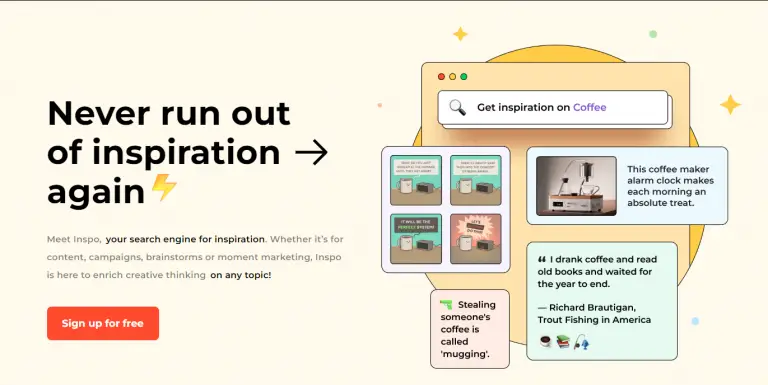 Inspo is an AI search engine released by HaikuJAM Inc. in 2021. Inspo can intelligently perform keyword association and resource screening to inspire you and plan proposals from advertisements, social posts, images and more resources. Based on GPT-3 and Millennial technology, Inspo can also generate creative calendars and poems.
Price: Free
Tag: AI Search Engine
Release time: 2021
Developer: HaikuJAM Inc.
Interactive writing and search functions based on GPT-3 and Millennial

Keyword Expansion Text Based on GPT-3 and HaikuJAM

Extremely fast retrieval, giving you new insights in seconds or minutes

Gather inspiration from various cultural circles, such as Goodreads, Twitter, Reddit, 9GAG, etc.
Plan

Inspo

Inspo Pro

Function

Unlimited vocabulary searches and unlimited inspiration boards
AI keyword focus and tracking
Creative Marketing Calendar




All free version features
Join the HaikuJAM Association
all search content
7*24h real-time interactive chat search
Enter

Inspo

,click Login.If you don't have an account,you should click Free Sign-up.

Login in by google or Create an account with your Email and password.

After successfully verifying your email and password, you will be automatically logged in.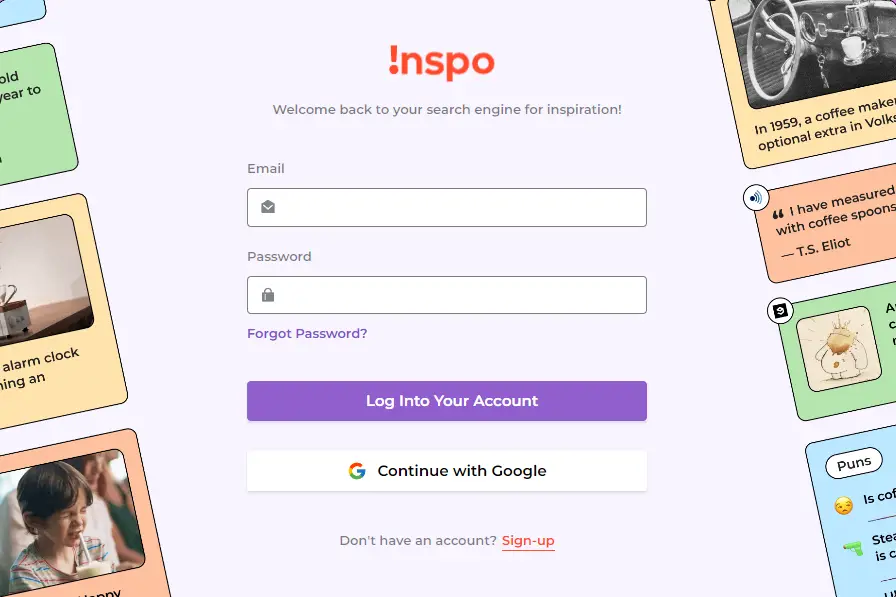 Jocab: Inspo is great for the company's creative team.
Lydia: Inspo and Canva are must-have tools for creative workers.
Justin: Inspo inspires more than Google.
Inspo is your inspiration search engine, designed to enrich your creative thinking on any subject.
It's a great tool to have when you're out of inspiration or have a creative block.
Can I reuse the content I find on Inspo?
 You may use any searched content for commercial purposes subject to relevant laws and regulations.