Henchman: Lawyers' Favorite AI Contract Drafting Tool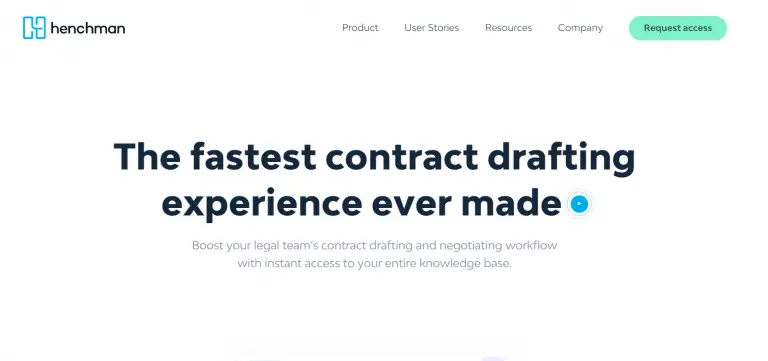 Henchman is an online AI contract drafting tool for legal workers founded by Jorn, Gilles and Wouter in June 2021 to help users simplify contract drafting. Henchman uses AI technology to quickly find the same or similar clauses in contracts or laws, and provides explanations for these clauses, assisting users in contract drafting tools. In addition, Henchman can also automatically track the update and changes of a certain clause to ensure the validity of the clause and help users apply the correct legal provisions or industry rules.
Price: No uniform pricing
Tag: AI Contract Drafting Tool
Release Time: June 2021
Developer(s): Henchman
User: 16K
Find Similar Terms: Henchman helps users automatically search databases for the same or similar terms of a contract or law without having to browse through multiple files.
Provide insights: Henchman provides explanations of common terms in contracts to help users draft more rigorous contracts.
Automatic classification: Henchman uses AI technology to automatically classify terms and conditions, and can quickly extract them when users need them.
Advanced filtering: Henchman can automatically filter certain terms according to user needs to help users find specific content.
Open the original contract: When the user clicks on a clause, Henchman can automatically open the original document, allowing the user to quickly browse the context.
Track clause changes: Henchman can track the update and change of a certain contract clause or legal clause.
The needs of users are different, and the methods of use are also different. If you are interested in Henchman, you can click "
Request access
", and after entering your contact information, Henchman staff will arrange a 30-minute meeting for you.
Derek: I have to say that Henchman is really strong, it really helped me improve the speed of drafting contracts.
Daniel: Henchman is very comprehensive and can track changes in various terms.
Annie: I really like Henchman, especially its clause explanation feature.
Henchman is an online AI tool that assists users in drafting contracts, helping users find and explain a clause.
No, Henchman provides paid services, you can follow the official information to know the price of Henchman.