Cheatlayer: The All-in-One Tool for Business Automation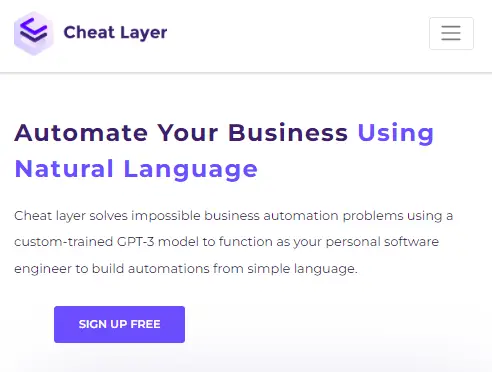 Cheatlayer is a business automation tool designed to help organizations automate business processes, reduce tedious and repetitive manual operations, and increase productivity and accuracy. It is a lightweight, easy-to-use cloud-based application that provides a customizable platform for users to create workflows and automate tasks to suit their needs.
Price: Free or starting $39.2/mo
Tags: AI Business
Release Time: 2020
Developers: Cheatlayer
Versatility: Cheatlayer is a multi-functional business automation tool that can cover a variety of business scenarios, such as HR, finance, procurement, etc.
Ease of use: Cheatlayer has a simple and easy-to-understand interface design, which is very easy to use, and users only need a few simple steps to complete business automation.
Security: Cheatlayer adopts the most advanced security technology, which can guarantee the security and confidentiality of data.
Application integration: Cheatlayer can integrate with many popular applications such as Gmail, Slack, Trello, etc. so that users can manage all their work on the same platform.
Codeless automation: Cheatlayer provides an easy-to-use drag-and-drop interface that allows users to easily create custom automation tasks without writing any code.
Data collection and processing: Cheatlayer automates the collection and processing of large volumes of data, reducing the burden of manual operations and improving data processing efficiency.
Task management: Cheatlayer helps companies automate task management, enabling a variety of functions such as task assignment, tracking and feedback.
Report generation: Cheatlayer can automatically generate various reports to help enterprises quickly access business data and analysis results.
Instant notifications: Cheatlayer can send instant notifications to users via email, Slack and other channels to keep users informed of the status and progress of tasks.
Cheatlayer offers a regular version and an enterprise version, where the price of the enterprise version requires access to the
Cheatlayer
website to contact sales for purchase. Both include a 14-day free trial.
Plan

Normal

Enterprise

Price

$49 per month(Monthly)

$39.2 per month(Yearly)

Contact sales

Functions

1,000 emails or social posts

100000 Cheat Cloud Tasks

+ 1 tennants

Custom SLA and access to private office hours calendar

Custom Machine Learning Credits Per Month For GPT-3 Code Generation

Custom Cheat Cloud Tasks Per Month

Unlimited Automations and Local Executions

Webhook Triggers (Build Your Own Unlimited Zapier)

Unlimited Desktop RPA Robots

Project Atlas Access

Unlimited Google Sheets Tasks and Data

Unlimited Stable Diffusion Image Generations

Cheat Layer Product Lab Private Discord

Custom Team Seats
Visit the official Cheatlayer website and click on the "SIGN UP FREE" button.

Enter your email address and password, then click the "Register" button.

Registration is successful and you can start using it!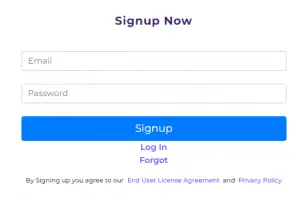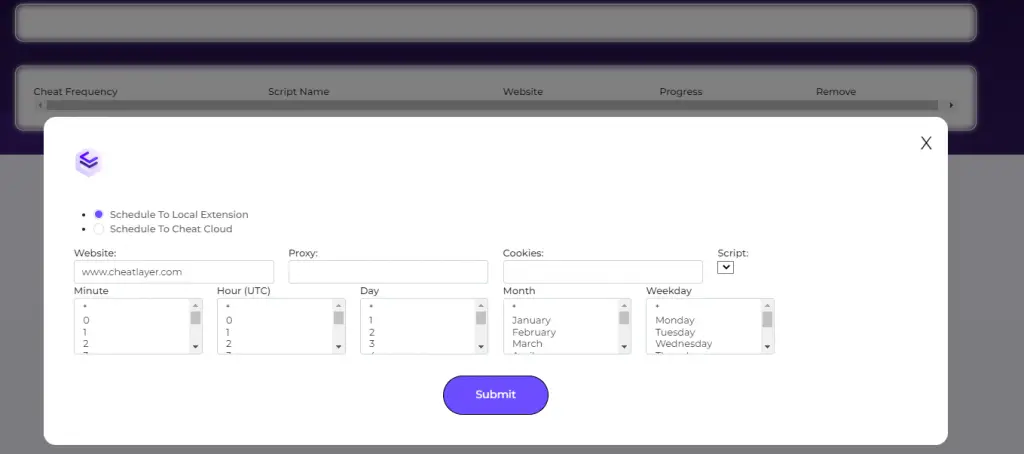 Does Cheatlayer require installation?
No. Cheatlayer is an online business automation tool that requires no download or installation, and can be used by simply opening the website in your browser.
What business scenarios does Cheatlayer support?
Cheatlayer supports a variety of business scenarios, such as HR, finance, procurement, etc. Users can choose the appropriate set according to their needs.
What kind of automation tasks does Cheatlayer support?
Cheatlayer supports a variety of automation tasks, including email sending, SMS sending, web crawling, data collection, etc.