Casetext: Faster&More Accurate Legal Research Platform

Casetext is a law and case database based on AI searching.It was developed by the Jaker team in 2013 and currently only provides services in the United States. It provides users with a case law database containing cases, statutes, rules, summaries, etc. of all 50 states, and allows users to use AI to search the database to obtain accurate case results based on the same facts and legal terms. Casetext works with more than 8,500 law schools and law firms across the United States.

Price: $90/ mo
Tag: legal services search engine
Release time: 2013
Developer: Jake Heller Team
Comprehensive coverage of case law databases covering all 50 states

View case summaries, citation files, and more written by judges.

Handy features like automatic copying of citations, instant briefing binders, and more.

Supports filtering search results by motion type, cause of action, and party type

24/7 online support team
Plan

Starter

Advantage

Pro

Price

$90/month

$100/month

$225/month

Function

25 searches per month

Smart Citation & Analysis

Briefing
Parallel Search Based on Keyword Concept
CARA AI Search: Professional Legal Search Engine

Ideal for regular legal research
All Starter functions
Unlimited searches per month

All advantage features

Personal legal file storage and retrieval function
Online Lawyer Services
How to login in Casetext account?
Enter

Casetext

,click Sign in.

If you do not have an account yet,you should click Sign up with your email or google account.

Choose your position and it will lead you to a proper version.

After verifing your email,you'll successfully log in.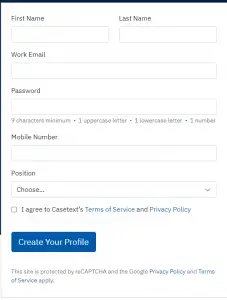 Log in to your previously registered account

Choose your service or have a search.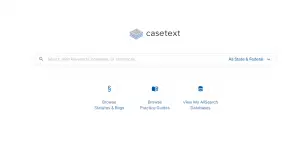 Jeremy Gilman: Casetext is an amazing and growing legal research platform.
Sasha Rao: Casetext helped me find the most relevant cases within minutes.
James Anagnostakis: Casetext is the best legal platform I have ever used.
Can Casetext give me legal advice?
No, Casetext is not a law firm and cannot provide legal advice or assistance.
What is Casetext Research?
Casetext Research is an AI-powered legal search technology that combines traditional search capabilities with CARA AI-powered contextual search capabilities.
Yes. All files processed with CARA AI technology are encrypted in transit, then deleted immediately and never retained, meaning your files are safe.