Beautiful.ai: Empower Your Presentation with AI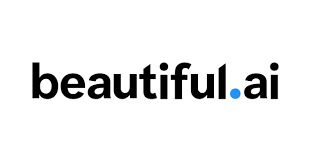 Beautiful.ai is a full-featured online presentation maker that helps users create beautiful presentations in minutes. However, Beautiful.ai has not lost its uniqueness in simplifying the design process of presentations and strives to give users a double guarantee of high efficiency and high quality. Do you want your PPT to be amazing? Then use Beautiful.ai to bloom your brilliance!
Price: Free or starting $12/mo
Tag: AI Presentation Maker
Release Time: 2015
Developers: Beautiful.AI Inc.
Users: 1.5M
Rich template library: Beautiful.ai provides a variety of templates for users to choose from, including advertising, education, and other fields.
Automatic layout: During the process of making slides, the items added by the user will be automatically arranged in the appropriate position. At the same time, Beautiful.ai can also automatically adjust the position and size of charts, text boxes, and pictures to make the user's presentation look neater and more aesthetically pleasing.
Real-time collaboration: Beautiful.ai supports multiple people to collaborate and edit the same document at the same time, which greatly promotes teamwork.
AI-assisted design: Beautiful.ai uses AI technology to recommend the best design solutions for users, improving the production efficiency and satisfaction of users.
Visit the Beautiful.ai official website and click "Login" in the upper right to log in to your account.
Choose a theme, start creating your presentation, click the "CREATE NEW PRESENTATION" button, and Beautiful.ai will provide a novice tutorial at the beginning.
 Add a slideshow. Beautiful.ai provides a gallery of images and a gallery of slideshow templates.
Add content: Add text, pictures, charts, and other content according to your needs.
You can also use "colors, layout, add an element, animation, audio" on the left to adjust your slideshow.
After you're done, you can preview and edit your presentation.
Once you've made a presentation you're satisfied with, you can click "Export Presentation" to export it as a PDF or PowerPoint file and share it with others.
You can also click "Print Presentation" to print it out.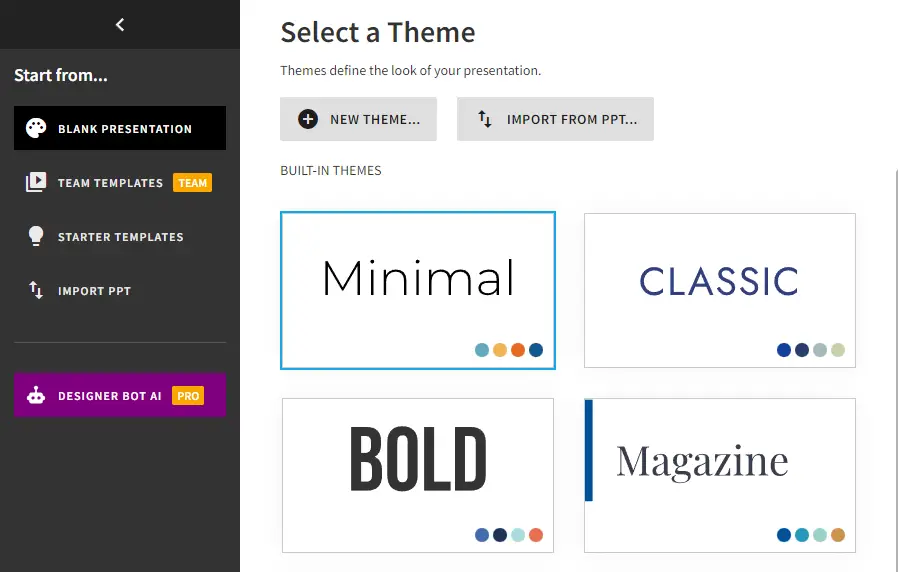 How to Login Beautiful.ai Account?
Visit the Beautiful.ai official website and click "Login" in the upper right.
Enter your email address and password, click "SIGN IN", you can also log in with your Google account.
If you forget your password, please click "Forgot your password?" to retrieve your password.
If you have not registered an account, click "Create an account".
Enter your email address and set a password, then click "CREATE ACCOUNT", you can also register directly with your Google account.
To view the verification email, click "Verify Your Email".
The system will jump back to the Beautiful.ai website for you, and you can choose to fill in some questions given by Beautiful.ai and click "Done", or you can choose not to fill in and click "ASK ME LATER" directly.
Select a paid plan, select it and click "TRY IT FREE".
Fill in your bank card information, then click "START FREE TRIAL" to complete registration and login.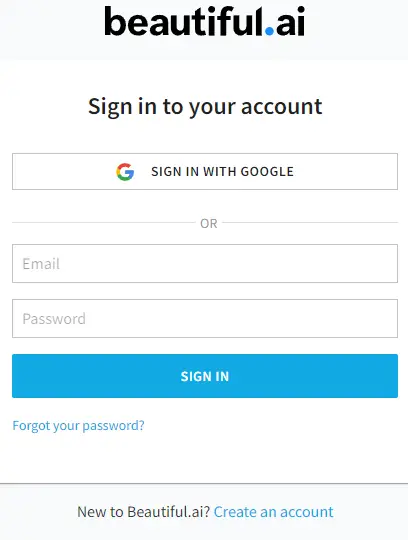 Plan

Pro

Team

Enterprise

Price

($12/mo billed annually or $45/mo billed monthly)

($40/user/mo billed annually or $50/user/mo billed monthly)

(Custom)

Features

Unlimited Slides
Version History
PowerPoint Export
Viewer Analytics

Everything in Pro, plus:

Collaborative Workspace,
PowerPoint Import,
Custom Company Theme,
Centralized Slide Library,
Custom Templa te Library

Everything in Team,

plus:

Unlimited Team Resources
SAML SSO
User Provisioning (SCIM)
Audit Events
Dedicated Onboarding
Team Trainings
Priority Support
Does Beautiful.ai need to be downloaded or installed?
Beautiful.ai is a cloud-based SaaS platform, so users don't need to download or install any software. Just visit the Beautiful.ai website to start creating beautiful presentations.
Does Beautiful.ai provide a multi-person collaboration function?
Yes, Beautiful.ai allows multiple users to collaborate on the same presentation in real time, which enables teams to collaborate more easily during the creation and editing of presentations.
Are Beautiful.ai's templates customizable?
Yes, Beautiful.ai's templates are customizable. Users can change elements such as colors, fonts, images, and layouts to create their own unique presentations.
You can unsubscribe from Beautiful.ai by downgrading your account to a basic plan in the billing section of your profile. If you want to delete your account completely, you can click here to visit Beautiful.ai's FAQ page.