Alethea.AI: The Innovation and Future of Artificial Intelligence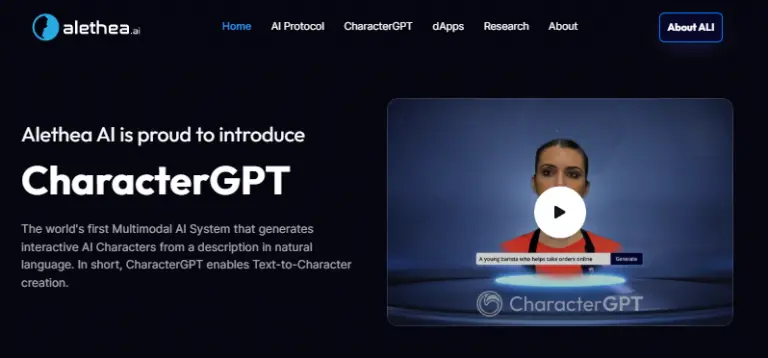 Alethea. AI is a decentralized artificial intelligence platform dedicated to creating an artificial intelligence ecosystem that enables greater fairness and transparency. Alethea. AI's goal is to create an open, interoperable, transparent and verifiable artificial intelligence network.
Price: Free starting
Tags: AI Interaction
Release Time: 2020
Developers: Alethea. AI
Achieve decentralization, using blockchain technology to avoid problems such as data leakage and user privacy violation that exist in traditional centralized platforms.

Highly credible and reliable, as all services are verified and validated by nodes, which are provided by Alethea Token holders.

High degree of impartiality, as all participants interact based on the same rules.
Alethea. AI platform provides a wealth of AI services, including voice recognition, face recognition, image recognition, natural language processing, intelligent customer service, intelligent recommendations and many other services. These services can be widely used in many fields such as education, healthcare, finance, transportation, and retail. The multiple AI features include
Realistic virtual characters: Alethea.AI's CharacterGPT generates virtual characters that are so realistic that they can interact with users in real time, including dialogue, actions and poses.
Customizable virtual environment: Users can customize all aspects of the virtual environment according to their needs and preferences, including appearance, objects, and interaction methods.
Blockchain technology support: Alethea Token acts as a digital asset, using which users can obtain a highly customizable and personalized virtual world experience.
Support for multiple application scenarios: Alethea.AI's technology can be applied to a variety of virtual reality application scenarios, including games, virtual conferences and online exhibitions.
Visit the official website of

Alethea.AI

.

Select the tool you want to use such as

CharacterGPT

and click on the homepage.

Fill in your information on the page.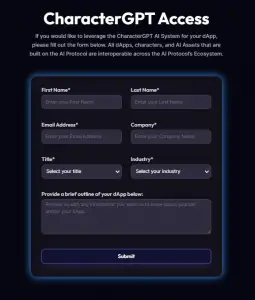 Alethea. AI is for people who are interested in virtual reality experiences, whether they are gamers, virtual conference attendees or online exhibition visitors. If you want to explore virtual reality worlds more realistically, interact with virtual characters in real time, and enjoy a highly customizable and personalized virtual world experience, then Alethea. AI is the right choice for you.
To use it you need to buy Alethea Token, which can be purchased through the official website or through some well-known cryptocurrency exchanges. The exact price depends on the product you are buying.
Anne: It's amazing how it allows me to explore the virtual reality world realistically, along with a personalized experience.
Srsiskind: The interactivity is superb.
Which operating system does Alethea.AI support?
Alethea. AI supports Windows, Mac and Linux operating systems.
What are the uses of Alethea Token?
Alethea Token is a digital asset that users can use to get a more personalized and customized virtual world experience.
Alethea. AI offers a new approach to model training called "Federated Learning". This approach allows for distributed training of models on multiple devices without exposing the original data. This greatly reduces the risk of data leakage and privacy violations.