Vocal Remover: The Most Powerful AI Vocal Separator
Are you troubled by extracting the accompaniment music from songs? Don't worry, vocal remover is here to help! Vocal remover is an AI-driven online vocal separator that not only helps you extract the vocals and instrumentals from audio but also allows you to edit audio by mixing different sounds together. Whether you are a music producer, DJ, dancer, or a karaoke enthusiast, you can customize your sound according to your needs.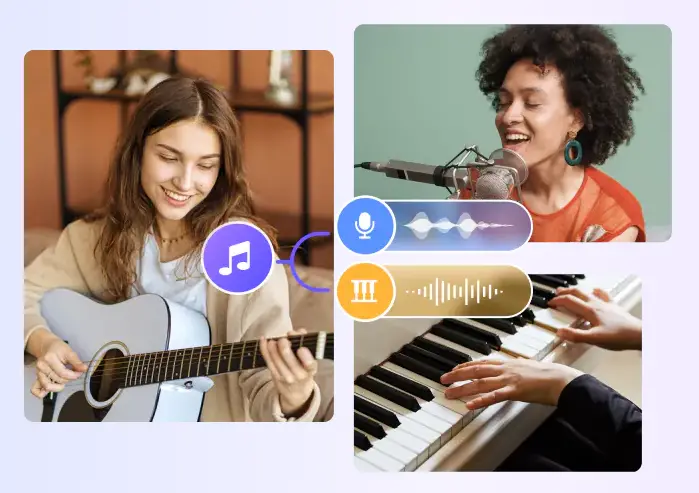 Vocal remover is a powerful vocal separator that can extract the voice and background sounds like piano, guitar, bass, etc. from audio according to the user's needs. After uploading the audio that needs to be separated, the AI-driven vocal remover will process it to separate the voice from the instruments. After processing, two outputs will be obtained: the background version of the audio (with the voice removed) and the pure vocal version (with the music removed). Martin Dawe, the founder of vocal separation, is also the creator of Neuratron's RipX and PhotoScore applications.
Price: $7.99~$59.99
Tag: Voice removerice
Vocal Remover Special Feature
: Using powerful AI algorithms to separate vocals and music in a song.

Audio speed adjuster and pitch shifter: Change the pitch and speed of a song by adjusting the pitch and bpm sliders.

Audio cutter: Edit and trim online any audio file.

Audio integration: Merge multiple tracks together.

Record voice for a song: Sing and record, adjust the sound, and save the complete song.

Find BPM: Analyze music and find the pitch, key, and BPM of any song.

Audio recording: Record any voice and save it for editing purposes.

Open

Vocal Remover

and select the music file to be separated.

Once the music file is processed, the AI-driven system will immediately separate the vocals from the instruments.

Find the desired vocal file or background sound file and download for offline playback
How is Vocal Remover Priced
There are currently two versions of Vocal Remover, one is Vocal Remover and the other is Vocal Remover Pro. There are some differences in permissions between the two versions, as detailed in the table. It should be noted that if you want to separate vocals from audio that is over 30 seconds long, you will need to purchase the Vocal Remover Pro version.
Version

Vocal Remover

Vocal Remover Pro

Price

$9.95/month

$19.95/month

Function

Reduce or eliminate vocals and singing in any online music

Supports multiple file formats - MP3, M4A, OGG, AC3, ACC

Accessible via any web browser

Accessible from any operating system

Remove or reduce vocals and singing from any MP3 track

Unlimited usage - create as many karaoke tracks as you want

Lightning-fast speed - processing an average of 10 seconds per track

Intuitive user interface - even your grandma can use it
Similar Software to Vocal Remover
Lalal.ai

HitPaw Video Converter

PhonicMind

Wondershare UniConverter

Wondershare Filmora
Is it guaranteed that Vocal Remover will completely remove vocals?
Not necessarily, often times Vocal Remover can greatly reduce vocals, but not necessarily completely remove them.
Is Vocal Remover free to use?
No, it is a paid software with different pricing for Vocal Remover and Vocal Remover Pro. Refer to the table for specific details.