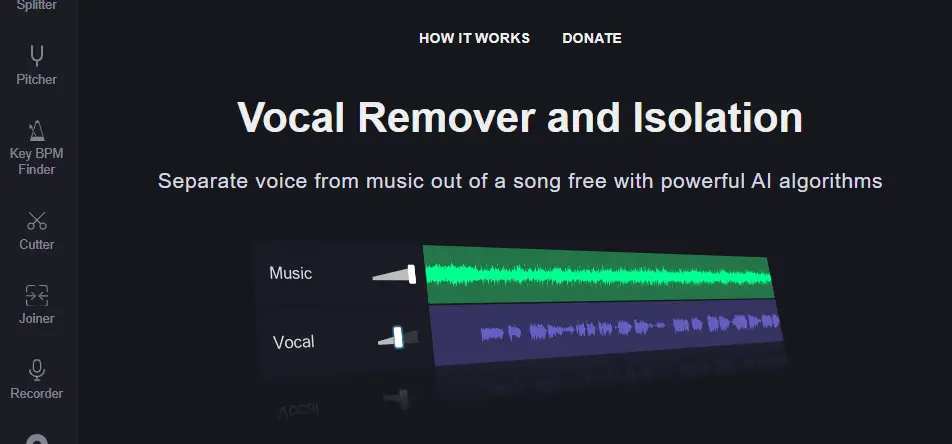 Vocal Remover is an advanced online tool that utilizes powerful AI algorithms to separate vocals from music in any song. This technology is a game-changer for music enthusiasts, DJs, and producers, offering a simple yet effective solution for creating karaoke tracks and acapella versions of songs. The process is straightforward and quick, making it accessible to anyone without the need for specialized audio editing skills. Vocal Remover stands out for its ability to cleanly isolate vocals, providing users with high-quality instrumental and vocal tracks. This tool is not only a valuable asset for entertainment purposes but also serves as a significant resource for music production and remixing.
Price: $7.99~$59.99
Tag: Voice removerice
Key Features of Vocal Remover
AI-Powered Separation: Uses advanced algorithms to accurately separate vocals from music.
High-Quality Output: Provides clean and clear instrumental and vocal tracks.
User-Friendly Interface: Easy to navigate, making it accessible for users with varying levels of technical expertise.
Fast Processing: Quick turnaround time, usually completing the separation process within seconds.
Versatile Use: Ideal for creating karaoke tracks, acapella versions, and for music production.
No Software Installation Required: Fully online tool, eliminating the need for downloading any software.
Regular Updates: Continuously improved for better performance and new features.
Wide Range of Applications: Useful for DJs, music producers, singers, and casual music fans.
How to Use Vocal Remover?
Step 1: Accessing the Tool Users can easily access Vocal Remover by visiting the website vocalremover.org. The website's interface is straightforward, requiring no registration or login, making it immediately ready for use.
Step 2: Uploading the Song The next step involves uploading the song from which the vocals need to be removed. Users can browse their files and select the desired track. The tool supports various file formats, accommodating a wide range of songs.
Step 3: Processing the Song Once the song is uploaded, Vocal Remover's AI algorithms begin processing the track. This usually takes about 10 seconds, after which the tool separates the song into two tracks: one instrumental (karaoke version) and one with isolated vocals (acapella version).
Step 4: Downloading the Tracks After processing, users can download both the instrumental and vocal tracks. These can be used for various purposes, such as karaoke, remixing, or as samples in music production.
Version

Vocal Remover

Vocal Remover Pro

Price

$9.95/month

$19.95/month

Function

Reduce or eliminate vocals and singing in any online music

Supports multiple file formats - MP3, M4A, OGG, AC3, ACC

Accessible via any web browser

Accessible from any operating system

Remove or reduce vocals and singing from any MP3 track

Unlimited usage - create as many karaoke tracks as you want

Lightning-fast speed - processing an average of 10 seconds per track

Intuitive user interface - even your grandma can use it