Murf: An Amazing AI Text-to-voice Platform


Murf is a Text-to-voice platform based on artificial intelligence and deep learning algorithms, developed by the Murf AI team in 2021. Murf's online speech generator tool lets you convert text into natural-sounding speech in just a few minutes. Rather than sounding monotonous and robotic, Murf's AI voice mimics the pitch and rhythm of human speech and voice, helping you create realistic synthetic voices.
Price: Free
Tag: AI Text-to-voice,Text to Speech Generator
Release time: 2021
Developer: Murf AI
Choose from over 130 AI voices with different accents and pitches

Advanced AI algorithms capture tone to correctly understand text sentiment

Can add timely AI voiceover to your video/ppt without video editing

Support AI voice changer and voice editing function
Plan

Free

Basic

Pro

Enterprise

Price

Free

$29/month

$39/month

$59/user/month

Function

Downloads are not allowed, but the resulting audio can be shared
10 minutes of text and voice editing available

Unlimited audio downloads

Support 60 basic voices and 10 languages
120 minutes of text and voice editing per month

Audio Commercial Rights



8000 original soundtracks

all basic functions
Supports 120 basic voices, 20+ languages ​​and dialect accents
240 minutes of text and voice editing per month

All pro features

Unlimited use of text and voice editing functions per month
Advanced Security Protection
Dedicated customer service manager & online technical support
How to login in Murf account?
Enter

Murf

,click Login.

if you don't have an account,you can click Sign Up to create your account with Google,Facebook or email.

After verifing your account,you'll successfully log in.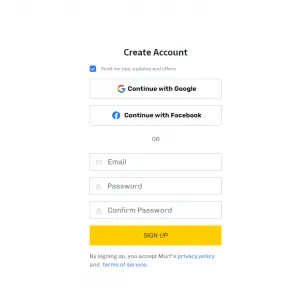 Log in to your previously registered account

Choose to Create a new project

Click the form you want and enter/edit text contents, AI will generate voice for you.
Rian Hafiz: After trying most TTS software on the market, I can say that Murf is the best TTS software out there.
Alexander: Murf was the perfect solution for delivering voice-over audio. The sound is professional, engaging and very clear. 
TS. Loh: I highly recommend Murf, its AI voice sounds very close to perfect.
How is Murf different from other text to speech tools?
Murf provides you with high-quality and natural AI-synthesized sounds. In addition, Murf is not just a text-to-speech tool, it can combine images, videos, music, adjust the timeline, and more.
Can I use Murf to record my voice over?
Recording is not currently available.
Why should I use AI Text-to-voice tools instead of hiring voice artists?
 AI text-to-speech saves time and money while maintaining the quality of voiceovers.