Krisp: Mighty AI Noise-Cancellation Tool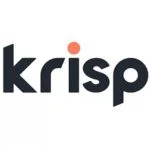 Krisp is an AI noise cancellation tool for Mac and Windows. It can help users eliminate background noise in various types of audio communications such as voice calls, video conferencing and recording, allowing users to communicate more clearly and effectively. Krisp is trusted by brands around the world, and currently there are more than 2000 businesses using Krisp.
Price: Free or starting $8/mo
Tags: AI Noise Cancellation
Release Time: 2017
Developers: Krisp
Users: 75K
Remove background noise: Krisp uses machine learning algorithms to identify and remove background noise in real time, including human voices, environmental noise, computer fan sounds, etc., helping users achieve clear, uninterrupted audio communication.

Suitable for both parties in the conversation: Krisp can not only cancel the background noise of the client, but also can cancel the background noise of the other party, thereby improving the audio quality of both parties in the conversation.

Privacy protection: Krisp processes the audio signal on the user's device, then sends it to the cloud for noise reduction, ensuring that the user's audio data remains private and secure.
Visit Krisp official website and login your account.
Click "Download for Mac" or "Download for Windows" to download the Krisp app according to your device system.

Install the Krisp app on your device and launch it.

Select your microphone and speaker devices from the drop-down menus in the Krisp app.

Turn on the Krisp toggle switch to enable noise cancellation.

Start your audio communication using your preferred communication software and select Krisp as the microphone and speaker I/O device.

During a call, Krisp will automatically remove background noise and preserve the vocal signal.

When you're done talking, just turn off the Krisp toggle switch to disable noise cancellation.
In addition, if you want to know more detailed tutorials, the "Video tutorials" on the last page of Krisp official website will give you the answer.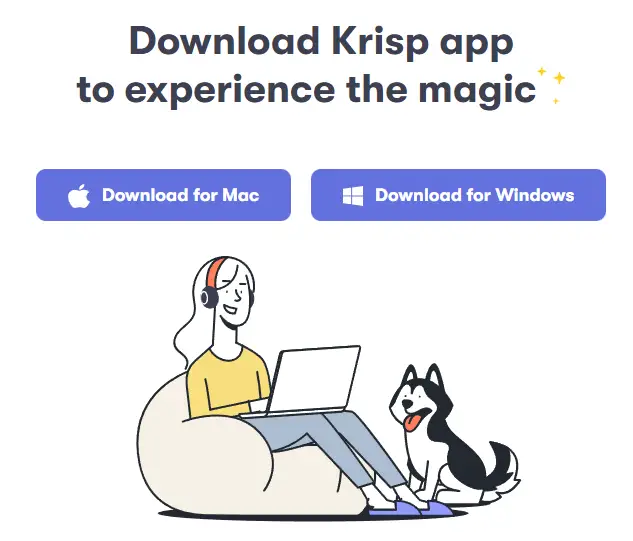 How to login Krisp account?
Visit

Krisp

official website and click the "Sign in" button located in the upper right of the page.

Enter your email address to log in.

If you are logging in for the first time, you may need to verify your email address by clicking on the verification link sent to your email.

If you don't have a Krisp account yet, click the "Get Krisp for Free" button on the Krisp website.

Enter your email address and click "Sign up".

Your email will receive a six-digit verification code, check your email, go back to the registration page and fill it in, the registration is complete.

After signing up, you can log into your account using the steps above.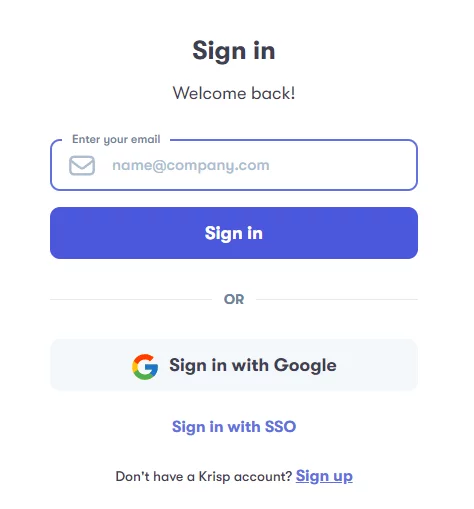 Plan

Free

Pro

($8/mo billed annually or $12/mo billed monthly)

Business

($10/mo billed annually or $15/mo billed monthly)

Enterprise

(talk with Krisp)

Features

60 mins daily of

Noise Cancellation

Background Voice Cancellation

Echo Cancellation

HD Voice

Battery Saving Mode

Unlimited

Talk Time Indicator&

Removed Noise report

All Free features, plus

Unlimited Noise, Background Voice, and Echo Cancellation

Unlimited HD Voice

2 devices per user (Simultaneously)

Centralized user management

Centralized billing

All Pro features plus:

SSO

SCIM

Assisted security reviews

Centralized settings management

API

Custom MSA support

Device-based authentication

Virtual desktop infrastructure

Linux & ChromeOS support

Admin insights

Automated user and license management

Dedicated customer success manager

Premium support
Attention Please: These prices are subject to change, so it's best to check Krisp official website for the latest pricing information.
Does Krisp affect the clarity of speech?
Krisp can eliminate background noise and preserve the vocal signal, so it will not affect the clarity of speech, but will improve the clarity and quality of speech.
Does Krisp work with any microphone and speaker?
Krisp works with any microphone and speaker, including built-in microphones and speakers on laptops and mobile devices.
What communication platforms does Krisp support?
Krisp supports a variety of communication software and platforms, including Skype, Zoom, Slack, Discord, Webex, Microsoft Teams, etc. Check out Krisp official website for a full list of supported platforms.