SambaNova: Customized AI infrastructure platform specifically for enterprises and governments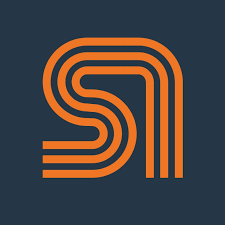 SambaNova, a systems platform built by SambaNova in 2017, is the first generative AI platform optimized specifically for enterprises and government agencies. It is a complete foundational technology services platform that combines custom-designed hardware, software, and algorithms to provide industry-leading, high-performance foundational solutions for a variety of applications.
The SambaNova Systems platform is designed to be highly flexible and scalable, capable of handling a variety of workloads across different industries and use cases. The platform has a unique architecture that allows it to perform a variety of tasks in parallel, including training, inference, and data processing.
Price: Starting at $10,000 per month
Tag: AI computing power, AI solutions
Release Time: 2017
Developers: SambaNova
Users: None
Visit the

SambaNova website

and click "Get Started" in the upper right corner to log in to your account.

Enter your "First Name, Last Name, Company, Work Email, Phone Number" information in order.

Select your "Job Function" and "Country" in order.

Select your field of interest (single or multiple choice).

Click to agree to the terms and conditions.

Click on "Submit".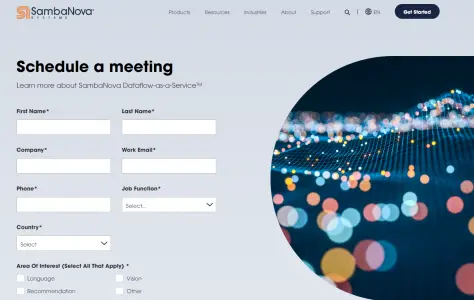 Scalability:

The SambaNova Systems Platform is highly scalable and can accommodate large-scale AI and ML workloads.

Performance:

The platform is designed to deliver exceptional performance for AI and ML applications. It can perform complex computations at high speeds and achieve high throughput.

Energy efficiency:

The SambaNova Systems Platform is energy-efficient and can deliver high performance while consuming less power than traditional computing systems.

Programmability:

The platform is programmable and supports a wide range of AI and ML frameworks, including TensorFlow and PyTorch.

Flexibility:

The SambaNova Systems Platform is flexible and can be customized to meet the specific needs of different applications.

Ease of use:

The platform is easy to use and comes with a user-friendly interface that simplifies the process of deploying and managing AI and ML workloads.

Security:

The platform is designed with security in mind and includes features such as data encryption and secure boot to protect sensitive data and prevent unauthorized access.
Overall, the SambaNova Systems Platform is a powerful and versatile computing system that is well-suited for a wide range of AI and ML applications.
Explore Deep Learning Use Cases
AI is here. Customers turn to SambaNova to achieve competitive separation, streamline operations, and fuel innovation with the most sophisticated deep learning models across NLP, computer vision, and recommender systems that can achieve results 22x faster. 39% of all potential value creation from AI is from deep learning.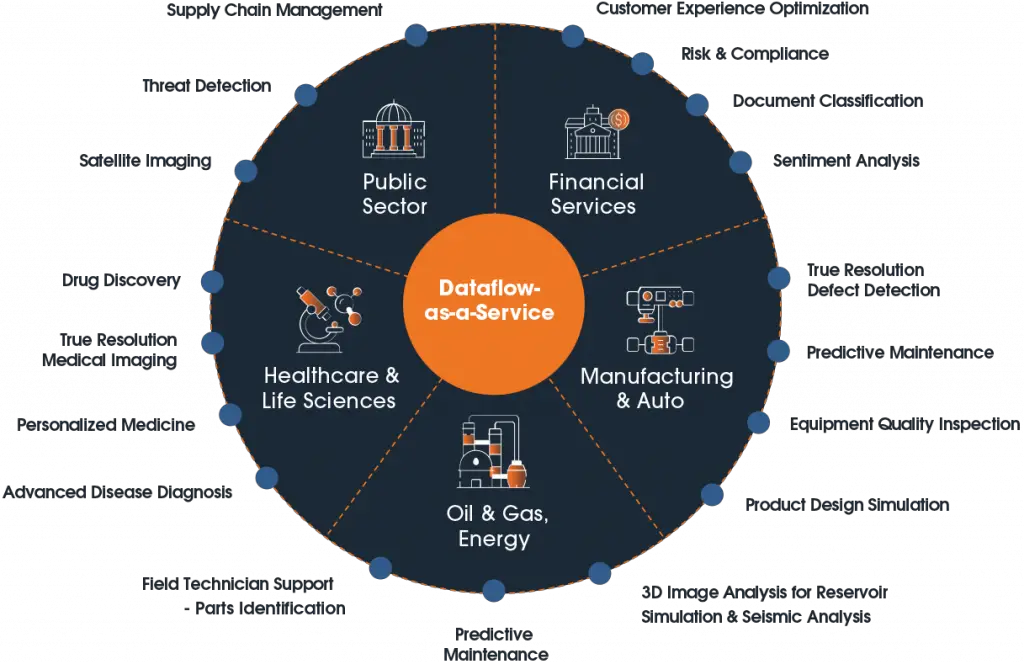 SambaNova installs and maintains systems at customer sites and charges on a per-use basis only, with prices starting at $10,000 per month.
SambaNova Systems is a Silicon Valley-based technology company that designs and develops advanced systems and software platforms for artificial intelligence (AI) and machine learning (ML) applications. The company was founded in 2017 by Rodrigo Liang and Chris Ré, who are both experts in the field of AI and computer science.
SambaNova's mission is to enable the next generation of AI and ML applications by delivering advanced hardware and software solutions that can efficiently process large amounts of data and perform complex computations. The company's focus on AI hardware sets it apart from other tech giants like Google and Amazon who mainly focus on software and cloud services.
SambaNova's founders, Liang and Ré, previously worked together at Stanford University's AI lab. They recognized that the current hardware solutions were inadequate to meet the demands of emerging AI and ML applications, and decided to start SambaNova to develop a new kind of hardware specifically designed for these workloads.

In 2018, SambaNova emerged from stealth mode with a funding round of $56 million led by venture capital firms Walden International, GV (formerly Google Ventures), and Redline Capital. The company announced that it was working on a new type of processor called the SambaNova Tensor Processing Unit (TPU) that would be optimized for AI and ML workloads.

The SambaNova TPU is designed to perform matrix operations, which are common computations in AI and ML. The chip is highly parallelized and can perform multiple functions simultaneously, allowing it to process large amounts of data in real-time. The company claims its TPU can achieve up to 20 times the performance of traditional CPUs and GPUs.

In February 2021, SambaNova announced a funding round of $676 million, which included investments from SoftBank, Google, and BlackRock. This brought the company's valuation to over $5 billion, making it one of the most valuable AI hardware companies in the world.
SambaNova has since expanded its product offerings to include a full-stack software platform for AI and ML applications called the SambaNova Software Platform. The platform includes tools for data preparation, training, inference, and a range of pre-built models and libraries for common AI tasks.
Can we categorize SambaNova, the AI chip startup, as a unicorn?
Yes, SambaNova has recently come out of stealth mode after a three-year hiatus. It has unveiled its first product, an AI accelerator for high-performance computing (HPC), hyperscale, and enterprise data centers.
How much does SambaNova pay for an internship?
SambaNova Systems pays Software Engineering Internships $41,509 per year on average. This is 11% less than the national average salary for Software Engineering Internships. Software Engineering Internships make $47,164 per year on average, or $22.68 per hour, in the United States.
Who are SambaNova Systems' competitors?
SambaNova Systems' top competitors include Graphcore, Rain Neuromorphic, and Cerebras Systems.