Photosonic: An Amazing AI Text-to-Image Generator

Photosonic is an AI Text-to-Image Generator under Writesonic, developed by the Photosonic team in August 2022. Based on the technical support of latent diffusion, it can create real or artistic fictional images from any textual description. In addition to generating pictures, Photosonic can also be used for inspiration, visualizing ideas, exploring different scenarios, and more.

Price: Free
Tag: AI Image Generator
Release time: 2022
Developer: Photosonic
Free Trial Length

Can create landscapes, animals, objects, people, scenes or any image based on keywords

Supports custom modification of pictures using various attributes and detail words

Existing images can be enhanced by adding text annotations or filters.

The variety and style of the generated images can be controlled by tweaking the description and re-running the model.
Photosonic is free for personal trial with 15 image generation credits to create up to 20 images and provide business plans.
Plan

Free Trial

Basic

Unlimited

Price

Free

$10/month

$25/Month

Function

limited number of image generation

Automatic face recognition and optimization
You can earn more credits by sharing Photosonic with your friends

limited number of image generation
Automatic face recognition and optimization
HD image download without watermark
Priority Technical Support

unlimited number of image generation
Automatic face recognition and optimization
HD image download without watermark
Priority Technical Support
How to Login in Photosonic?
Enter

 Photosonic

website.

Click Sign in in the upper right corner

Use your email or google to register or log in.




If you are registering for the first time, you need to click Sign up below to create an account.

After creating an account, the web page will automatically jump to the home page of your Photosonic account, and the registration is complete.

After registration, you can log in to your account using the steps above.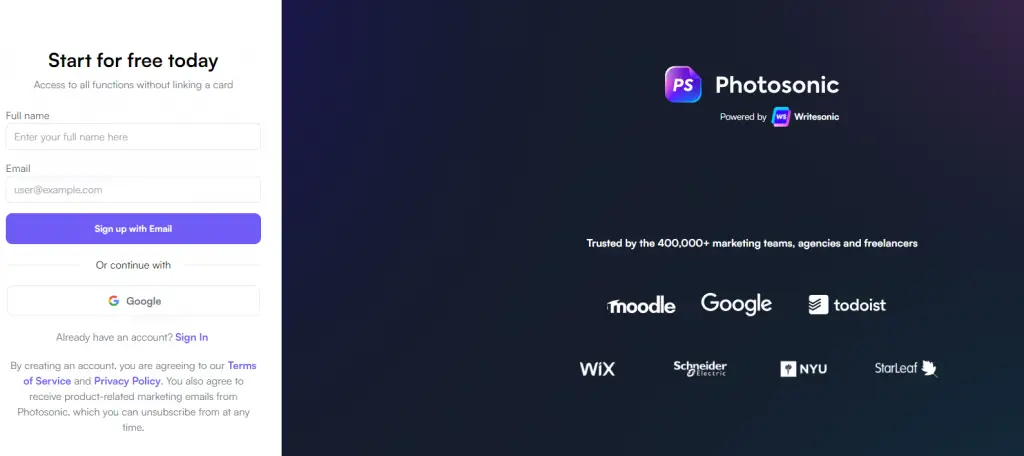 Enter

Photosonic

, log in your previously registered account.

Enter your keywords in the text box on the homepage.

Click Painting on the right side of the text box to select the type of generated picture. Click Generate to the left of the text box to generate the image.

Usually two images are generated. Click the options above the image to optimize, download and share the image. You can also click the option below the picture to download the compressed package of all generated pictures.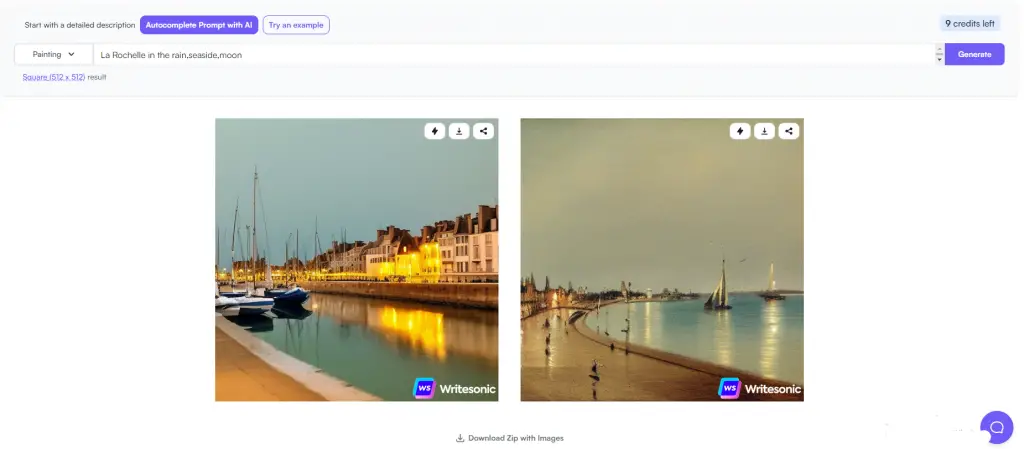 Floewy: Amazing. Powerful ability to restore reality.

Klavan: Perfectly generated images matching my keywords.

Matinez Brehze: It is a perfect software that can generate different styles of photos for the same description.

Is there any limitation for Photosonic?
It's not perfect. Photosonic may sometimes produce images that are blurry, distorted, inconsistent, or irrelevant to the text.
Can these Photosonic generated images be used commercially?
As long as you follow the rules and terms of service, you have the right to use the images that Photosonic creates from your input for any personal or commercial purpose. However, the copyright of these images does not belong to you.
Your uploaded text and any images generated will leave no public record.