Lensa AI: An AI Photo Editing App That Beautifies Photos With One Click
People's pursuit of beauty is eternal, especially the selfie photos posted on social media. Many photo editing programs have won the love of a large number of users, but there have never been a photo editor like Lensa. Almost every corner of social media!
Also read:What is DragGAN AI?How to Use It?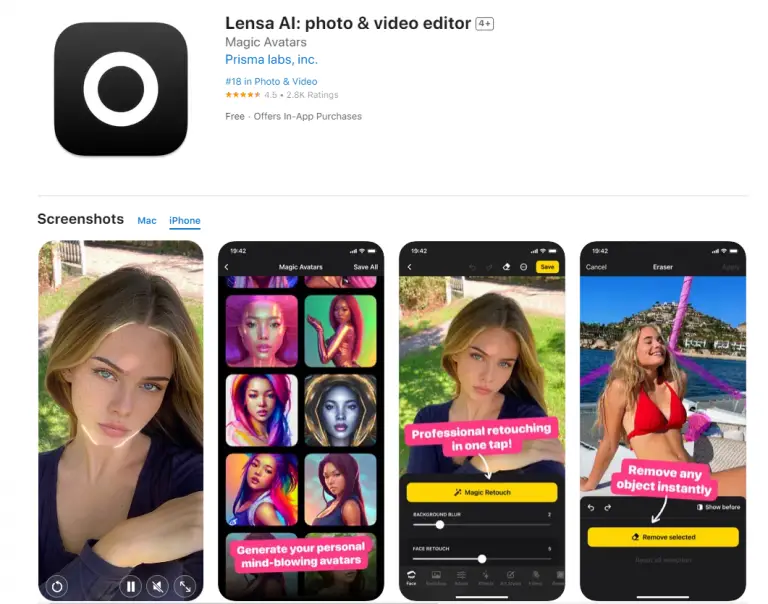 Lensa AI is an AI photo editing app developed by Prisma Labs. It first became popular in 2016 by allowing users to convert selfies into images with the style of famous artists. In December 2022, the use of AI technology to render digital portraits based on photos submitted by users made Lensa is popular on social media. spreading the tsunami. Lensa can use AI technology to re-render the pictures uploaded by users into magical effects such as fairy tale princesses, anime characters, or celestial bodies.
Price:$7.99/mo or Annual for $29.99/ye
Tag: AI Photo Editor
Release time: 2018
Developer(s): Prisma labs, inc.
Users: 5M+
Lensa can easily improve facial blemishes in photos, replace or blur the background with just one touch, and you can upload photos to generate "Magic Avatars". To use this tool you need to download App Lensa.
Search in App Store or Google Play Lensa AI, and find "Lensa AI" icon application, then click to download
Open the APP after the mobile phone has installed APP, and register the Lensa AI account
Log in after completing mobile phone number and email verification Lensa AI account
Follow the prompts to get started
Edit pictures with Lensa AI
Generate Magic Avatars from photos
Optimize facial photo skin,and remove bumps and wrinkles on the face with one click
Beautify eyes with one click, making eyes look bigger and more attractive
Makes your skin look smooth and flawless
Highlight your face to make it become the center of the shot
Blur the background and remove unwanted images
Edit Videos with Lensa AI
In addition to photo editing, Lensa can also be used to edit videos. It mainly has the following functions:
Turn your photos into videos with one click
add music to your video
Crop the video that needs to be deleted
Choose from premade filters for your videos.
| | | | | |
| --- | --- | --- | --- | --- |
| Plan | Subscription | Magic Avatars | Magic Avatars | Magic Avatars |
| Price | $35.99/ye  | $3.99 | $5.99 | $7.99 |
| In Stock | Unlimited | 50 | 100 | 200 |
| Support Function | Photo Editing | Magic Avatars | Magic Avatars | Magic Avatars |
Prisma Labs released Lensa AI in 2018, an app that can edit photos or videos.
In November 2022, LenAI AI updated the paid function – "Magic Avatar", which uses artificial intelligence technology to create avatars with different styles for users through selfies uploaded by users.
What is AI lensa used for?
Lensa AI can beautify photos with one click and edit photos into videos. The most exciting feature is that it can generate magical portraits based on photos.
Lensa AI is paid, but there is a 7-day free trial, and the price of basic photo editing functions after the end of the use is $35.99 a month.
Authoritative Information