Green Screen AI: Easily Replace Image Background with AI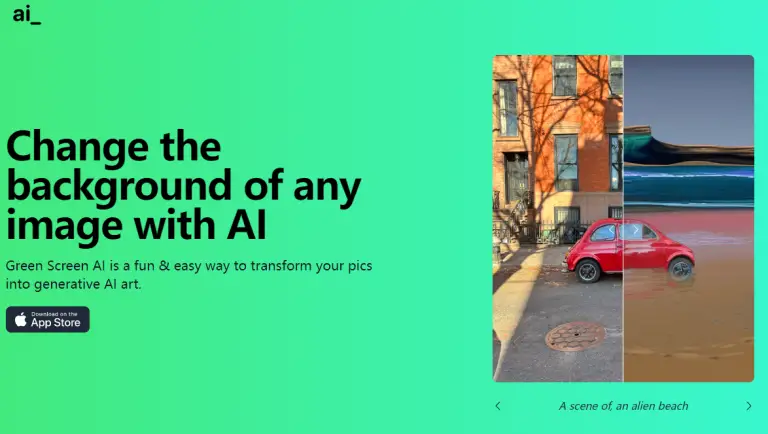 Green Screen AI is an AI image background replacement tool, which helps users to easily and quickly remove the image background and replace it with the new background that the user wants, and strives to present a generative AI art for the user. In addition, if you do not know yourself what background you want to replace, Green Screen AI will also use its built-in prompt composer to help you come up with new prompts.
Price: Free or starting $1.99
Tag: Image Improvement
Release Time: 2022
Developers: AkroPoint Corp
Features of Green Screen AI
Remove Background: Green Screen AI uses advanced machine learning algorithms and semantic segmentation technology to automatically detect and remove the background of images, including some complex backgrounds, such as forests, buildings, etc.

Custom backgrounds: After removing a background, you can choose from a variety of backgrounds provided by Green Screen AI, or upload a custom background.

Generative AI: Green Screen AI uses generative AI to help you create unique backgrounds.

Highlight image focus: Green Screen AI provides automatic subject detection to make sure the focus of the image pops.

A built-in prompt composer: Helps you compose the perfect prompt that inspires you.

Second use of Creations: Green Screen AI can turn your creations into Widgets, making your home screen unique.
How to use Green Screen AI?
Using Green Screen AI does not require you to register and login an account, just downloading the Green Screen AI App is Ok.
Green Screen AI App is available only on the App Store for iPhone/iPad. You can choose to visit the Green Screen AI official website and click "Download on the App Store" to download, or directly search for "Green Screen AI" in the App Store to download.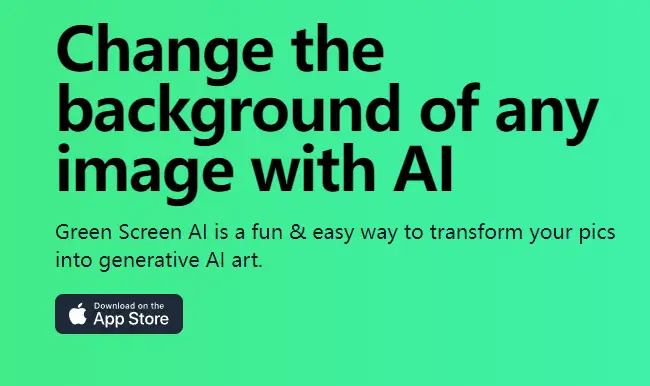 The download and normal use of Green Screen AI is completely free, but if you want to explore more features, Green Screen AI also provides In-App Purchases, ang you can see as follows:
| Plan | Free | $1.99 | $4.99 | $8.99 |
| --- | --- | --- | --- | --- |
| Extra Available | / | Explorer's Pack | Creator's Pack | Dreamer's Pack |
Green Screen AI is an AI image background replacement tool that can remove the background from an image and replace it with a new one.
Do I need to have advanced technical knowledge to use Green Screen AI?
Unnecessary. Green Screen AI's user interface is so intuitive and easy to use that you can use the tool whether you have image editing experience or not. At the same time, it also provides many video tutorials and technical support to help you use the tool better.
Can I use images and videos created by Green Screen AI for commercial use?
Yes. Images and videos created with Green Screen AI can be used commercially, however, copyright issues need to be noted. It is recommended to read and abide by the Green Screen AI Privacy Policy before using it.