Gigapixel AI: AI Upscaler That Increases Image Resolution By 600%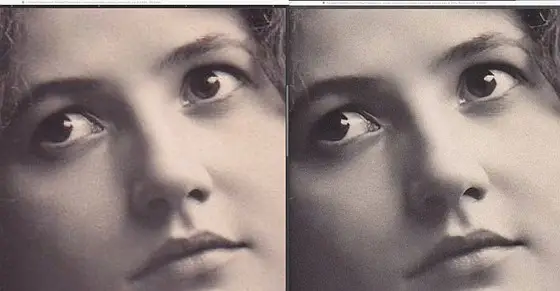 Gigapixel AI, released by Topaz Labs in 2018, is an online AI image enlarger capable of upscaling image resolution by up to 6 times. By using Gigapixel AI, you can enhance image quality, restore photos, and add details to make your images look stunning and artistic. Gigapixel AI can be used as a standalone application or as a plugin for image editing software such as Photoshop. It is compatible with both Mac and Windows systems and has gained widespread popularity.
Price: Free or $99.99
Tag: AI image upscaler
Release time: 2018
Developer(s): Topaz Labs
Users: 2M
Image Enlargement: Capable of enlarging images up to 600% while preserving detail and clarity
Supports batch processing: option to process multiple images at once
Capable of custom editing: Ability to adjust settings such as noise reduction, sharpness, and color adjustments
Freely transform into a plug-in: it can be used as a plug-in for various photo editing software
Multiple modes to choose from: Gigapixel AI has various pre-set modes to help users achieve specific results
How to Login Gigapixel AI?
If you purchase the paid version of Gigapixel AI, you can use it without logging in. Only the free version requires you to log in. Before logging in, you need to register a Gigapixel AI account. Please refer to the following instructions for the specific method.
Click the "Downoad trial" button, or click the "Buy Now" button to purchase the software
If you choose "Downoad trial", you will be prompted to create a Gigapixel AI account by providing your email address and password
Once created, please log in and select the software version to download (Windows or Mac)
Click the "Download" button to start the download
After the download is complete, follow the on-screen prompts to install Gigapixel AI on your computer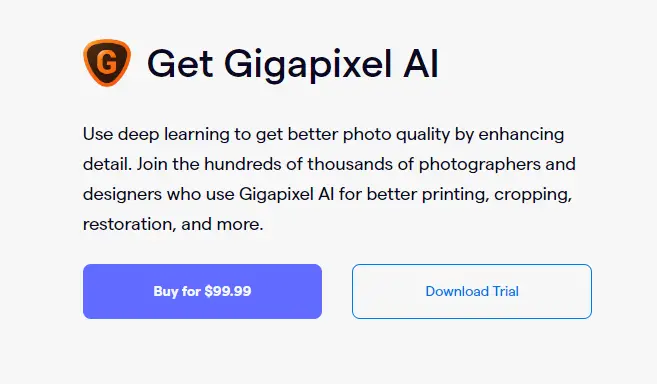 Install and open the software on your computer.
Drag and drop the image you want to enlarge into the software or click the "Open" button and select the file from your computer.
Choose the desired enlargement options, including the degree of enlargement, output size, and amount of detail recovery. You can also use presets or create your own custom settings.
Click the "Start" button to process the image. The processing time will depend on the size of the image and the degree of enlargement.
View the enlarged image and make any necessary adjustments or improvements. You can use the software's built-in preview tool to compare the original and enlarged versions of the image side by side.
Once you are satisfied with the results, save the enlarged image to your computer.
Gigapixel has both a free version and a paid version, with the paid version offering more features and the ability to process images without watermarks. Please refer to the following table for a comparison.
Plan

Free

$99

Function

● Online editing

●With watermark

● Online editing

● Unlimited use

● No watermark

● Support for all platforms

Permanent
Will Gigapixel AI increase resolution?
Yes, Gigapixel AI will increase the resolution of the picture, and the maximum resolution can be increased to 600%, thereby improving the picture quality.
Is Gigapixel AI easy to use?
Reviews about Gigapixel AI indicate that the software is great for both amateur and professional photographers. Useful if you want to stick a low-res photo on a wall.