Craiyon: Text to Image Magic!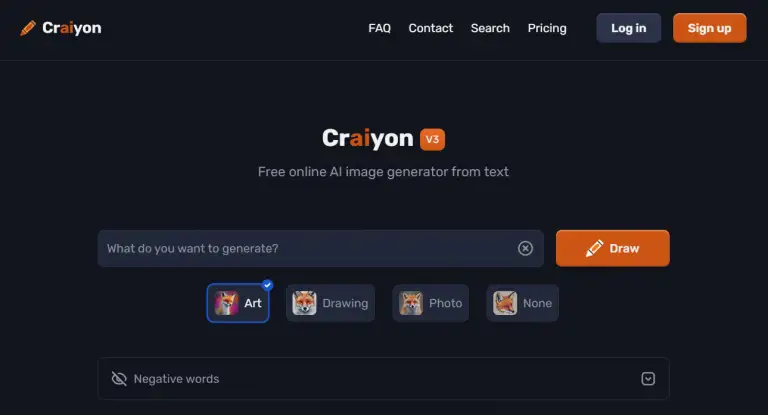 Craiyon, formerly known as Dall-E Mini, is an AI image generator developed by OpenAI based on the GPT-3 natural language model. Users simply input a text description of the image they want to generate, and choose the desired image style, and they can get a satisfactory image within 1 minute. Craiyon is often used for generating illustrations, art pieces, and special effects images, among other use cases.
Price: Free
Tag: AI generator, Text to images, AI Art Generator
Release time: 2022
Developers: Boris Dayma
Craiyon AI Drawing:

Drawing is one of the main functions of the Craiyon image generator, which can help you generate lifelike artwork and offers a variety of different drawing styles to choose from, such as watercolor, sketch, pastel, etc., allowing your artwork to showcase a diverse range of artistic styles.
Craiyon AI Art: AI art generator craiyon that can produce high-quality images with artistic characteristics and unique creative ideas, making your artwork more distinctive and eye-catching.

Craiyon AI Photo:

Crayon ai photo generator that can easily create images that look like they were taken with a camera, making your photos more realistic, vivid, and creative.
Image generation based on e-commerce copywriting

Creating new images based on existing images

Meme creation

Print on a T-Shirt
To use Craiyon, which is currently available to everyone for free, follow these simple steps on Craiyon.com:
Go to the official website of Craiyon at Craiyon.com.

In the input box labeled "What image do you want to generate?", enter a text description of the image you want to generate. You can add descriptive words like "high-definition", "realistic", "oil painting", etc., to get better results.

Click the "Draw" button on the right side to start generating.

Wait for a few seconds (up to 2 minutes), and then 9 images will be generated below for you to choose from. If the results do not meet your requirements, you can click "Draw" again to generate new images.

You can select and save the images as screenshots, or choose to print them on a T-shirt.
Craiyon App
Craiyon App is currently only available for download on Android systems. You can click on the button below to download the app.
Craiyon Online
As for the Craiyon website, there is no need to register or login. You can simply open the official website of Craiyon and start using it.
Craiyon offers additional paid services in addition to its free version, and subscription fees can be found in the table below.
 Plan

Free

Supporter

Professional

Price

$0/ mo

$5/mo (billed yearly)

$20/mo (billed yearly)

Function

Typical wait of 1-2 minutes

Unlimited images




15 seconds for 9 images

Unlimited images

Highest priority

No ads

No watermark

Your images are private*

Early access to new features



Craiyon, formerly DALL·E mini, is an AI model that can draw images from any text prompt!
Can I use Craiyon for free?
Yes, you can use Craiyon for free. When you use it, it typically takes a few seconds to a minute to generate various types of images for you.
How long does Craiyon take?
Craiyon generally takes about 15-120 seconds to generate 9 images for you to choose from, but the speed may vary depending on the current usage volume.