Canva: Convert Text to Image for Free

Canva is a free online image conversion tool founded in 2013 that allows you to generate distinctive images from short descriptions in seconds. Simply type in the words you want and watch them morph into professional photos, 3D images, drawings, and more. Text to Image has the power to bring your creative imagination to life.
Price: Free or starting at $12.99/mo
Tag: AI Text-to-Image
Release Time: 2013
Developers: Melanie Perkins, Clifford Obrecht, Cameron Adams
Visit

Canva

's official website, click "Log In" in the upper right corner, and log in to your account.

Enter your email address and password and click 'Login'. You can also sign in with your Google account.

If you have forgotten your password, click on "Forgot password?" to retrieve it.

If you do not have an account, click on "Sign Up".

Enter your name, email address, and password, and click on "Start Crafting" to complete your registration.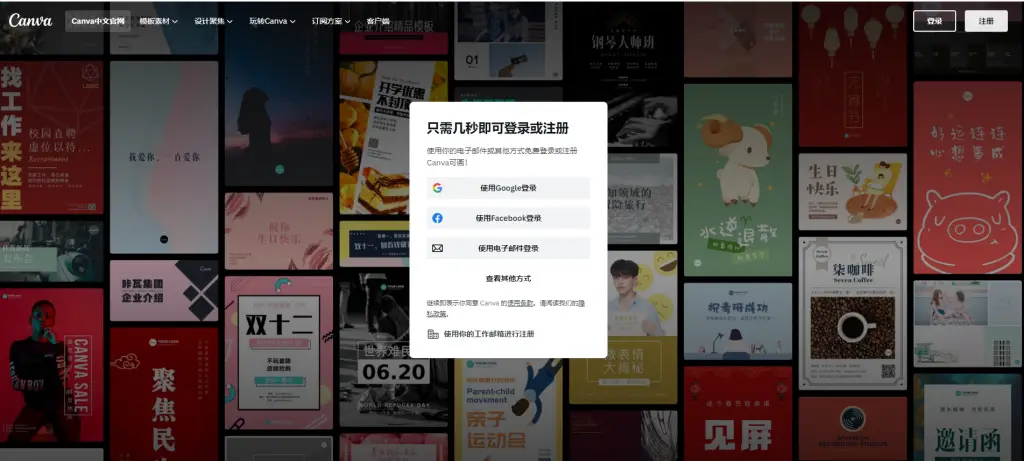 When you can't find the perfect image, all you need to do is type in the right words and watch them magically transform from text to image. Once you've entered your text, instead of combining existing images, Text to Image creates completely new images for you from scratch.
Add frames to your photos
Use the free photo frames and borders in Canva to focus directly on your images. Add photo borders to images for presentations, social media content, or photo portfolios.
Canva makes it easy for you to add interest to your photos! Get creative with photo effects and make your photos cute, warm, or breathtaking. You can beautify your images by adding free photo effects.
Fix dark, blurred, and oversaturated photos with our free photo enhancement tools. Quickly improve your photos for gently downloading or sharing on social media apps.
Record your own videos while you share your screen on the camera. Save your fresh video clips, add them to your designs, and edit them with Canva's free online video recorder.
Make your videos endlessly shareable and easy to edit. Creating video content for different platforms has never been easier and more fun with Canva's free and beginner-friendly video-to-MP4 converter tool.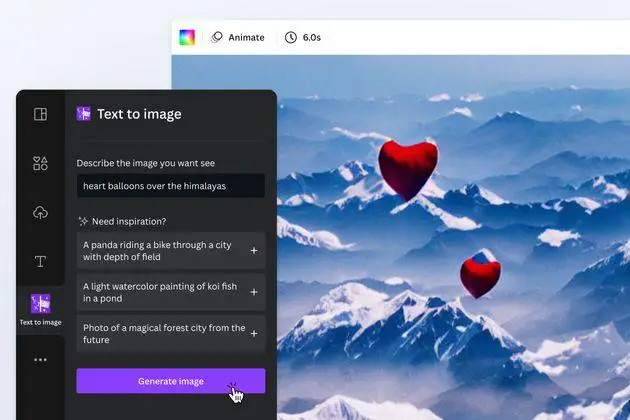 What can be designed with Canva Text-to-Image?
Open the design editor and look for the Apps section on the side panel.

Find the Text to Image app and click on it.

Type a detailed description of the image you want to create in the provided text box.

Select a style and aspect ratio that best matches your vision for the image.

Click on the "Generate image" button to create your image.

Once the image is generated, click on it to add it to your design.

If you want to create another image, simply click "Start again" and repeat the process with a new description.
With Text to Image, you can quickly and easily create unique and eye-catching images to enhance your designs, social media posts, or any other content you create. Just remember to provide as much detail as possible in your description to ensure that the generated image matches your vision as closely as possible.
Plan

Canva

Canva Pro

Price

$0/month for one or more people

$12.99/month for one person

Applicable groups

For people who want to design something on their own or with others.

For individuals, entrepreneurs, and freelance designers who want unlimited access to quality content and create professional designs with ease.

For one person only.

Advantages

Drag-and-drop editor for easy customizations

250,000+ free templates

1+million free photos and graphics

100+ design types (social media posts, presentations, letters, and more)

5GB of cloud storage

Unlimited features. folders and premium content

610,000+ premium and free templates with new designs daily

100+ million premium stock photos, videos, audio, and graphics

Resize designs infinitely with Magic Resize

Cloud storage (1TB)
What are my rules for using Text to Image?
One of Canva's values is to "be a good person" and we ask you to keep this in mind when using Text to Image. Please do not use the app to create harmful content, infringe any third-party rights (such as copyright or trademarks) or defame anyone. Please remember to tell anyone who is viewing your images that they are AI-generated.
How are AI-generated images created?
To create an AI-generated image, a machine learning model scans the Internet for millions of images and the text associated with them. The algorithm will spot trends in the images and text and eventually start guessing which images and text fit together. Once the models can predict what the image will look like based on the given text, they can create a completely new image from scratch based on a new set of descriptive text that the user enters into the application.
Can I use Text to Image to create an image of my favorite celebrity or superhero?
We do not recommend this. Certain public figures have legal rights that allow them to control how their image is used commercially and they may not like the idea of you creating AI-generated images for them.
Similarly, if you use Text to Image to create recognizable characters or branding, these may be protected by copyright or trademark. You may not use these images without the permission of the rights owner and Canva cannot grant you this permission.