AI Image Enlarger: AI Image Enhancing&Enlargering Within 10 Seconds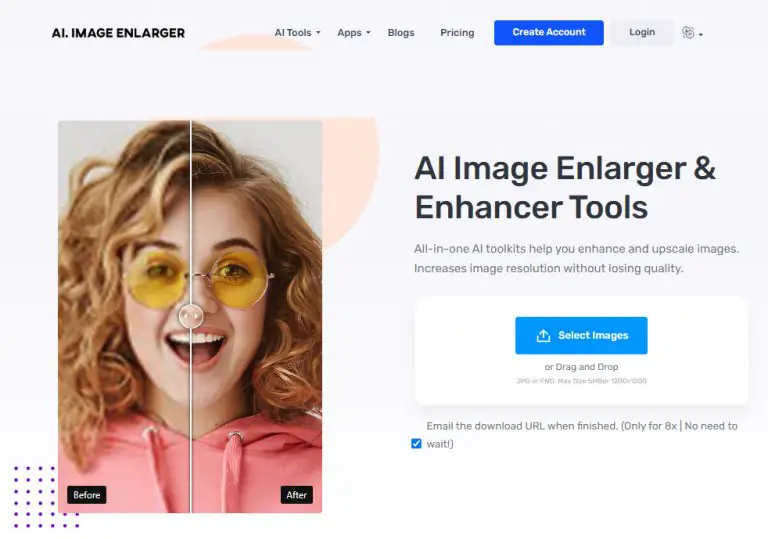 What is AI Image Enlarger?
AI Image Enlarger is an image upscaling tool based on SRCNN neural network, developed by the AI ​​Image Enlarger team in 2018. Img.Upscaler can improve image quality by reducing noise and sharpening, enlarge image size and increase image resolution without loss of quality. Since its launch, AI Image Enlarger has been used by more than 1,000,000 users in more than 60 countries.
Price: Free
Tag: AI Image Enhancement
Release time: 2018
Developer: AI Image Enlarger
User: 100k
AI Image Enlarger Features
Enlarge images without losing quality. Support magnification of 200%, 400%, 800%.

Customized and optimized magnification algorithm, more suitable for batch processing to magnify images.

AI face automatic recognition and optimization.

AI automatically enhances and adjusts the color and light balance of images, as well as sharpens blurry images while maintaining quality.

The enlargement algorithm of animation and cartoon pictures is specially optimized, which can upgrade animation and cartoon pictures to 16k quality.
AI Image Enlarger Pricing
AI Image Enlarger is free for personal trial with 8 FREE Credits and provide business plans.
Image enhancement costs 1 credit per image.
| Plan | Premium | Advanced |
| --- | --- | --- |
| Price | $9/month | $19/month |
| Function | 100 Credits/Month | 500 Credits/Month |
AI Image Enlarger APP Download
In addition to web-side services, AI Image Enlarger also provides mobile APP downloads, the application name is AI Enlarger. Click on the link below to download the version that's right for you.
How to Login in AI Image Enlarger?
Open the

AI ​​Image Enlarger

website.

Click Login in the upper right corner to register or log in with your email.

If you are registering for the first time, you need to click Sign up below to create an account.

You will receive a verification email with a link. Click Click to verify in the email to complete the verification.

After the verification is successful, the web page will jump to the login interface again. Enter the email address and password you used for previous registration, and click Login in to complete the login.

After successful login, the webpage will automatically jump to the homepage of your AI Image Enlarge account, and the registration is complete.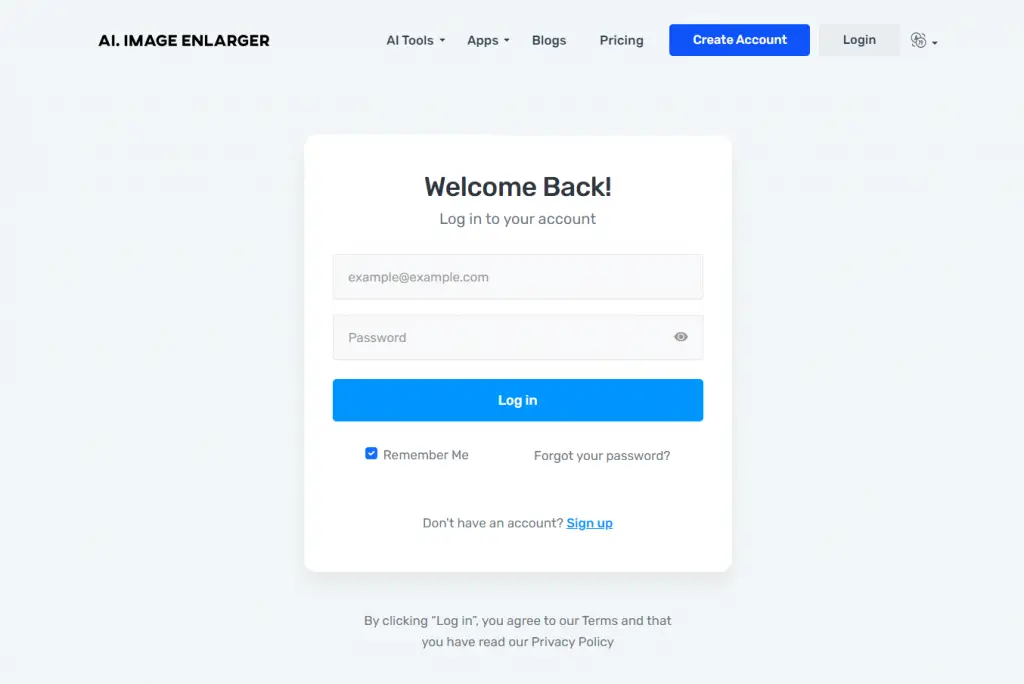 How to Use AI Image Enlarger?
Enter

AI Image Enlarger

, log in your previously registered account.

Click Select images at the top of the page to upload pictures. You can upload pictures in JPG and PNG formats.

You can click 2x below to choose to upscale to 200% or 400% resolution. Click Edit to edit the picture before enhancing the picture quality. If you want to generate an image with 800% resolution, check Email the download URL when finished below.

Click Start to start upgrading the picture.

After the image is generated, a green Download option will appear below. Click to view and save pictures. If you checked Email the download URL when finished, the download link of the picture will be sent to your email.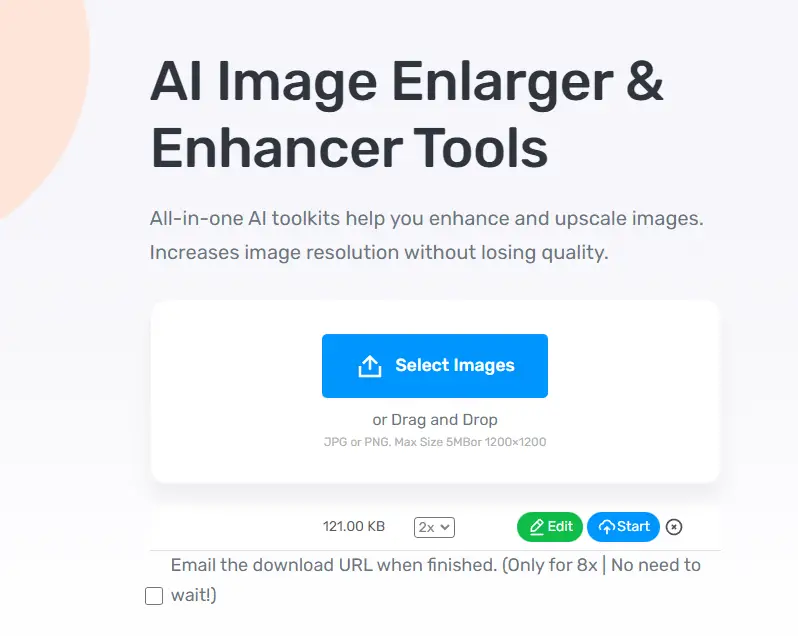 AI Image Enlarger Reviews
Nancy Stinson: Quite an excellent online image enhancement tool with very fast processing speed.
Rick Streeter: The free trial account is great. I used AI Image Enlarger to generate very high quality wallpapers.
Laurent Jude: AI Image Enlarger can render the details of the image in high resolution.
How long the photo enlargement will process?
Typically, our system takes 15 to 30 seconds to zoom in on an image by 200% and 400%. If you want to zoom in to 800%, it will take 40 seconds to a minute.
Is AI Image Enlarger Safe?
All images/photos uploaded and generated by you will be cleared every 12 hours. We will never use or share your uploaded images/photos for other purposes.
What are the credits used for?
1 credit is required to generate 1 image.