Seashore AI: Chatbots That Can Boost Sales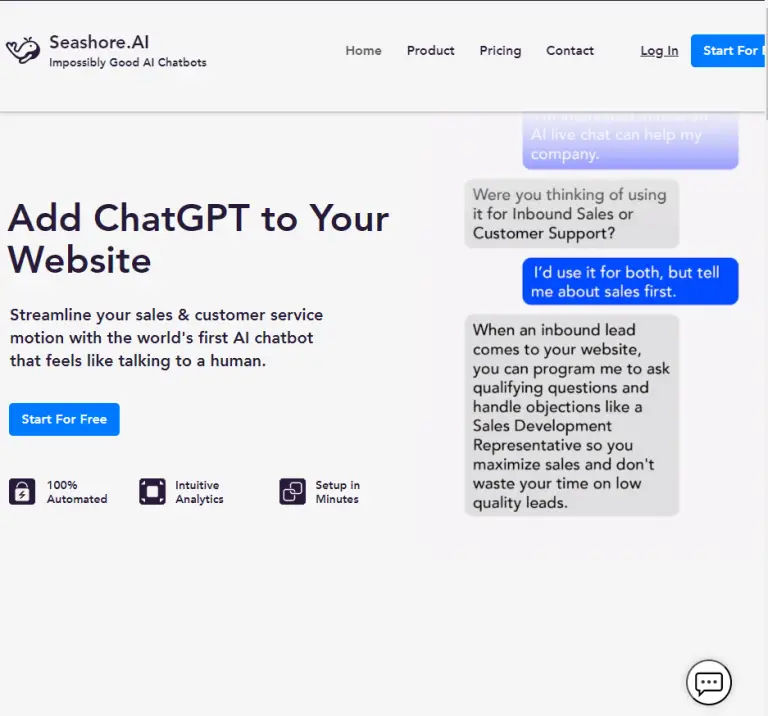 Seashore AI is an AI chatbot created by Ankit Dixit and Parth Pokar in March 2023, aimed at helping users boost their product sales. Seashore AI aims to provide high-quality customer service, allowing businesses to focus more on other aspects of their work. It offers a range of features, including automation, human-like sales, and sales advice, to help businesses sell and serve customers more efficiently. Additionally, users can train the Seashore AI model by continuously conversing with it, guiding it to give specific responses, and making it a more personalized sales robot.
Price: Starting free
Tag: AI chatbot
Release time: March 2023
Developer(s): Seashore AI
Automate work: Seashore AI, as an AI robot, can easily automate workflow
Human-like selling: Seashore AI can answer customer questions as accurately as a human when users ask for product-related information
Simplify the sales process: Seashore AI can use various advanced technologies to simplify the workflow and improve efficiency
Talk to customers: In addition to answering product-related questions, Seashore AI can also talk to customers about a variety of content
Support training: users can train Seashore AI into a unique chatbot by constantly talking to it
Make sales recommendations: Seashore AI simplifies customer service and provides intuitive analysis of customer relationships
Seashore AI offers three pricing plans, please refer to the table below for details. In addition, Seashore AI also offers a free trial period.
Plan

Minnow

Dolphin

Whale

Price

Free

$139

$999

Functions

100 AI powered conversations

1 Seat for human agents

1,000 AI powered conversations

5 Seat for human agents

10,000 AI powered conversations

25 Seat for human agents