Rhetorai: An AI-Assisted Interview Tool That Saves Time And Effort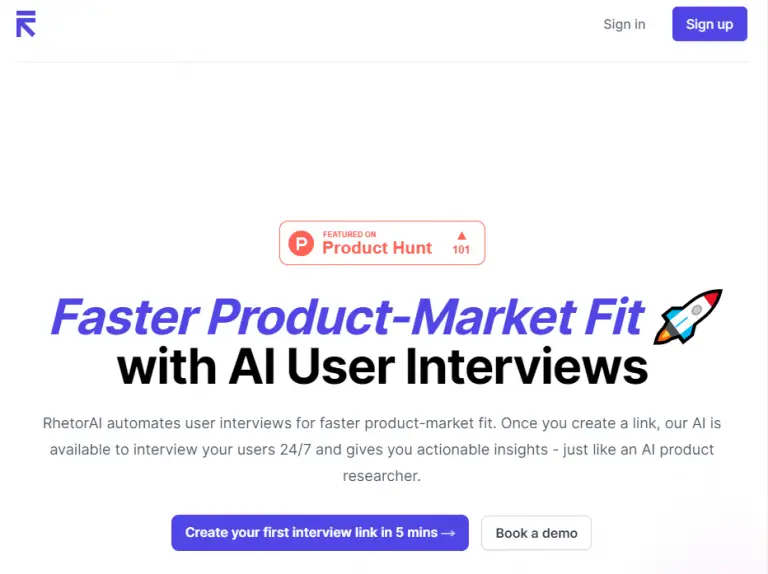 RhetorAI is an artificial intelligence interview tool that can automatically collect customer feedback and opinions, and help founders quickly achieve product-market fit through inquiries and research. The product obtains valuable insights through interviews with customers, and then calculates the best questions to ask customers through AI calculations, and the summary function of RhetorAI can identify and prioritize questions, which also has a great impact on the efficiency of interviews big boost.
Price: Free
Tag: Marketing
Release time: None
Developer(s): Rhetorai
RhetorAI can collect feedback research information around the clock to provide users with an in-depth understanding of their requirements.

Add attractiveness to products by revealing what customers want most through AI.

Interviews are always stored, so authors can return to view the conversation at any time.
Rhetorai does not currently have a mobile app, only a web version. If you are interested in this software, you can also go to the Rhetorai website to experience its powerful functions.
Rhetorai is provided free of charge, and a paid version will be launched later to meet more needs of users.
RhetorAI is expected to be free to use for some time, but paid plans with additional features may be available in the future.
Can I use RhetorAI to test prototypes and models?
Yes, RhetorAI tools are designed to help users gather feedback on any stage of the product development process, including testing prototypes and models.