Quickchat: Build a Chatbot Just for You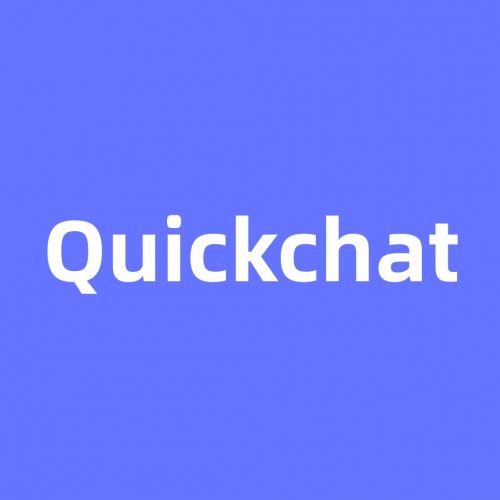 Quickchat is a fully conversational, multilingual AI assistant powered by OpenAI's GPT-3. You can use it to build automated customer support services, and online applications, search internal knowledge bases, and do many other tasks! The Quickchat chatbot recognizes and speaks your native language, enabling an actual conversational human-machine interface.
Price: 14‑day trial for $14 or starting at $99 /mo
Tag: AI Chatbot, Writing, Large Language Model
Release Time: 2018
Developers: Quickchat
Users: None
Visit the Quickchat website and click "Log In" at the top to log in to your account.

Enter your email address and password and click "Login". You can also sign in with your Google account.

If you forget your password, click "Forgot password?" to retrieve it.

If you don't have an account, click "Sign Up".

Enter your name, email address, and password, and click "Start Crafting" to complete your registration.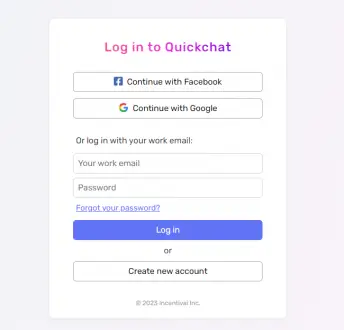 No Code

You don't have to write code to use it. Start with the Universal AI Helper (see Emerson) and upload your custom knowledge base.
Integration and API

Embed the Quickchat Web Widget into your website or use the Quickchat API to easily integrate it with any other messaging application, live chat software, or your own application.
Multiple languages

Using the same knowledge base written in English to create a multilingual AI that can talk in any language is as simple as that! Check the available languages

here

.
Easy to build.

Building your chatbot is easy. At Quickchat you don't need to be much more complicated to build your chatbot, just simply tell us what you need and upload your knowledge base using the Quickchat dashboard, you can easily build your chatbot and your crafting will be less complicated!
Learn from you

In order to be able to answer your customers' questions, chatbots need access to information about your products. Simply upload your FAQs, product descriptions, internal documentation, or sample conversations to see how fast the AI learns new things! You can also connect Quickchat to your internal API, database, or any other data structure to automate more complex processes using AI.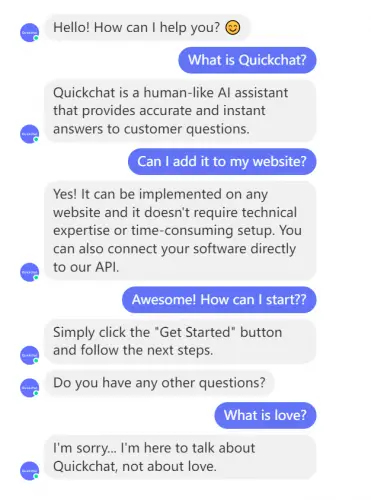 Steps to Building Your AI Chatbot
Start your Quickchat Lite subscription.

Build your knowledge base (learn how to build a knowledge base).

Retrain your AI and test it in real-time with Quickchat Preview .

Once your chatbot is ready, enable public access and integrate it with your product.
Starts with a 14-day trial for just $14, then $99/ month*.If you just want to try it out, cancel your subscription before the end of the 14-day trial period and you won't be charged the $99 / month.
Plan

Quickchat Lite

Quickchat Enterprise

Price

Starts with a 14-day trial for just $14, then $99 / month*

Contact our team to discuss your project requirements and pricing.

Applicable groups

For SMBs and eCommerce stores that want to automate their customer support.

For companies that need custom functionality or want to build unique AI experiences.

Advantages

1,000 free AI-generated messages per month.

Multiple chatbot languages available.

Text and voice interface.

Access to Quickchat's codeless Web AI generator. No training or support is required.

Integration via web widgets, public links, or social media connections.

Unlimited editorial knowledge base.

Unlimited AI retraining.

Cancel at any time.

Customized machine learning solutions for your business.

Custom features unique AI personalities, conversation styles, webhooks, integrations, and more.

API access and custom integrations.

Ongoing maintenance and 24/7 customer support via email, Slack, Zoom, and phone.

Security and compliance.

Custom service level agreements.
Yes. Whenever you cancel, your subscription will be active until the end of the month. You won't be charged again.
How do I start my subscription?
Go to Subscription and subscribe using your credit card. For just $14, you get a 2-week trial period. Cancel anytime.