Polyglot: Your Reliable Language Learning Partner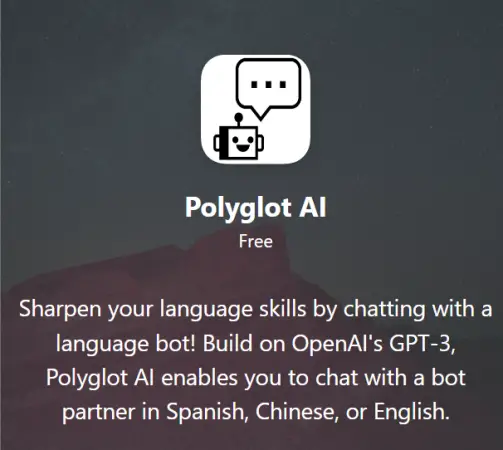 Polyglot is a language learning chat tool based on GPT-3. It can help users easily chat with Spanish, Chinese or English bot partners, helping users to practice foreign languages more conveniently. No formal classroom setting is required, with Polyglot, everyone can practice a foreign language anytime, anywhere.
Price: Free
Tag: Chatbot
Release Time: 2021
Developers: Nessi LLC
Live chat: You can chat with GPT-3 bot in Polyglot in real time to experience more interactive language learning.
Multilingual support: At present, Polyglot supports Spanish, Chinese and English, and more languages will be launched in the future.
Adaptive learning: Polyglot adapts to the user's skill level, providing users with appropriate prompts and feedback to aid in their language learning.
First, you need to download the Polyglot App to use Polyglot.

After downloading and installing, select the language you want to practice and select the robot in the corresponding language to start an interactive chat. (At present, Polyglot includes the following bots: Juan (Spanish), FeiFei (Chinese), and Britney (English))

During the chat, you can send arbitrary text, pictures and emoticons, and you can also exit the chat box at any time to end the conversation.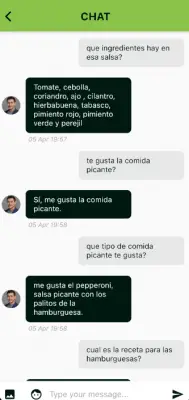 Polyglot offers apps for both iOS and Android devices.
Using Polyglot is 100% Free.
Polyglot is a language learning app that allows users to practice foreign languages by chatting with GPT-3 robots.
How accurate is Polyglot?
Polyglot's accuracy depends on the user's input and the complexity of the language used, and it may occasionally be wrong. However, the more users interact with the bot, the more accurate it will be at understanding and responding to the user's language.
Can I use Polyglot to practice speaking a language?
Polyglot is primarily designed for text-based conversations, where you can practice speaking by typing in phrases or sentences and having them read aloud. However, Polyglot itself does not provide speech recognition or speech-to-text functionality.