Perplexity AI: ChatGPT But With AI Search Engine
Perplexity AI is a new AI chat tool that also has similar functions to a search engine. When a user inputs their question, the Perplexity AI's model is built similarly to ChatGPT, and it utilizes its AI language model as well as relevant information from the internet to provide a corresponding answer. You can ask almost all the questions you're interested in and Perplexity AI will find a way to answer, providing real-time information and also displaying the source of the reply.
Perplexity AI, a question-answering engine based on the OpenAI API, was released on January 20, 2023, by Aravind Srinivas and his team. This free, ad-free website, which doesn't require registration, provides comprehensive and accurate answers to complex questions using large language models. Unlike traditional search engines, Perplexity AI offers a combination of search and chat functions, and its search results link to a footnote that includes a link to the source of information, allowing users to verify if it matches what they're looking for and avoiding misinformation. The promotional phrase released by Perplexity AI is "LLM-powered products for search".
Perplexity AI is supported by large language models like GPT series, and its biggest advantage over traditional search engines is its ability to show the source of the search and directly answer questions using advanced AI technology.
Price: Free
Tag: AI chat tool, search engine
Release time: January 20, 2023
Developer(s): Aravind Srinivas and his team
Users: 2.2M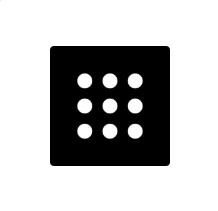 How to use Perplexity AI?
First, open the website link of Perplexity AI
Here, you can ask any question you are interested in, such as who founded Perplexity AI and click the blue arrow
Finally, we can get the answer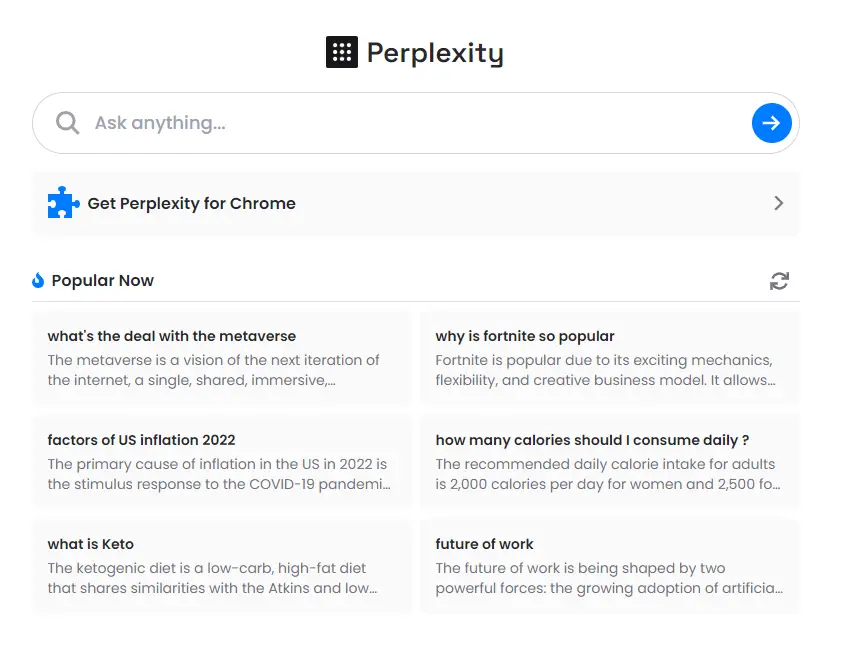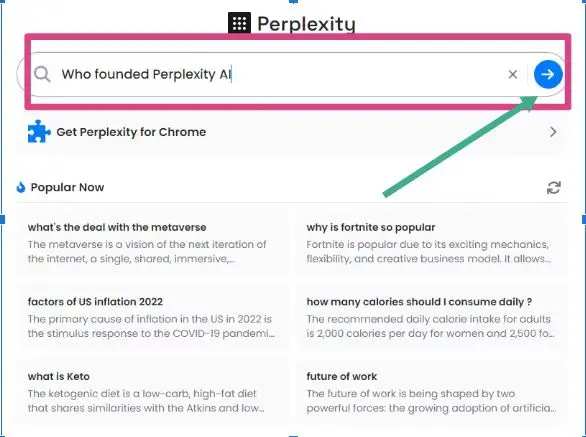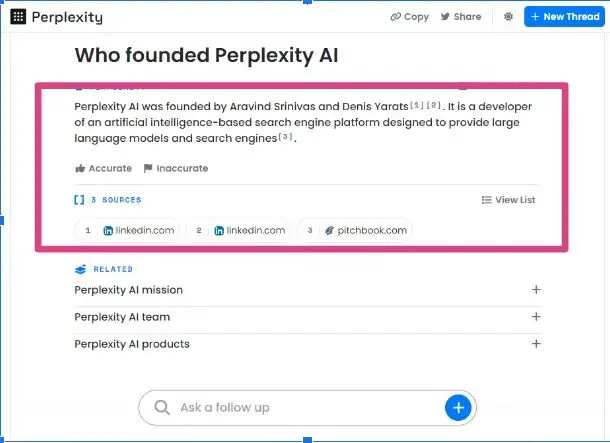 What are the functions of Perplexity AI?
Chat online

Chat like ChatGPT

Talk about your interests and hobbies, and Perplexity AI will reply you according to the relevant searched content

Talk about your life today, Perplexity AI will chat with you like an intelligent robot, its   answers to any questions are not necessarily the results of Internet searches, some answers are original

Act as a search engine to solve your puzzles

want to know a famous person

want to know about a historical event

Want to know about a certain song…

Find questions about weather forecasts, product recommendations, and more

Check today's weather conditions

Want to know which brand of product is easy to use

Where and how to go…

define terms

Helps you summarize a passage

give an explanation of a word…

More

Perplexity AI also has many powerful functions, come and experience it!
Development of Perplexity AI
Perplexity uses its own search engine combined with OpenAI's API. It's fast, but suffers from inaccuracies in the underlying AI technology from OpenAI. At present, Perplexity AI has set off a huge wave in the industry due to its diverse functions and powerful search functions. Whether the future version of Perplexity AI can compete with Google in the search field,  we still can't judge. With founders Larry Page and Sergey Brin,Google has begun researching how to refute this notion,   brainstorming strategies to figure out how to get ahead in AI chatbots. This industry is expected to  remain  the center of intense debate in long time.
Who founded Perplexity AI?
Perplexity AI is a startup founded by Aravind Srinivas and Denis Yarats, who worked as research scientists at OpenAI and Facebook respectively.
What is Perplexity AI Twitter?
Perplexity AI. @perplexity_ai. There is Bird SQL, a Twitter search interface powered by Perplexity's structured search engine. It uses OpenAI Codex to translate natural language into SQL, enabling anyone to browse large datasets like Twitter.
Authoritative Information