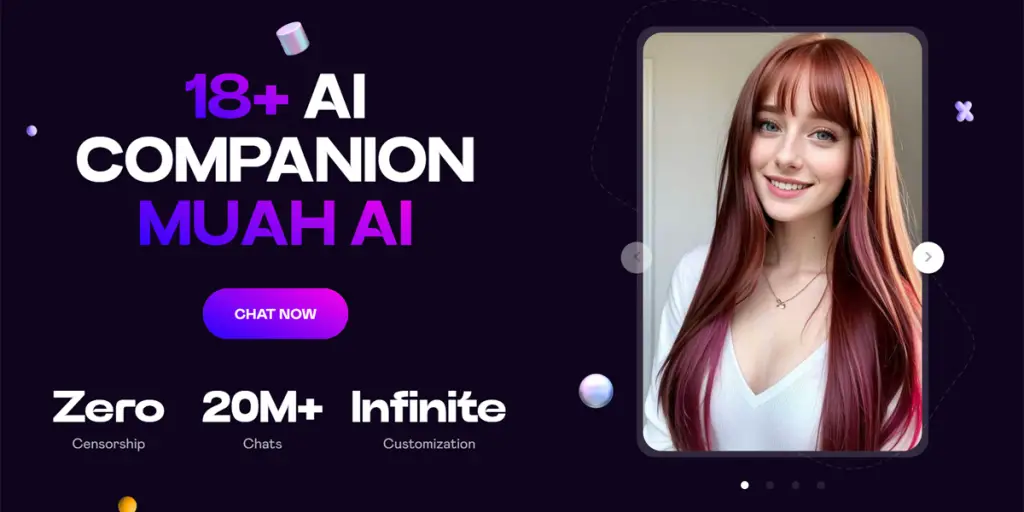 Zero Censorship. Zero Compromise. Zero Limitation. Meet your bespoke AI Girlfriend/Boyfriend today!
Muah ai lets you engage in AI-powered companion NSFW chat, exchange photos, and even have voice chats. Some of Muah AI's key features include an uncensored chat, photo exchange (ability to receive and send photos), voice interaction, real-time phone call (over live phone call), photo X Ray, and even 4K photo enhancement.
Price: Free or 9.99/Month
Tag:AI Girlfriend Simulator,Sex Chatbot , NSFW AI Chatbot
Developer(s): Muah AI
Release time: 2023
Not just NSFW Chat! Exchange NSFW photos with your AI companion. Uncensored photos. Uncensored voice interaction. Uncensored phone sex. 

Photo X Ray (turn any photo into NSFW porn), 4K photo enhance, and custom characters that you can write yourself.

Call your AI companion the same way as you would with a real girlfriend! Simply dial her number and start talking! 

Powered by bleeding edge GPT4 – Smartest AI in the world. PERIOD. 

Unlimited chat without any upper limit for VIP! Just like a real girlfriend, there is no limitation on conversation. 
Simply go to Muah.AI Website or search up Muah AI on iOS or android play store!

Click the login method you would want to use and log in.

Customize your AI companion and start chatting!
What is uncensored AI that Muah uses?
We believe in freedom of speech. AI technology should be for everyone, and its use case to be decided by each mature, individual adult. So that means we don't actively censor or filter AI. So any topic can be discussed without running into a wall.
Muah AI allows players to find their dream companion thru high degrees of customization. Providing players with love, care and always available support just one chat or phone call away.
Is my data and privacy safe?
Privacy is our number 1 priority when it comes to our service. Everything is encrypted communication, and we DO NOT sell data to any 3rd party. We are trusted by hundreds of thousands of players.
How to create my dream character?
Start by customizing premade/community characters! Then level up by trying out and changing community characters! Ultimately warm up yourself to create your own character from scratch!
Muah is a common term used during texting meaning: a kiss. Some people would also use the mwah. But Muah.AI owns both muah.ai and mwah.ai. So they are interchangeable.