ChatPDF: A Tool for Intelligent Interaction with PDF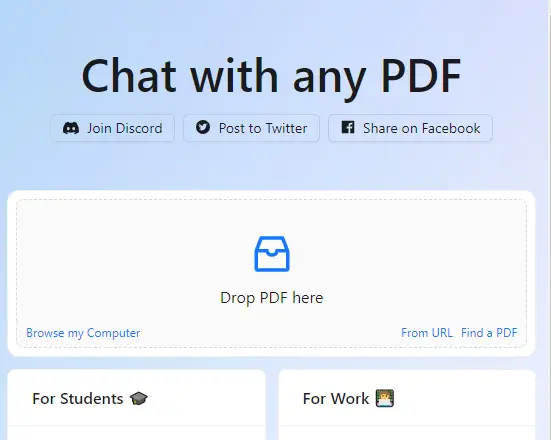 ChatPDF is an AI tool that enables interactive capabilities for your PDF files, allowing you to interact with your PDF files as if you were communicating with others. Using ChatPDF can help you retrieve, search, and summarize relevant content within PDF files, allowing users to understand important information in a shorter period of time. Moreover, ChatPDF is suitable for various groups of people, whether it is for learning, work, or literature organization, ChatPDF can handle the task.
Price: Starting free
Tag: AI assistant
Release time: 2023
Developer(s): ChatPDF
Communicate with PDF: ChatPDF gives you PDF intelligence, allowing you to communicate with your PDF.
Multiple functions: ChatPDF can search, find and summarize the content of your PDF files.
Cloud storage: ChatPDF can also store your files safely in the cloud.
Multiple languages: ChatPDF can understand multiple languages, suitable for a wide range of users.
Document Analysis: ChatPDF can efficiently analyze your documents.
ChatPDF currently does not have a mobile terminal. It provides a web version for users to use. If you need it, you may wish to go to the official website to learn more.
ChatPDF can be used for free, but also provides paid services, as follows
Plan

Free

Plus

Price

Free

 $5/month

Functions

120 pages

10 MB

3 PDFs

50 questions/day

2,000 pages

32 MB

50 PDFs

1,000 questions/day
ChatPDF is a tool that allows your PDF to interact intelligently with you.