OpenAI released a product called ChatGPT on November 30, 2022, and gained 1 million and 100 million users three days and one month after the release, respectively. However, there are still many users who cannot successfully register and use ChatGPT. Now I will teach you how to register for ChatGPT.
If you want to login ChatGPT, you must register an OpenAI account first. Please prepare an email address and a mobile phone number that can receive text messages.
ChatGPT 5-Step Registration
Open the

ChatGPT registration page

and click Sign up

Enter your email address prepared earlier

Set your password (enter at least 8 characters), Click "Continue" to set your name

Enter your mobile phone number that can accept SMS and click "Send code"

Fill in the received OpenAI six-digit verification code into the ChatGPT registration page
After the registration is complete, you can start using ChatGPT
Attention Please: The following are countries or regions where OpenAI does not support registration and login. If you are located in the following countries or regions, please check the registration guide below.
"Afghanistan", "Albania", "Algeria", "Andorra", "Angola", "Azerbaijan", "Bahrain", "Belarus", "Burundi", "Cambodia", "Cameroon", "Central African Republic", "Chad", "China", "Congo Democratic Republic", "Cuba", "Egypt", "Equatorial Guinea", "Eritrea", "Ethiopia", "French Southern Territories", "Heard Island & Mcdonald Islands", "Hong Kong", "Iran, Islamic Republic Of", "Lao People's Democratic Republic", "Libyan Arab Jamahiriya", "Macao", "Mauritius", "North Korea", "Paraguay", "Russian Federation", "Saudi Arabia", "Somalia", "South Sudan", "Sudan", "Swaziland", "Syrian Arab Republic", "Tajikistan", "Turkmenistan", "Ukraine", "Uzbekistan", "Venezuela", "Viet Nam", "Yemen", "Zimbabwe".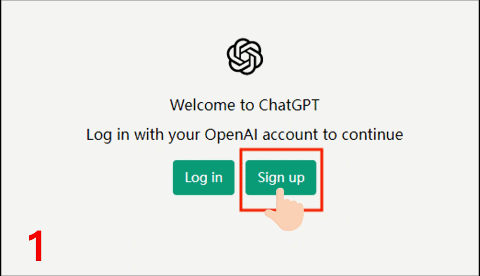 OpenAI Does Not Support Country or Region Registration Guidelines
Register an

SMS-Activate

account

After registration, click "Recharge" in "Balance"

Find your favorite payment method on the new page, such as "paypal", recharge 0.5$ (the minimum recharge amount is enough)

Go back to the home page, enter "open" in "SELECTING A SERVICE", and find the link to purchase the OpenAI temporary verification code (it is recommended to purchase the US or UK)

After the purchase is successful, enter the mobile phone number in the activation area into the ChatGPT registration page and click "Send code", and you can see the verification code on the SMS-Activate platform

Fill in the received verification code into the ChatGPT registration page to complete the registration and start using ChatGPT.