Genei: A Great Search Engine For Study Research
Genei is a search engine based on AI neural network technology, released by the Genei team in 2020. Genei can intelligently carry out keyword association and resource screening, so as to better collect academic resources and inspire your writing inspiration, and also has automatic citation and abstract functions. Genei has been supported by Y-Combinator, Tech Crunch and other projects.

Price: £9.99
Tag: AI Search Engine
Release time: 2020
Developer: Genei
A Better, More Detailed Scholar Search Engine

Supporting documentation is stored in customizable projects and folders to generate automatic references.

AI summarization and keyword extraction for any PDF document or web page.
You can try Genei for free for 14 days. Genei's pricing plan is divided into Academic and Professional. The features of both versions are exactly the same, but Academic can enjoy a 40% discount on the Professional price.
If you choose Professional, your pricing plan is as follows:
Plan

BASIC

Pro

Price

£9.99

per month

Or pay annually

£7.99 / month

£29.99

per month

Or pay annually

£24.99 / month

Function

Maximum single file upload: 5GB

Unlimited number of projects and resource management

AI extracts keywords and summaries

Cloud service for web notes and annotations

Automatic References and Citations

file export

All Basic functions

Maximum single file upload size: unlimited

Interactive chat search function based on GPT-3

AI sentence expansion, paraphrasing and rewriting
Enter

Genei

, click Login in the upper right corner.

You can choose to experience the new version of Genei or continue to use the old version of Genei.

If you have already registered an account, please click Log at the bottom of the page to complete the login. If you are a new user, you can log in with your google/apple account or register with your email.

After the login/registration is completed, the webpage will jump to the payment interface. Choose your payment plan, enter your payment information to continue with registration.

After verifying your payment information, the webpage will automatically jump to your Genei homepage, and the login is successful.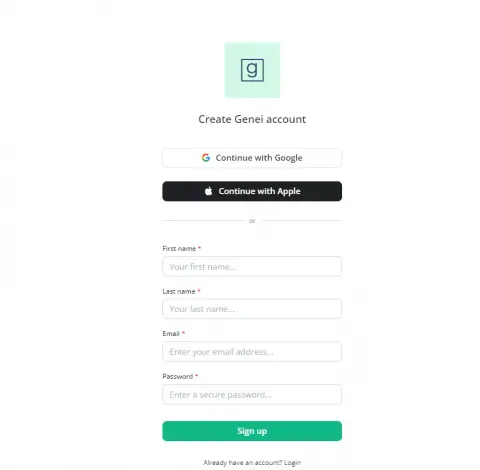 James Macfarlan: Genei AI has great potential for research and writing.
Litany Kasler: Genei's keyword extraction technology helps us optimize the content of the article.
Boby Lincoin: Genei's AI summary is clear and concise.
An AI-based Search&Note tool that enables users to work more efficiently and clearly.
Genei has 3 main functions: keyword extraction and definition; semantic and query-based search within and across documents; summarization of entire documents and parts thereof.
What file types does genei support?