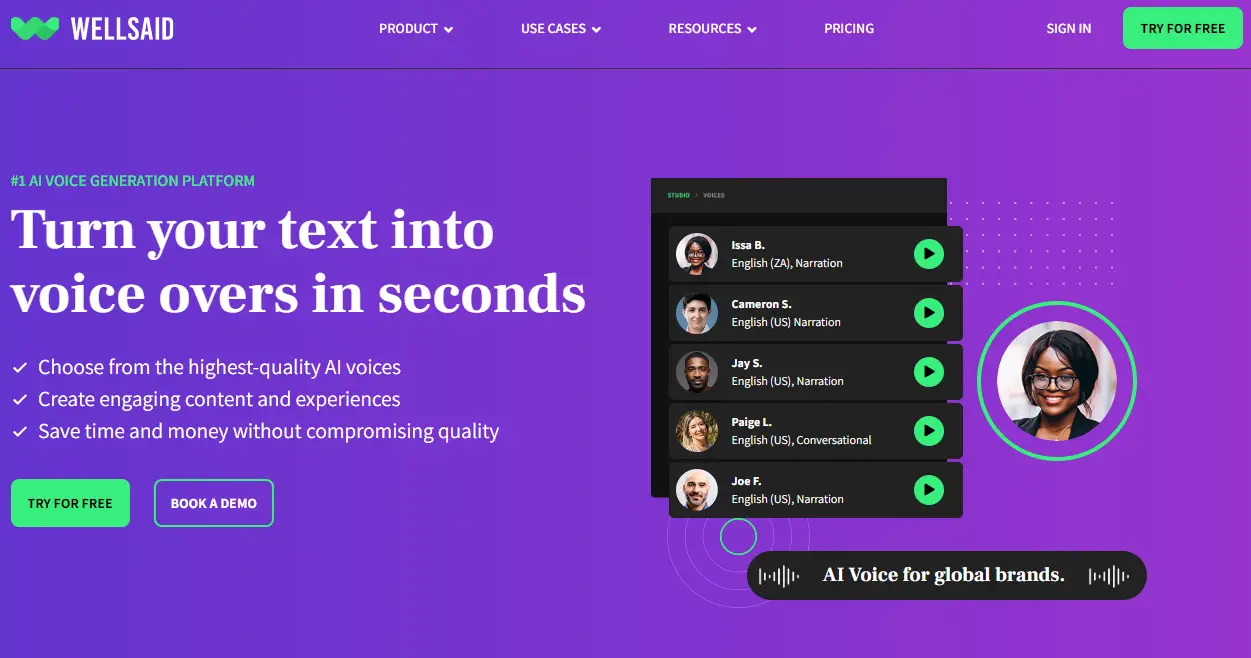 WellSaid Labs stands at the forefront of AI voice generation technology, offering a revolutionary platform that transforms text into professional voiceovers in seconds. This enterprise-grade AI Voice Generator is designed to produce high-quality voice content, making it a valuable tool for various industries, including eLearning, marketing, and media production. WellSaid Labs is celebrated for its ability to create engaging digital experiences with natural-sounding voices, providing a seamless and efficient solution for voiceover production.
Price: Freemium
Developer(s): WellSaid Labs, Inc., based in Seattle, WA.
Release time: 2023
Diverse Voice Avatars: A wide range of AI voices to choose from, ensuring the perfect fit for any project.
Real-Time Voiceover Creation: Instantly transform text into voiceovers, significantly speeding up production times.
High-Quality Output: Consistently delivers professional-grade audio suitable for various applications.
Team Collaboration: Facilitates teamwork by allowing members to share and co-edit projects.
Ethical AI Usage: Committed to responsible and fair use of AI technology, with a focus on consent and transparency.
Global Accent Range: Offers a variety of accents, catering to a diverse global audience.
Custom Voice Creation: Ability to create tailored voice avatars for specific brand needs.
Integration with Internal Tools: Ensures seamless workflow integration and meets security and compliance requirements.
Scalability: Suitable for both large enterprises and individual creators.
Ethical Content Moderation: Ensures AI voices are not used for misinformation or hate content.