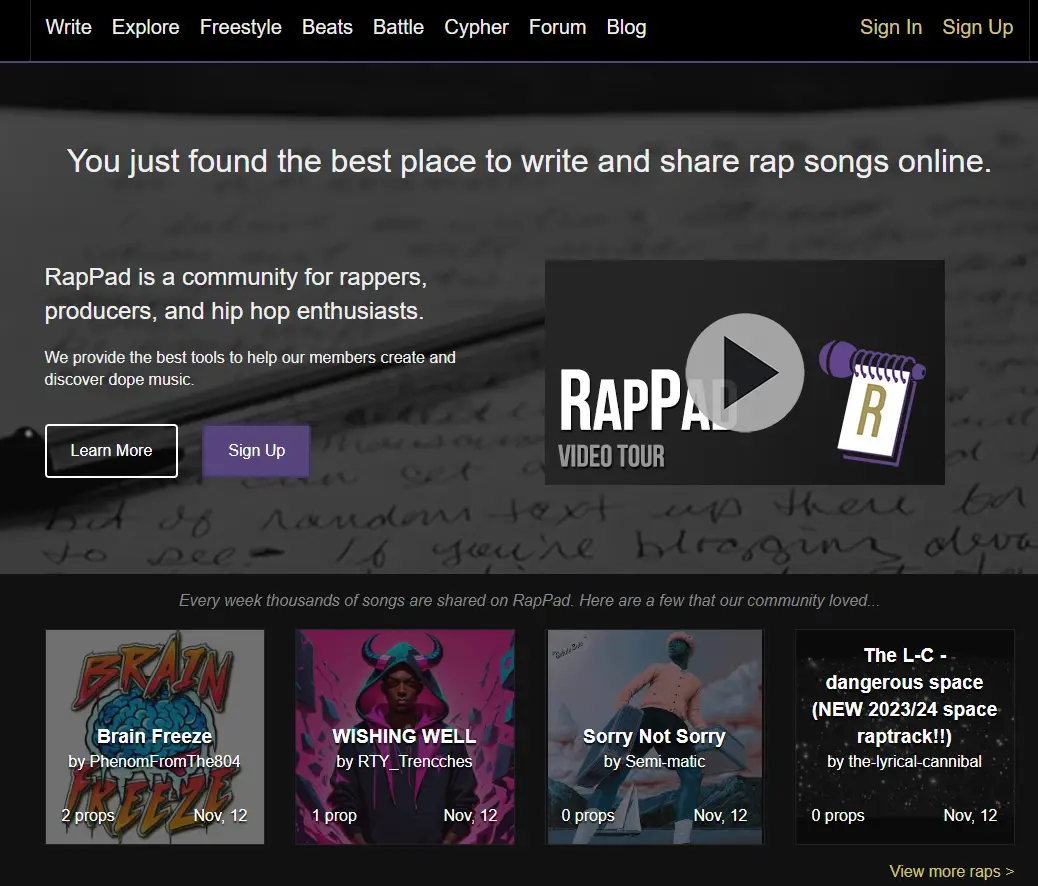 RapPad emerges as a unique and vibrant community for rappers, producers, and hip-hop enthusiasts. It's more than just a platform; it's a comprehensive ecosystem that nurtures the creation and discovery of music. At its core, RapPad offers an array of tools designed to enhance the writing and sharing of rap songs. This digital haven attracts thousands of artists who share their songs weekly, fostering a dynamic and creative environment.
Innovative Writing Tools: RapPad is not just a platform for sharing; it's a tool for creation. It includes a built-in rhyming dictionary, syllable counter, thesaurus, and line generator, revolutionizing the way lyrics are written.
Rap Battles: Artists can engage in audio or text battles, challenging each other in a competitive yet creative environment. This feature allows for specific member challenges and rule customization, adding a competitive edge to the platform.
Mobile-Friendly Interface: The platform is designed for convenience, ensuring that your work is never lost and can be accessed from anywhere.
Privacy Settings and Easy Export: RapPad gives complete control over who views your songs with adjustable privacy settings, and the ability to export lyrics easily.
The Blueprint™ Analysis Tool: This unique feature breaks down lyrics into syllables, offering insights into rhyme density, complexity, and other metrics, providing an overall grade to help improve writing skills.
Community Engagement: RapPad is not just about individual creation; it's about community. Artists can sync lyrics with their songs, participate in weekly cyphers, and engage in hip-hop discussions, all while earning reputation points and trophies.
Freestyle Practice: The platform includes a freestyle section with a random topic generator and continuous beat stream, perfect for honing freestyling skills.